Improve Customer Experiences with Spa Software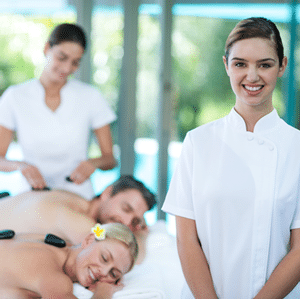 Spa Software and Social Guide
Being a successful spa employee exceeds mastering facials, body treatments and massage techniques. Supplementing those essential skills with a great spa software and social media expertise will enhance your day-to-day business. Thanks to the resulting efficiency boost, today's popular tech tools let you focus on administrative tasks less and on personalizing rewarding customer experiences more.
Spa Application Advantages
A great spa software that concentrates on the spa industry specifically is a fundamental asset for every spa owner. A paperless solution that eliminates confusion and clutter provides many advantages including:
Appointment book: Access and update the handy color-coded Daysmart Spa appointment book via your favorite desktop or mobile device. At a glance, you can check your spa software to see who's due to arrive without constantly running to the front desk. Offer to schedule your client's next appointment before they leave your spa. Or encourage them to secure their own time slots online if they prefer. Demonstrating how guests can book sessions from anywhere at any free moment, even after hours, will create a special bond that motivates return visits.
Facebook scheduling: Daysmart Spa has gone beyond internet booking to add another similar convenience. When your customers post about their latest treatments on Facebook and tag them to your brand, envious friends and relatives can secure their own appointments with you. Facebook integration is a tech-inspired way to increase spa sales. An "Online Booking" option will appear alongside the standard timeline and about categories, so new clients can click through to your website's reservation page quickly.
Client management: Collecting customer data on your smartphone or tablet saves details for future treatments. Instead of having customers fill out forms by hand in the reception area, they can feel more at ease sharing information directly to you. Daysmart Spa allows you to add formula notes to client profiles so you can duplicate perfect services every visit. With quick access to guest information, you can check all visitors' preferences and dislikes ahead of time to improve their spa experiences.
Photo organization: Photograph new services and products and save them in Daysmart Spa client libraries to create pictorial records of how their treatments have helped over time. Use that evolving collection as a consultation tool and helpful reminder. Pull up previous images on tablets, not smaller mobile phones. Combine your service shots in a portfolio to promote yourself and inspire guests to try new product treatments.
Text and email appointment confirmations: Frustrating no-shows disrupt your workflow and hurt your bottom line. Filling last-minute openings to offset sudden financial losses is tough. Most no-shows simply just forgot they had an appointment on that specific day or thought that they'd booked other days and/or times. Reduce no-shows and keep your clients happy by sending automatic appointment reminders through texts or emails.
Online reviews: Positive reviews encourage Google to position you better in it's search rankings. According to Google, half of consumers conducting local queries on their mobile phones visit trendy places they found online just 24 hours later. So, request reviews from your satisfied clients. Demandforce, an Daysmart Spa add-on, will help you enhance your internet presence and reputation. Optimized search engine publicity, targeted community ads, social media integration, automatic email surveys, and user comments will draw in more new customers.
Social Media Benefits
In today's competitive spa business, engaging and connecting with a growing loyal client base via various social media channels is vital. Forbes reported a few years ago that 78 percent of small operations get one-fourth or more of their new patrons from social networking. Key branding and interaction benefits include:
Content: To maximize your social media outreach, display relevant content that will attract target followers. Maintain uniform image quality to reflect your masterpieces' uniqueness so visitors can recognize your trademark appeal without seeing your name. You and your guests can reveal their latest treatments with your brand's tags as modern promo tools. Offer free samples of products to patrons that tag your spa. Engage with clients and other community businesses often to foster sharing. Establish consistent daily times so fans will know when to check for your newest treatments.
Viewer feelings: Because sites like Pinterest and Instagram are visual formats, posting snapshots that stir viewers' feelings is key. Pictures of relaxing massages create reactions of envy with people wanting the same relaxation experience. These examples encourage discussions, sharing, and appointments. But ask permission to feature clients photos as they may not want their picture on display. Make visiting easy by listing basic details including your address with your business days and hours in the bio section.
Hashtags: Words and phrases following # symbols add punchlines to clever social posts and optimize their reach. Google processes hashtags as search terms, driving more web visitors to your social pages and extra guests into your spa. Join trending chats with designations like #SpaRetreat to be relevant while promoting your brand. Use regional tags to publicize your location. Consumers looking online for spas' by hashtags can click through to view your images and get your address from geotags. Use specific identifiers such as #BellaSpa and #ShaZenMassage, not generic versions like #spa, so local shoppers will find you.
Stylist persona: Your fans, friends, and followers will become familiar and more comfortable with the individual behind your brand if you humanize your persona and create emotional connections. Instead of just posting photos of your clients' treatments, display images of yourself using the products. Reveal personal details to seem relatable. Pair 10 interesting facts with a photo of you getting a specific treatment.
Shared Results
Daysmart Spa, your strategic technology partner, tweaks our award-winning software according to user requests. So we invite you to share your valuable insights below or on our Facebook page. Together, our expanding community of innovative spa professionals can help fellow members meet their goals to grow their improved brands.
Sign up for Daysmart Spa Software today absolutely free and improve your customer's experience!