Aesthetic Spas vs. Esthetic Spas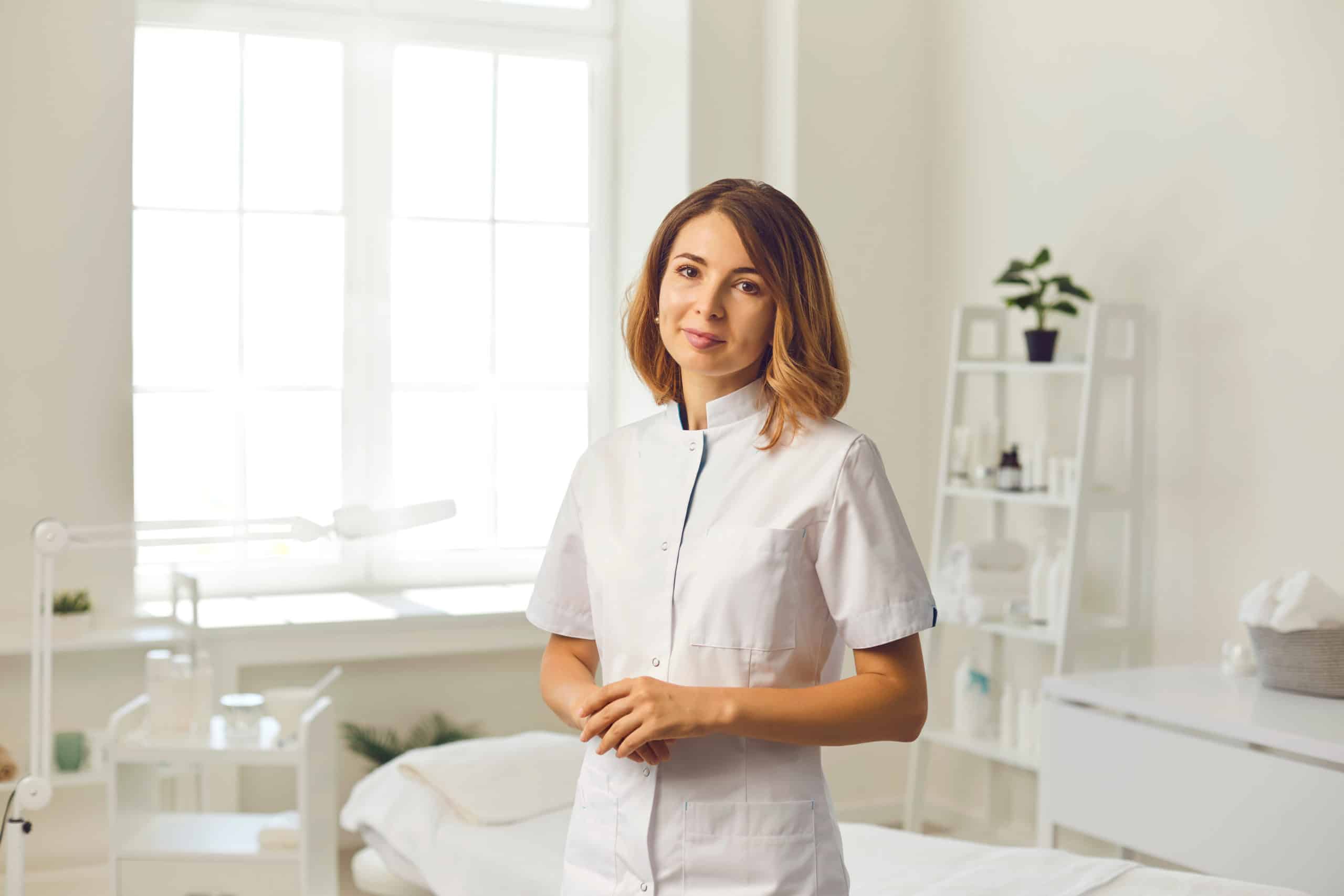 When most people hear the words aesthetic and esthetic, they might think that these words are different spellings of the same word. However, these two words have different meanings.
An aesthetic spa is a spa that focuses on improving the appearance of the skin. An esthetic spa is a spa that offers a wide range of services. This includes hair removal, massage, and skincare treatments.
Skincare treatments currently make up a third of the entire industry, meaning that both of these types of spas are popular. And sure, there are some similarities between aesthetic and esthetic spas. But there are also some key differences.
This quick guide will explore the differences between aesthetic and esthetic spas. Then, we'll discuss the benefits of each type of spa in terms of business offerings.
Aesthetician vs. Esthetician: What's the Difference?
A common question in the beauty industry is what exactly is the difference between an aesthetician and an esthetician. A lot of people use the terms interchangeably, but there are some key distinctions.
An esthetician primarily focuses on skincare and can perform facials, makeup applications, or waxing treatments. In some states, they're allowed to perform treatments such as laser hair removal or microneedling.
An aesthetician may have similar skills. They also have in-depth knowledge of skin health and offer advanced treatments like chemical peels or laser therapy.
This means that, in most cases, a medical aesthetician will have more extensive training and may require a license to practice.
In short, both provide services aimed at improving the appearance of their client's skin. The difference is that an aesthetician may have a wider range of training and abilities.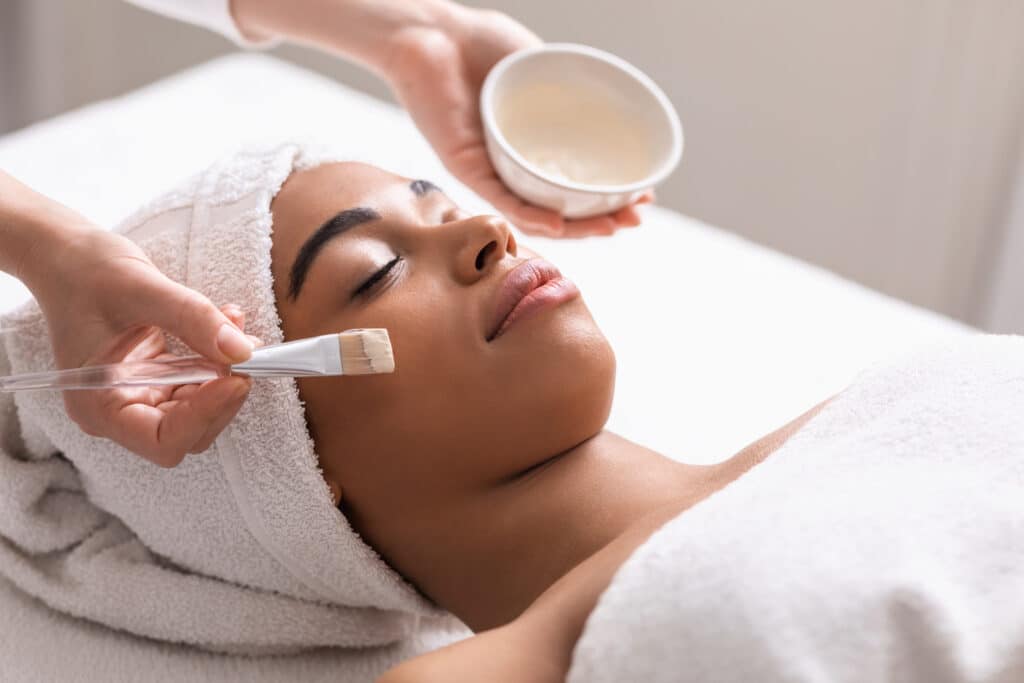 What Is an Esthetic Spa?
An esthetic spa is a type of salon that offers a variety of services focused on improving the appearance and health of the skin. These services can include:
Nourishing facials
Body scrubs
Makeup application
Massage therapy
So why go to an esthetic spa instead of a regular salon or dermatologist's office? Or, if you're the salon owner, why would your clients visit your spa instead of heading to a local dermatologist or surgeon?
Well for one, estheticians specialize specifically in skincare, making them experts in their field. Plus, many esthetic spas offer a more relaxing environment than a dermatologist's office. This is in addition to personalized treatment plans to address individual skincare needs.
As skincare trends continue to gain popularity, more and more people become interested in treatments such as microblading and facials. Therefore, you can expect to see more esthetic spas pop up all over the place.
What Is an Aesthetic Spa?
A traditional esthetic spa is where you can get massages, facials, and other relaxing treatments. An aesthetic spa takes those services to the next level.
At an aesthetic spa, trained professionals offer medical-grade skincare treatments such as:
Chemical peels
Microdermabrasion
Laser hair removal
Injectables like Botox and fillers
If it's related to improving the appearance of your skin or body, an aesthetic spa will have it covered. However, in most cases, these treatments require the expertise of a medical aesthetician with a certificate to perform medical-grade treatments.
If you're interested in opening a spa, it's worth looking into your state's requirements when it comes to certifications.
For example, the FDA says that estheticians can only use microneedling devices of less than 0.3 mm. From there, each state regulates different treatments.
In California, the Board of Barbering and Cosmetology classifies microneedling as an invasive treatment. If you're opening a spa in California, this would change the requirements you need to offer that service.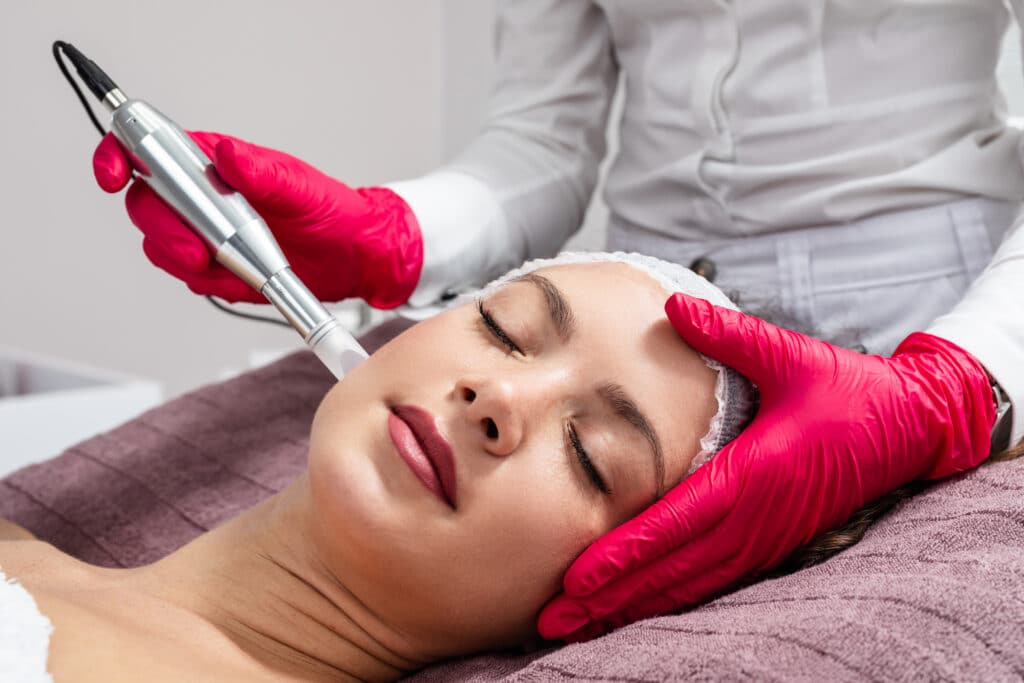 Types of Esthetician Specialties
Are you interested in visiting an esthetician spa and want to know what type of esthetician to look more? Maybe you're interested in opening a spa and want to understand what kind of esthetician specialties you should offer.
While all types of estheticians specialize in skin care, here's a breakdown of the main five specialties.
Medical Esthetician
Unlike traditional estheticians, medical estheticians work closely with medical professionals. You'll mainly find them in hospitals, medical spas, and dermatologist offices. There, they provide specialized skincare treatments.
These can range from cosmetic procedures such as chemical peels and laser hair removal. Or, they might offer medical treatments for severe skin conditions. Most treat scars from burns or surgeries.
Along with their technical expertise, medical estheticians also have a thorough understanding of anatomy and medical terminology.
Skincare Specialists
The goal of an esthetician who is a skin care specialist is to help clients achieve their skincare goals. This could mean reversing sun damage or maintaining a healthy glow.
In addition to performing treatments, they also work to educate clients on proper skincare routines. In some cases, they'll help with product selection to maximize their results. From acne management to anti-aging tactics, they create personalized care for each of their client's unique skin concerns.
Facial Specialists
Facial specialists offer, well, facials. They offer various facial treatments to enhance the appearance of the face and improve skin health. This can include:
Waxing
Exfoliation
Facials
Chemical peels
They, like skincare specialists, also work with clients to develop personalized skincare plans. They do this by understanding their client's unique needs and concerns. However, in this case, they focus treatments on the face.
In addition, they may also perform facial treatments like microdermabrasion or microneedling. Treatments like these are best to address specific issues such as fine lines and wrinkles, hyperpigmentation, acne, and sun damage.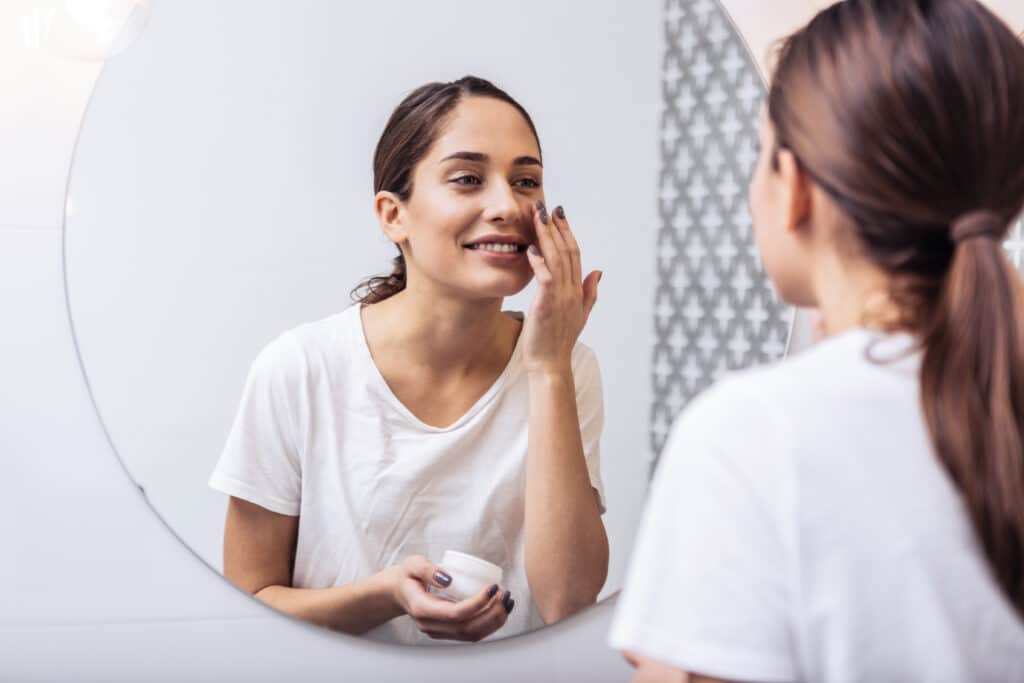 Spa Therapists
A spa therapist provides beauty and relaxation treatments to clients. This can include services such as:
Facial massages
Body scrubs
Deep tissue massages
Sports massages
Aromatherapy
In most states, to offer massages, however, you would need to ensure you (and any of your staff) have the necessary certifications to offer massage therapy.
Waxing Specialists
And finally, some estheticians specialize in waxing. Their job involves preparing the wax, applying it to the designated area, and removing it quickly while minimizing discomfort for the client. Waxing specialists will need to stay up to date with important waxing trends.
Esthetician Training & Certifications
What kind of training do you need to become an esthetician? Basic esthetician training programs typically last about six months to a year and cover topics like:
Skin anatomy
Facial massage techniques
Hair removal methods
Makeup application
Some states require estheticians to have a license before practicing. This means you'd need to complete a state-approved program. Many estheticians also voluntarily pursue additional certifications in areas such as microdermabrasion or advanced skincare techniques. While this isn't necessary, we highly recommend it if you want to stay competitive in the spa industry.
As an esthetician, pursuing additional certifications can improve your business offerings in so many ways. Namely, it shows clients that you are dedicated to staying current on the latest techniques and products. It also opens up the possibility of expanding your service offerings.
For example, maybe you're currently just offering basic facials. With additional training in chemical peels or microdermabrasion, you can offer those advanced skincare options as well. And don't forget about the added benefit of potentially increasing your prices to match your expanded services.
Types of Aesthetician Specialities
When it comes to being an aesthetician, we've mentioned that you need more expertise and training. This is why aesthetician specialties are all more medical-focused.
Medical Aesthetician
A medical esthetician works under the supervision of a licensed physician. They'll provide treatments that involve more advanced skincare technology such as chemical peels and laser hair removal.
Both clinical aestheticians and medical estheticians are licensed professionals. They can offer services to improve the appearance of the skin. It's just that a medical esthetician is better equipped to treat serious skin conditions such as acne or wrinkles.
Clinical Aesthetician
A clinical aesthetician often works in a dermatologist or plastic surgeon's office. They provide basic skincare treatments like facials and chemical peels.
If you're looking for some relaxation and skincare maintenance, stick with a clinical aesthetician. But if you're interested in more intense skin rejuvenation procedures, it's best to go with a medical esthetician.
The same goes for deciding which types of training you need to complete for services you'd like to offer at your spa. If you know youll want to offer injectables and high-ticket laser treatments, you might consider getting certified as a medical aesthetician.
Aesthetician Training & Certifications
What are the requirements to become a medical aesthetician or a clinical aesthetician?
For medical aestheticians, you need to have at least 600 hours of training and pass a state exam before getting licensed. In some states and for some programs, this requirement goes up to 1,000 hours. Likewise, you'd have to have worked some of those hours under the supervision of a board-certified physician.
From there, many medical aestheticians decide to go on and become Certified Medical Electrologists or Laser Hair Removal Specialists. The benefits are similar to the ones mentioned above regarding advanced certifications for an esthetician. The more training you have, the more you can charge for your services.
As for clinical aestheticians, you'll also need to complete approximately 1,000 hours of training and pass a state exam. Some states may require up to 1,500 hours. In addition, most states require that you work under the supervision of a licensed medical professional before practicing on your own.
So while it may take a bit more time and effort, these added qualifications can often lead to more opportunities and higher pay in the long run.
Aesthetic Spa vs. Esthetic Spa Pricing
Now that you know the main differences between the two different types of spas, let's talk about pricing. As mentioned, licensed aestheticians can usually charge more. After all, Botox injections cost more than a simple facial.
What is the difference between pricing and how can that affect your spa business? Here is a simple breakdown of the average costs of standard spa treatments:
Facial: $150 to $200
Makeup Application: $150
Body Scrub: $75 to $90
Chemical Peels: $600 to $800
Botox Injections: $500 to $800
Microneedling: $650
As you can see, the services you might offer as an aesthetician are much more expensive. This is great news for you. However, you'd need to understand how to market those services to ensure you have enough customers.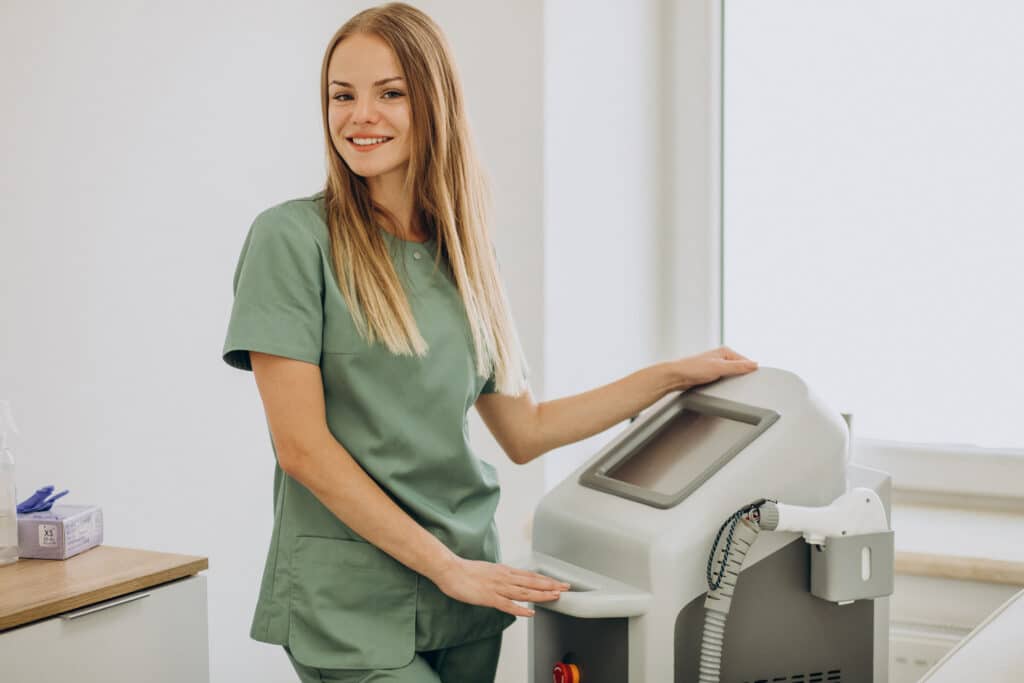 Which Type of Spa Is Right for Your Business?
Are you thinking about starting a spa business, but not sure whether to focus on estheticians or aesthetics? We've established that both types of spas offer skin care services, but there are some key differences to consider before making a decision. Here is a quick summary to help you make your decision.
An esthetician spa offers a wider range of services, including facials, waxing, makeup application, and body treatments. An esthetician must complete in-depth training and have a state license.
An aesthetician spa often specializes in advanced skincare techniques such as chemical peels and laser treatments. Aestheticians have more intensive education and training than estheticians. But, they may not offer as many services.
When deciding on the model for your spa business, consider what skills and training you or your employees have. Also, consider the needs of your potential clients. Will they be looking for a wide range of skincare options or more specialized services?
It's also worth mentioning that while aesthetician spas don't tend to offer as many services, they can charge more per service. For example, you might need to sell 20 facial treatments as an esthetician. However, a medical aesthetician could sell two chemical peels and earn the same.
Once you have a clear understanding of your goals and target market, you'll be able to make the best decision for your business.

Simplify Your Spa Management With Software
Interested in opening an esthetic spa or aesthetic spa? You're going to need the help of spa management software to keep your business running smoothly.
Daysmart Spa offers everything you need to set up, manage, and grow your spa business. This includes everything from appointment booking to client management. We also offer features that help you communicate better with your clients.
Click here to start your free trial now.