The Best Tattoo Machines for Beginners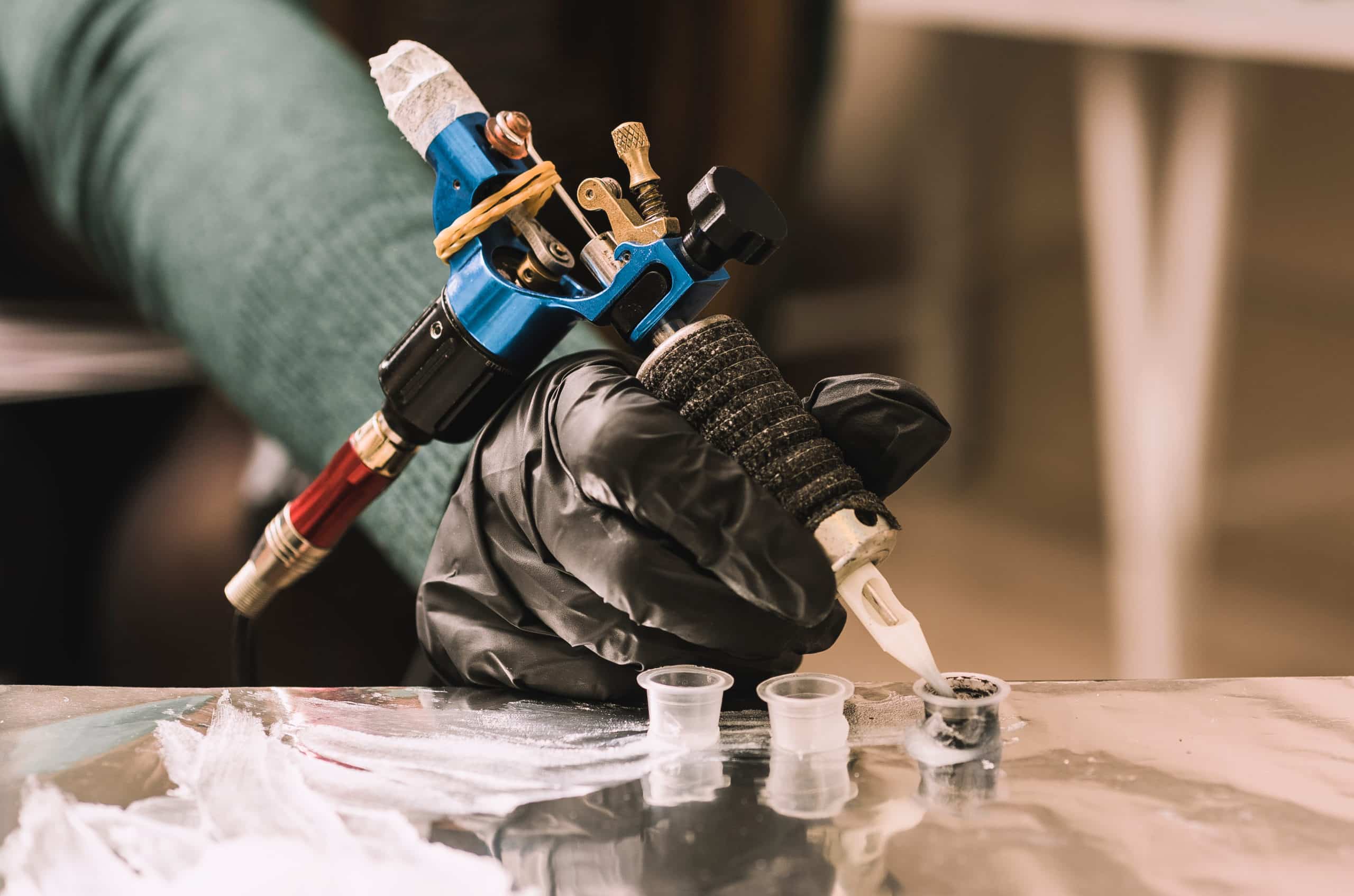 Every day, a new tattoo parlor opens in the US. As more people are becoming interested in tattoos, the demand increases, and so too does the number of new tattoo artists. Like any career, there are a lot of things you'll need to learn when getting started.
As a new tattoo artist, one of the most important things you have to consider is the equipment you need. There are plenty of tattoo machines on the market, so it can be difficult to figure out the right gear to get.
For a rundown of some of the best tattoo machines for beginners, keep reading.
Considerations When Purchasing Tattoo Machines
When purchasing new tattoo gear, the best items for you may not be the best for someone else. You need to take a range of factors into account so that you can better decide what suits your needs.
Level of Skill
This will vary from person to person, and if you're a beginner it will likely be even more crucial. You don't want to buy something that requires a skill level you don't have. If you do, you simply won't be able to use it effectively.
Some tattoo guns will allow you to use different colors or techniques and may be more precise. These often also take more skill to use, so you may want to look at this as your capabilities improve. The machines listed below are focused more on beginners, so will be more suitable if you're a new tattoo artist.
Ease of Use
No matter how good you think you are, if a tattoo gun isn't easy to use, it will affect your work. You want something that feels right in your hands so that you can maintain control and accuracy. Something that's easy to assemble is also ideal, and a low-vibration noise can be beneficial when you're working for long periods.
Weight and Balance
This is something that can easily be forgotten about when buying your first machine. You'll be using it a lot, so you want something that isn't going to be tiring or awkward. A machine that's too heavy may be an issue during full days.
You should think of your tattoo gun as an extension of your hand. The more natural and comfortable it feels, the better results you will produce, and the more comfortable you will be.
Accessories
Different kits can come with a wide range of accessories. Some kits might contain things that are essential, while others may contain items you already have. Some typical accessories that may come with a tattoo machine kit include:
Motor
Different Needles
Different inks
Gloves
Rubber bands
Flash sheets
Think about the accessories you need before making your purchase as it could affect your decision.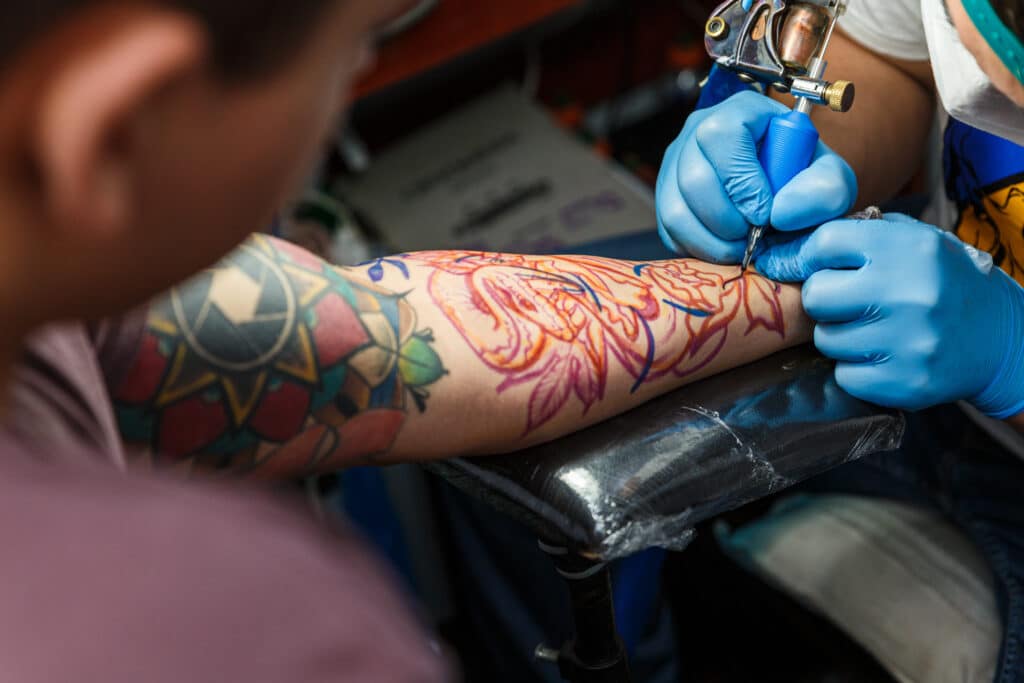 Reliability
If your tattoo machine isn't functioning properly, it can interrupt your work, and may even affect the quality of your results. You want quality equipment that isn't going to malfunction randomly. Higher-quality machines will also have a longer lifespan, meaning you won't need to replace parts as often.
Battery Life
Some tattoo guns are battery-operated, and in these cases, you want something that's going to last. A fully charged tattoo gun should last between 3 and 6 hours. If you opt for cheaper equipment it may die much quicker, which could become a problem while working.
Cord Lengths
For any tattoo machines that don't use battery power, they'll include a power cord. This can be somewhat restricting if it's too short, so you want to make sure it's long enough for you to move about freely and comfortably while working.
Versatility
Some tattoo machines have a broad range of uses, while others are more specialized. As a new tattoo artist, you'll likely be better off with something more versatile. This will allow you to get to grips with different techniques more easily.
Cost
The better you are as a tattoo artist, the more you'll likely be willing to spend on your equipment. When you first start, however, you may want to be more conservative.
With that in mind, you might be losing out on quality if you opt for something too cheap. Consider the various options you have and evaluate their value based on cost.
This is one of the best all-around machines available for beginners. It's smaller than most and has a quiet motor, but is still powerful, stable, and reliable.
The housing is incredibly durable and is made from medical-grade aluminum. This means it will last for years, and also keeps the weight down. It has a clear pen tip which will make it easier for you to see what you're doing while working.
The needles are medical-grade stainless steel, and it's compatible with various ink brands and needle cartridge types. Dragonhawk provides a comfortable grip, and it has a stroke length of 3.5mm to 2.8mm.
It weighs 120g (similar to a standard pen) and has an operating voltage of 6-9V. This kit comes with a foot pedal, needle cartridges, and cables. Note that it doesn't come with a carry case, so you'll need to buy one of those separately if you want to transport it with ease.
You can get this kit in three different sizes:
The body is anodized 6061 T6 aluminum alloy which is light and durable. The 4.5-watt motor provides impressive speed and torque, making it ideal for linework, shading, and coloring. No lubrication is needed before use, which makes it easy to maintain and provides a longer lifespan.
It has a very light weight of just 81g and is easy to handle with the 21mm grip. If you're interested in a unique look, this machine is available in a range of colors. Various stroke caps are available, making this a very versatile machine.
It's worth noting that this is not a kit, so you'll need to buy any accessories separately. It's also one of the more expensive models available. With that being said, you should also bear in mind the motor comes with a 1-year warranty, and other parts have a lifetime warranty.
The Dragonhawk Coil Tattoo Machine is a very popular choice among beginners for several reasons. One of these is its versatility – it has four coils, whereas most machines just have two. These coils are for linework, powder lining, shading, and color picking.
It's ideal for overseas use as it comes with a power supply that allows you to change the voltage. Also included are:
Disposable machine grips
Practice skin
50 Ethylene Oxide Gas sterilized needles
Immortal tattoo vegan-friendly inks
Adjustment tools
A large carrying case
This makes it one of the most comprehensive kits available, great for someone who hasn't bought any gear yet.
These coil tattoo machines were developed as a collaboration between Dragonhawk and Gabe Shum (a renowned tattoo artist). Each machine is manually checked and adjusted to make them easier to use.
On the downside, the coils can overheat quite quickly (sometimes under 30 minutes) and the needles need to be adjusted regularly. These also aren't as durable as some other options.
The Solong Tattoo Pen Kit is one of the best wireless tattoo machine options on the market.
When designing this machine, Solong specifically worked to make it feel like an actual pen in the hand. This makes it feel more natural and easy to maneuver. It has a high-quality aluminum alloy body that's CNC machined with an anodized finish.
It features quiet, steady motors that work with all standard needles. You can adjust the power anywhere between 4.5 and 10.5 volts. This kit comes with a wide range of accessories to help you get started, including cartridge tattoo needles and a rechargeable tattoo battery.
Be aware that this machine isn't designed for continuous use. It can get warm quite quickly, so you may have to stop from time to time while working. The small size makes this an ideal choice for cosmetic tattoos such as eyebrows or permanent eyeliner.
The New Star Dragonfly Rotary Tattoo Machine is one of the cheaper options on the market but still provides several benefits. It's fairly lightweight and packs an impressive amount of power for its size. It also has an aluminum alloy body, making it quite durable.
It has a 1.5A power supply and is very quiet with little vibration. It's compatible with any standard grips, needles, power supplies, and tubes, making it very versatile.
On the downside, it's sold just as the machine without any accessories, so you'll have to buy these separately. You also want to note that it's ideal for lining and shading, but isn't suitable for colored tattoos.
If you already have the various accessories that you need, this can be a great addition to help with lining and shading without having to spend too much. Its limitations, however, might not make it the best choice for everyone. You may also need to turn it off for a few minutes after each hour of use to keep it working properly.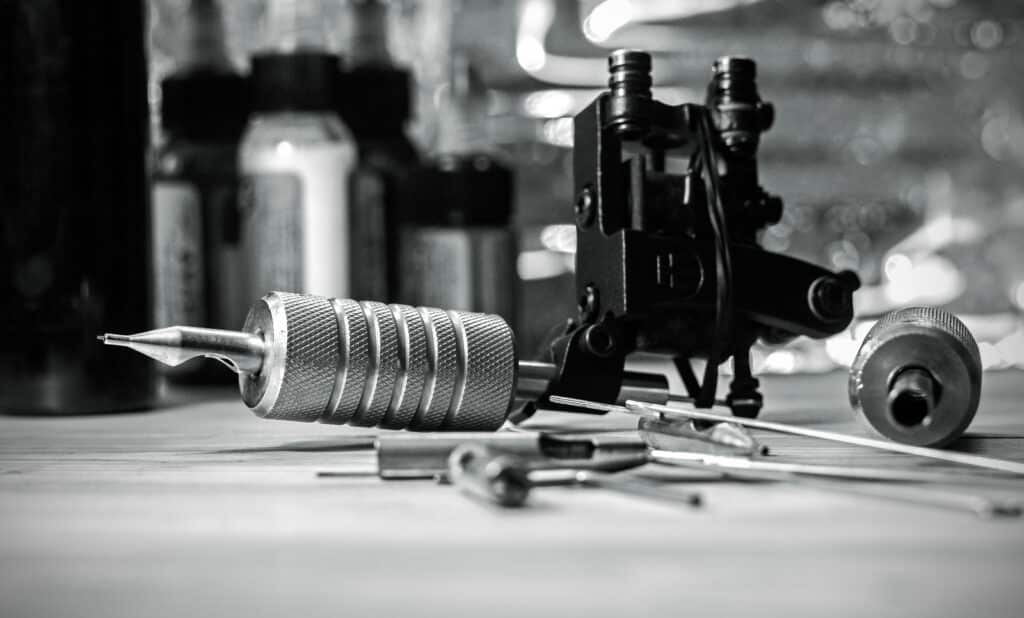 When looking at wireless tattoo machines, one of the main considerations is the battery life. Many only last for a few hours, but the Dragonhawk Mast Wireless Tattoo Pen can provide 6-12 hours of use off of a single charge.
It's lightweight, silent, and vibration-free, which can make work much more comfortable. The foot pedal provides an easy, dependable power supply. It has a pen-like design, providing a good feel in the hand.
The machine comes with Wjx Disposable Cartridges Needles and is well suited for any kind of tattoo work. It's ideal for beginners, as well as experienced tattoo artists.
Tattoo machine kits vary greatly in terms of what accessories they come with. The Hildbrandt Pro 4 set is one of the most comprehensive kits available, including everything that a new tattoo artist might need:
3 different grips
50 Hildbrandt needles (10 per set)
High-quality inks
Various liners and shaders
Sterilized tubes
When buying this kit, you'll also get access to a training system that includes online material, a textbook, a DVD, and all the relevant hardware. This can help you learn a lot about being a tattoo artist.
Ironically, everything that's included can also be a downside for this kit. As there's so much, it can be a bit overwhelming and confusing for beginners. You should look into everything that comes with it before purchasing to ensure you don't feel lost when your kit arrives.
The Dragonhawk M3 has a range of benefits that make it great for beginners. It's lightweight, quiet, has low vibration, and offers continuous operation. The ergonomic unibody design makes it comfortable in the hand and has a sophisticated gear system that helps keep it steady while in use.
It can operate between 5 and 10 volts and works well for both shading and lining. This is ideal for a beginner looking for their first tattoo machine. One thing to bear in mind is that the needles are quite thin, which might be an issue when picking up ink.
Managing Your Tattoo Business
When getting started as a tattoo artist, the tattoo machines available are just one of the aspects of your career. There are plenty of other things you need to think about, and one of those is how you will manage your business.

With SMB Scheduling Software things can be made much easier. At DaySmart Body Art, we provide solutions for businesses of various sizes. We have a range of pricing plans available so that you can get the exact features you need for a reasonable price.
To find out more about how we can help you, click here to contact us today.