Hit the Books with
QuickBooks for your Tattoo Shop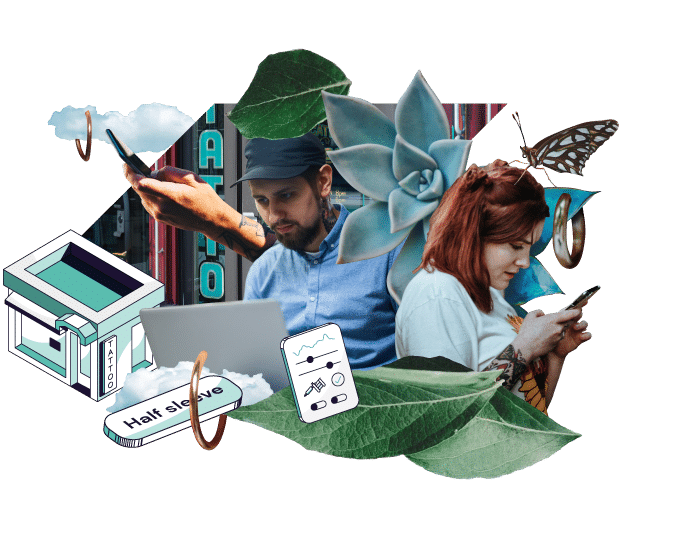 Sync with QuickBooks Online®
For Daysmart Body Art Deluxe & Premier Packages
If you are a US-based Daysmart Body Art Deluxe or Premier cloud subscriber, you can add the Sync for QuickBooks® to your account.
Call our Sales team at (248) 283-4828 to discuss or you can add it to your account yourself (Options/More Features).
This service requires a separately purchased QuickBooks® Online subscription – this software is a "connector" to QuickBooks® – it does not replace or include QuickBooks®.
The Daysmart connector will integrate with any of the QuickBooks® Online plans.
Save time and eliminate transcription errors. After a simple connection process, your accounts will be linked and all closed tickets (including tickets that are closed and then voided) will be pushed to clearly marked QuickBooks® accounts.
Automatically syncs:
Products & Services
Applied Discounts
Redeemed Loyalty Points
Packages
Memberships
Gift Cards
You can export up to 90 days' worth of data into QuickBooks® in a one-time process. After that, DaySmart and QuickBooks® will communicate in the background throughout the day.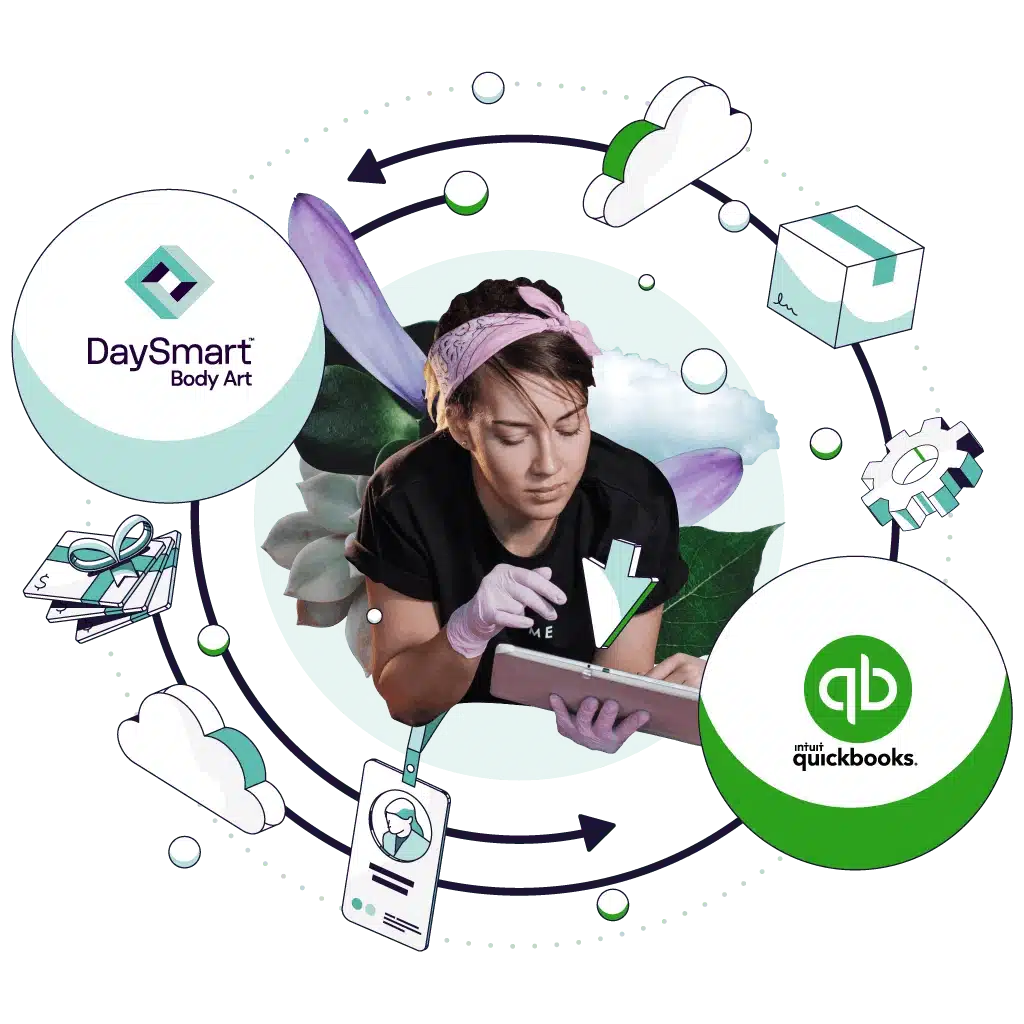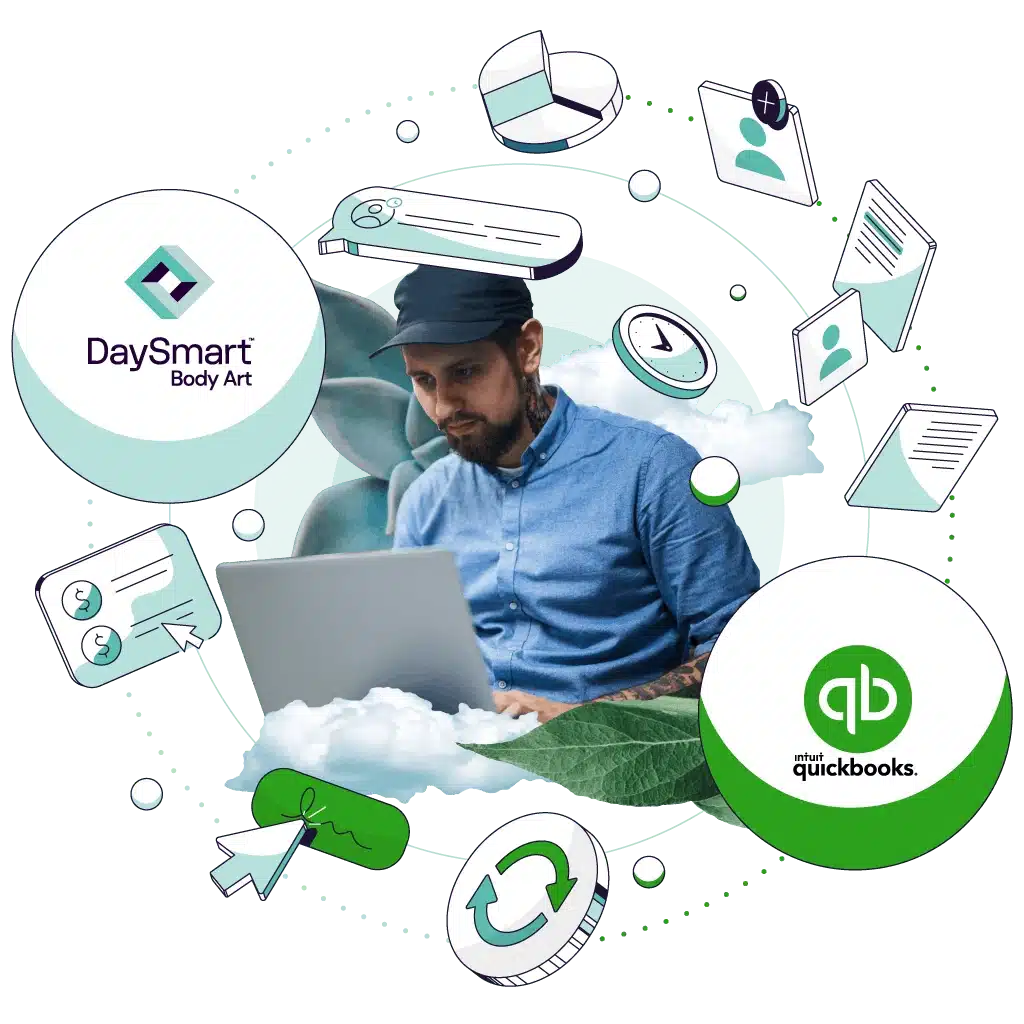 Connector for QuickBooks Online
For The Daysmart Body Art Professional Package and Up
QuickBooks Connect is included in pricing tiers beginning at the DaySmart Body Art Professional package. It is compatible with:
QuickBooks Pro & Premier software produced in 2009 and later
QuickBooks Canada & UK produced in 2010 and later
QuickBooks Payroll Services
It is not compatible with QuickBooks Online.
By pairing the DaySmart Body Art Professional package with the connector for QuickBooks, you can track employee timesheets, run payroll, print checks or pay via direct deposit. Include tips, manage commissions, and deliver bonuses without the expense of an outside payroll provider. All with a few clicks.
Eliminate Double Data Entry
Instead of entering data in both Daysmart and QuickBooks®, simply use this connector (free with any Pro subscription) to capture data from DaySmart to automatically populate your QuickBooks® accounts with POS transactions, paid invoices, and other financial data.
Convenient, Customizable Syncing
With quickbooks for tattoo shop, you can set up a syncing schedule with the options you prefer to automate data imports. If you need information outside of your regular syncing schedule, it's simple to import transactions manually.
Want to
learn more?
Start your free 14-day trial today and see how
DaySmart Body Art can work for you.
No credit card required!