Customer Spotlight: Evolved Body Art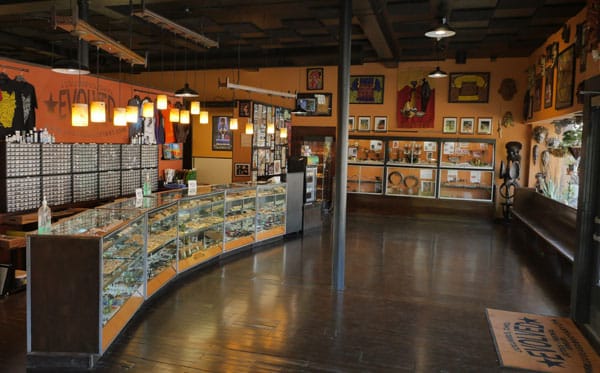 As part of our commitment to supporting and promoting entrepreneurs, we're spotlighting an InkBook customer who has been directly impacted by the pandemic to learn more about how he has adapted his studio operations to deal with this unavoidable business disruption.
We recently spoke with Nick Wolak, owner of Evolved Body Art in Columbus, Ohio, about his experience running his shops in the shadow of COVID-19—as well as the unexpected moments of positivity he's finding among the chaos. You may recognize him from this recent news story on how he bought groceries for his employees to counter the hardships of having their place of work shuttered for the past few months. Here's how he's getting his business back in order post-pandemic, and how his software investments are making that transition more bearable.
Q: To start, tell us a little more about your business.
A: Evolved Body Art has three locations in Columbus, Ohio. One is a private studio—by appointment only and all tattooing. The other two studios are for tattoos as well as piercings. Evolved actually just celebrated our 20th anniversary—and we got to celebrate by closing down for two months.

Q: How has InkBook helped you run your business over that time?
A: We have had InkBook for eight or nine years, though it wasn't until a few years ago that we realized we weren't using it to its full potential. We now use it for inventory control across our locations, and for keeping track of appointments and clients' history—we love that feature.
Whenever we have suggestions for what features we'd like to see as part of InkBook, the customer service team is always great about making sure we receive the support we need. They listen to us and then we often get to see those suggested changes implemented, which is really cool.
Q: Can you tell us about the experience of running a small business during a pandemic?
A: It was hard having to close our studios for two months, and challenging as a team to not see each other much or at all. Staying home was our new reality, but in our house, we implemented a no-fear policy. Instead of worrying about business, we used this time to focus on all the positive parts of life that we were now able to experience by not being allowed to work—like eating well, making art and exploring the outdoors.
Q: You started to reopen your studios a few weeks ago. How has the transition back to business been?
A: We've been reopening in waves. The first group of artists and employees to return were those who had the same positive, no-fear outlook on the situation. These people were beyond enthusiastic to get back to the studio. They understood the risks of returning, but they also knew all the precautions we were taking as a company to mitigate those risks.
Admittedly, we are understaffed, as not all artists have returned yet, but this has presented an opportunity for us. Since Ohio businesses opened earlier than those in other states, we're hosting guest artists who are unable to work at their own studios for the time being. Currently, there are two from California working with us. [If you're interested in freelancing at Evolved, reach out via their website!]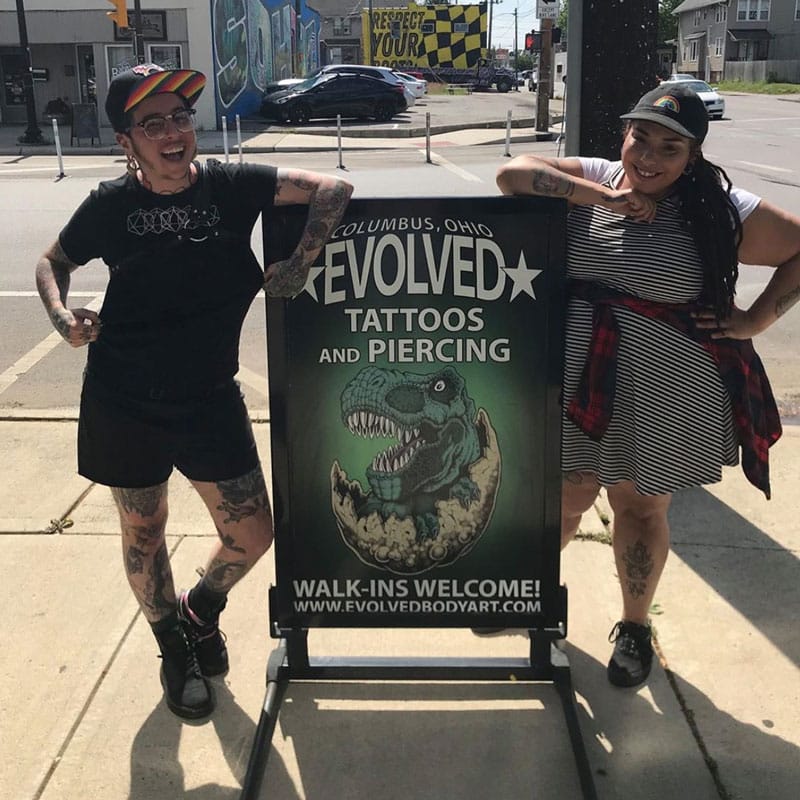 Q: How has InkBook helped with the reopening transition?
A: We do everything by appointment now—no more walk-ins—but we've still been crazy busy. The traffic has made us more reliant on InkBook. Having every artist use it was one of our requirements for reopening. As owners, we need to know what everyone's doing, and when, and be able to monitor the flow of visitors in the studios. We're now using InkBook so that clients can self-schedule tattoo consultations, which are similar to traditional walk-in appointments in that they're brief. This is the first time ever we're booking appointments for body piercings, but our piercers love the structure it provides for their schedules, so we'll continue to do appointments this way even once we return to normal.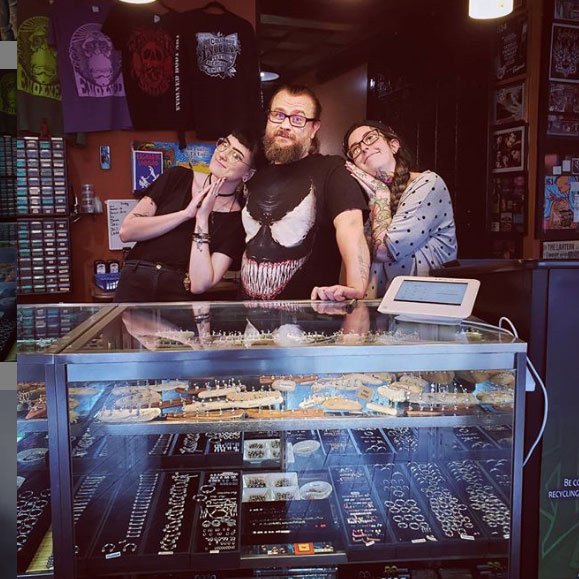 Q: How have studio operations changed in light of the pandemic?
A: Hygiene is one of our core values—we have very clean studios to begin with—but we've still since increased how much we're cleaning. We now have a staff member dedicated to sanitation, coming in before and after hours to deep clean the spaces.
Now when clients enter, we run through a list of screening questions with them to establish that they're well. We offer to take their temperatures and give them masks if they don't have their own, and we require them to use hand sanitizer. Once they've gone through this process, we give them an Evolved sticker to signify to other customers and staff that this person has gone through the screening and is cleared to be in our studio. We also ask clients to either put away their cellphones or allow us to use a UV phone sanitizer if they insist on holding onto them.
Figuring out how to run a business under these circumstances is, of course, new to us, but we've been able to use InkBook to make it happen. That's one of the many blessings that's come of this whole situation—we're finally starting to learn more about the technology and allow it to help us do the work and better serve our clients.
To learn more about how InkBook Software can help with your business' reopening—as well as other key tips for business owners during this time—visit our blog.