15 Express Services in a Hair Salon You Need to Have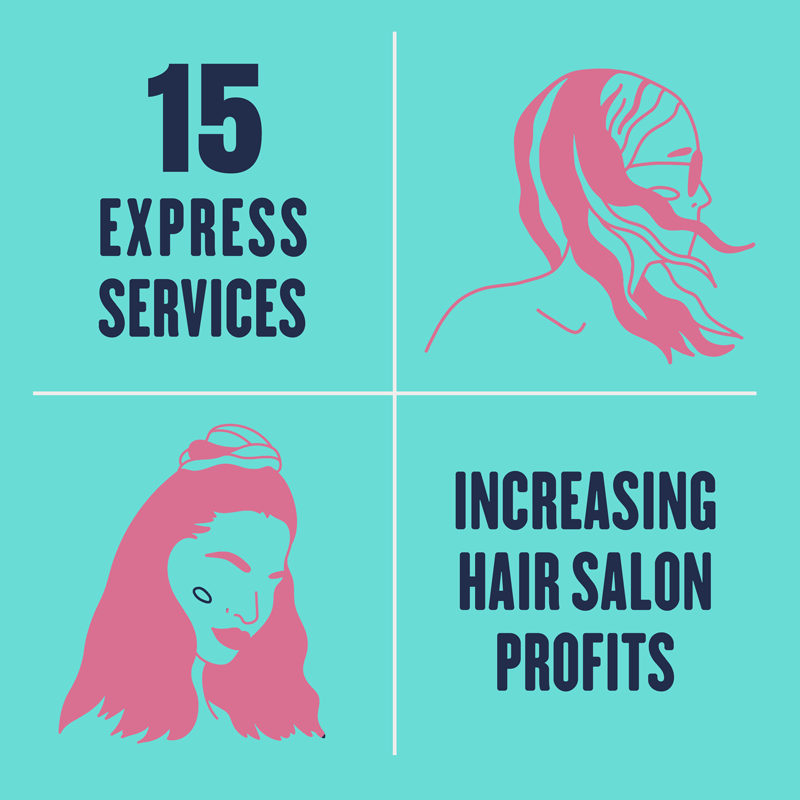 Women are projected to spend over $55,000 on hair services over a lifetime. It is easy to see that hair is big business.
One trend that is becoming more and more common among hair salon owners is to add express services to their menus. Express services in a hair salon are add-on services that take about 30 minutes or less.
These quick salon services are an easy way to increase the spending of existing clients while they are in for their regular treatments.
If you are a salon owner, how do you plan on incorporating this new trend into your hair salon? Are you fully capitalizing on this big share of the market?
Look no further for the answers. We have created a complete guide on the 15 express services in a hair salon you need to make available to clients.
Not only will these additional services boost overall client satisfaction, but it will also help you bring in more money and clients.
1. Volumizing Hair Treatments
Flat hair is a common hair problem for many women, especially those with fine hair. No amount of teasing, hair spray, or hot rollers can help boost their roots. Adding an express service for extra volume would be an easy sell to those suffering from flat hair.
You can either add volumizing products such as shampoos and conditioners when washing their hair. Or you can add thickening serums and sprays that will help lift hair for extra volume when blow-drying.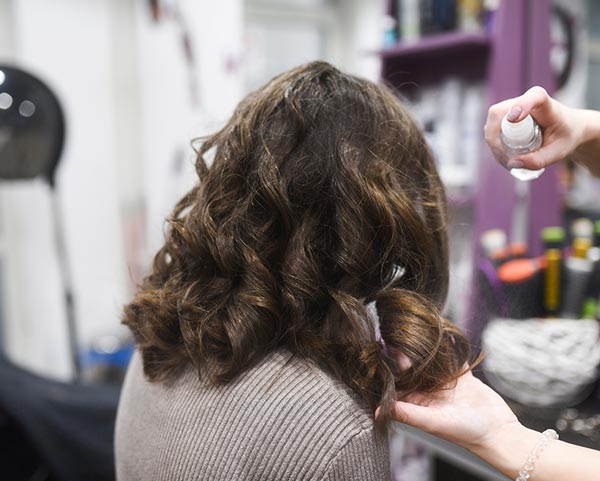 2. Add Fun Hair Accessories
Long-lasting hair accessories are expected to be a big trend in 2021. Accessories like mermaid strands and hair tinsel as semi-permanent hair accessories are a fun way to add color and dimension to your hair.
Celebrities and Tik Tok stars are giving hair tinsel a major boost, so you may find that people are already asking for this kind of service. Hair tinsel is especially popular for holidays, birthdays, and other celebrations.
Not only is adding hair tinsel to hair fun for your client, but it is also fast for you. It takes no more than ten to fifteen minutes to add.
View this post on Instagram
3. Express Up-Do
When women think of a hair up-do, it's easy to picture an overly styled prom look. Or a look that needed tons and tons of hair spray and an assortment of hot tools to keep it in place.
Many women like to have their hair styled in a natural, effortless way. They do not want to sit in a chair for hours and end up with an intricate up-do that looks
Adding in an express up-do service can be a big moneymaker for your hair salon. You can either add an easy, natural daytime up-do or have a more stylish evening express up-do.
All you need is a little bit of hair spray, some bobby pins, and about fifteen extra minutes. An express up-do is an easy add-on that can be tacked onto the end of a normal cut and blow-dry.
4. Healthy Scalp Treatment
Many hair problems, such as lack of volume, dull hair, or dandruff, are caused by problems with the scalp. Dry scalp is the root cause that often goes ignored when trying to treat these major hair problems.
You should definitely consider adding a scalp treatment to your express salon services. This can be as simple as using clarifying shampoos to lift buildup from the roots and massaging a good conditioner into their scalp.
This can help stimulate cells in the scalp and increase circulation. Clients will leave feeling fresher, more renewed, and with a healthier head of hair at little to no extra work from you.
5. Water Protection Treatment
Water typically has a very healing and calming presence. But did you know that the water you wash your hair with can be loaded down with harsh chemicals that strip your hair of necessary nutrients?
If you color treat your hair in any way, it is critical that you keep out harsh chemicals, chlorine, and metals found in water. If your home uses hard water, you can also be stripping your hair without even knowing it.
Think about offering water protection treatment. It forms a barrier that helps to protect color-treated hair from harsh chemicals and minerals found in water that can strip their color and healthy shine.
6. Luxury Blow Dry
Blow-dry bars are popping up all over the country for a reason. There is no better feeling than walking out of a salon with a fresh blowout.
Elevate your current blow-dry experience by offering a luxury blow dry. This can be a thirty-minute express service that makes your client feel like a superstar. Offer a beverage during the service. Spend a little bit of extra time blowing dry the hair into a glamorous, bouncy blowout.
You will find clients will love it and often return to have it added-on to their normal service. If you're trying to expand your existing client base; consider a luxury beard blow dry as there are plenty of men working from home growing out their beards lately!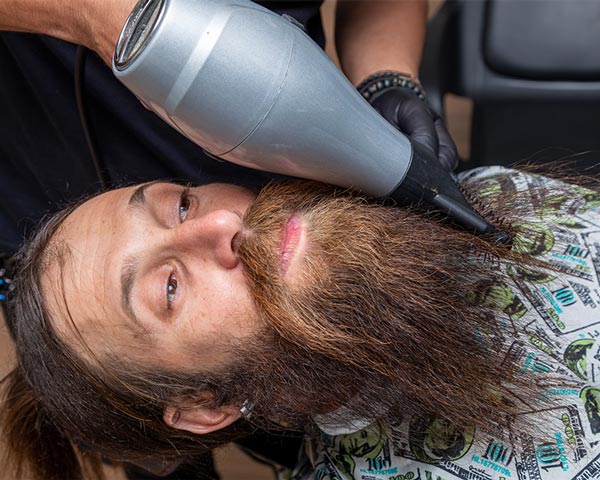 7. Super Shine and High Gloss Treatments
Dull, lifeless hair is one of the most dreaded of hair ailments. Whether it be from harsh chemicals, heat damage, or improper hair care, no one wants to have lackluster hair that does not gleam from the inside out.
Add in a quick super shine or gloss treatment to give your clients shiny, beautiful hair. Gloss treatments are a quick salon service that can add a lot to your salon profits.
8. Extra Hydration Special
Virtually all hair types require more moisture. Moisturized hair is shinier, healthier, and less prone to breakage than dried out, dulled hair.
Add in a hydration special that will rejuvenate hair with a big dose of moisture. This can be included in the wash and will barely take any time at all.
Your clients will be happier as they will be able to see a difference in their hair. Your bottom line will be happier as well.
9. Eco-Friendly Products
Eco-friendly products are the way of the future. if your salon is not offering eco-friendly products, you need to be right away.
Over 90 percent of clients say they are more likely to trust a business that uses eco-friendly and socially conscious products. Think about offering an add-on of using eco-friendly products exclusively during a treatment.
This takes zero extra time out of your schedule while providing your client with a product they can trust. This also helps increase your profits.
10. Express Color Treatments for Every Hair Type
Over 75 percent of women do some sort of color treatment to their hair. It is safe to assume that a majority of women coming to your hair salon will be in need of some sort of color touch up, highlight update, or total dye-job.
There are a variety of express color treatments you can add to your salon services.
For those with gray hair, offering a demi-permanent color blend can help to hide grays that have appeared since their last coloring treatment.
Others may be looking to simply touch up their roots or add in highlights or lowlights.
Adding in quick color touchups for every hair type will make your clients feel more confident with their color in between regular treatments.
11. Male Hair Treatments
As a hair salon owner, you cannot be ignoring a major client base – males. Males are a surprising potential client that can bring in major profits to your salon with minimal effort on your part.
Some express salon services you can offer to men include scalp massages, shampoos, head and beard balms, beard trimmings and shampoos, and more. These services all take less than thirty minutes.
This is a great addition to make to your services menu. Your clients will feel encouraged to bring their husbands and boyfriends and treat them to a service while they are getting their regular service.
12. Hot Towel Treatments
Hot towel treatments are one of the best express salon services in a hair salon. It is easy, quick, and can be included in just about any service.
Heat up a damp towel and drape across a client's neck, shoulders, arms, or hands for a luxurious retreat. It will help make the client feel as if they are in a spa.
Pricing a hot towel treatment at even a small dollar amount can make this an easy sell to clients. Plus, it can add up quickly over the months.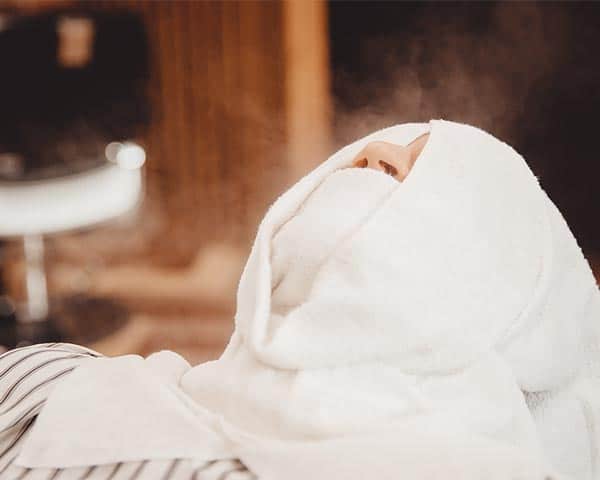 13. Luxurious Neck and Shoulder Massage
Who doesn't love a neck and shoulder massage? Offering a luxurious neck and shoulder massage takes up zero extra inventory. No products need to be used, although you can add some essential oils to boost the experience.
Before they begin treatment, you can perform a neck and shoulder massage to help loosen up their muscles and get them to a more relaxed state. You will be surprised by how many people will be adding this quick salon service to their regular treatment over time.
14. Restorative Hair Masks
Hair masks are growing in popularity. They are an easy way to restore damaged hair, add shine, and give life back to dull hair.
Many hair masks take anywhere from ten to twenty minutes and are an easy add-on. While your client is soaking in the benefits of their hair mask, it is also a great time to add on other express services. You can do a hot towel treatment or a neck and shoulder massage at this point.
In this way, you can get two or even three express services in one. That makes a hair mask a great express salon service to add.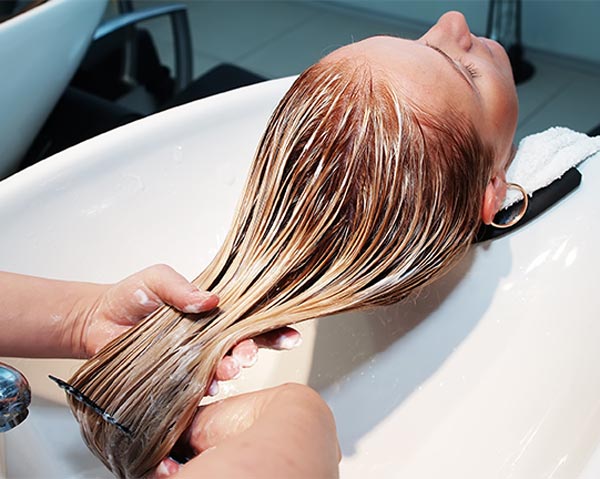 15. Add Gift and Product Bundles
The holidays and the gift-giving season can be stressful. Trying to find the perfect gift can seem daunting. But one great way to increase the spending of existing customers is to offer gift bundles around holiday seasons.
Pack in great hair products that a hair lover will need to have. Serums, oils, leave-in conditioners, hair masks, and more can make a great basket to give as a gift. Including gift cards is also a great addition to a gift bundle.
This does not have to be limited to just the holidays. Creating baskets for birthdays, weddings, bridal parties, or other celebrations can be a great way to increase existing customer spend.
The Benefits of Adding Express Services in a Hair Salon
There are so many ways to enhance the client's experience while at a salon. Most women who visit salons want to feel pampered and beautified during their treatment.
Express salon services do just that. They increase the luxuriousness of even a regular wash and cut and transforms it into an unforgettable experience.
Adding express services in a hair salon is also a fantastic way to build customer loyalty. At the end of the day, building customer loyalty should be the number one priority for every salon owner.
Express services make your salon unique and stand out from the sea of salons they can choose from. Express services also make a client's salon experience customizable to their needs as they change.
Clients will feel more valued. New customers will be more likely to revisit in the future as well.
Connect With Us Today to Learn More About Express Treatments
There is a treasure trove of express services you can add to your salon menu to help increase customer spend and enhance the customer's experience.
If you are looking for more information on how to capture the benefits of express services in a hair salon, connect with us today.
Our knowledgeable team is standing by ready to help you reach your hair salon goals. We will be happy to give you a free quote on how we can help your salon.