Weighing the Options of Dog Grooming Harnesseses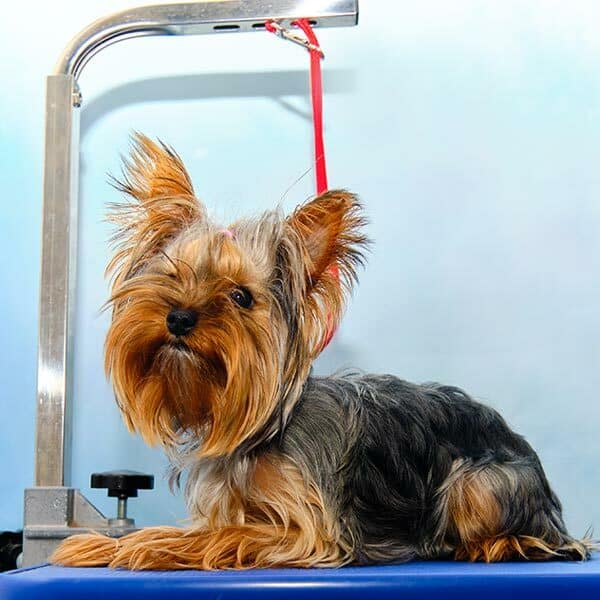 Weighing the Options of Dog Grooming Harnesses for the Grooming Table
All dog groomers know that while some dogs love a good pamper others are less keen, to say the least. From anxiety to aggression, you'll come across all sorts of adorable clients as your dog grooming business grows.
That's why it's so important to have the right equipment to ensure the safety of your four-legged clients and yourself. We're looking at the best options for a dog grooming harness to do just that.
Why Do You Need a Dog Grooming Harness?
Lots of dogs struggle with anxiety when going to the groomers. The reasons for this are plentiful.
The dog might distrust strangers, particularly if it's a rescue dog. But even the most well looked after dog can exhibit signs of anxiety over going to the groomers.
Much of this comes down to the new surroundings. If a dog hasn't been exposed to grooming equipment before, it's a natural response to find it all a bit overwhelming. Shiny scissors, loud hairdryers, soapy water… it's enough to make anyone put their tail between their legs!
This anxiety can manifest itself in a number of ways. From whining and trying to get away to growling and snapping. It's important to remember that all these are signs of a scared dog and not take them as anything more.
But ensuring your own, and your clients, safety, and happiness should be a top priority. Which is where dog grooming harnesses come in. These helpful tools make sure movement is minimal and there are no unexpected surprises in store.
Even the calmest of dogs can benefit from being in a secure dog grooming harness. There are so many available that it can be hard to know which kind is right for your business.
Much of this will depend on the size and breeds of the dogs you plan to groom, as well as the temperament. Your unique setup, be it a physical salon or a mobile salon, will also influence which harness is right for your business. This said we'll cover the most popular options.
Grooming Loops
Grooming loops are the most common option for grooming harnesses. They're also known as grooming nooses, though we much prefer the term loops for not having the sinister undertone!
Grooming loops slip over the dog's head and onto its neck. The other end of the loop will be attached to a secure point on the wall to keep the lead taut. This helps encourage the dog to stay still.
Some grooming loops are secured to a certain tightness. While others will tighten further if there is lots of movement. The latter in particular is a good option for particularly excitable dogs.
In general, grooming loops are suitable for calmer dogs. Anxious dogs will need a more secure and sturdy harness which isn't based around their neck as this could further stress them.
Stand n Groom
Stand 'n' Groom or stand and grooms are a great option for chilled-out customers!
This option looks almost like a pillow. It slides in underneath the dog and props it up. This means the dog can relax its weight off its legs while you groom, without laying down and stopping you from being able to reach everywhere.
It's a great option for elderly clients. Especially those who have thick coats which take a long time to get through. It ensures they don't end up with stiff limbs from standing too long.
The stand comes with a waterproof coating, so you don't need to worry about wrecking the soft interior when your customer is freshly washed.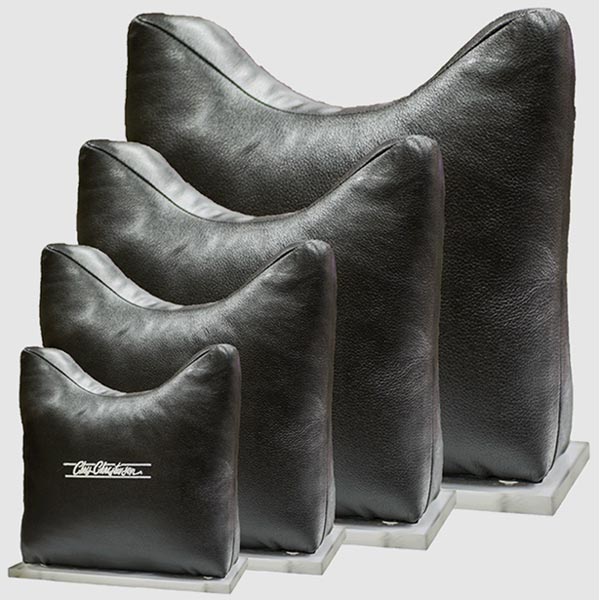 Support Straps
Grooming support straps do just what they say on the tin. They offer some extra support, and security, for your adorable clients.
The most common type of grooming support strap you'll find ones that go under the stomach. You simply loop the strap underneath the dog's stomach and secure either end to a fixed point above them.
This helps encourage the dog to stay put. But it also allows them to relax and take the weight off their legs should they wish to.
Another popular option for grooming support straps is to have a second strap which loops underneath the neck. These dual support straps are a great option for nervous dogs who may still fidget with just the one strap.
Dog Grooming Hammock
Dog grooming hammocks are becoming an increasingly popular option for dog groomers. After all, who doesn't love a hammock?
Dog grooming hammocks go underneath the dog's whole body, with holes for their legs to come out of. They're suspended by a metal pole above. You can choose to have the hammock so it allows the dog's feet to touch the table, or raise it so the dog is suspended in the air.
You might think this all sounds a little overwhelming for dogs. But you'd be surprised how quickly most dogs will settle into a hammock. It also ensures minimal movement as there are no surfaces to make contact with.
These are most common for smaller dog breeds, though there are larger grooming hammocks available. Much of this is due to setup. You'd have to have a heavy-duty hammock support to hold a Mastiff after all!
Dog grooming hammocks are best suited for small breeds and nervous customers.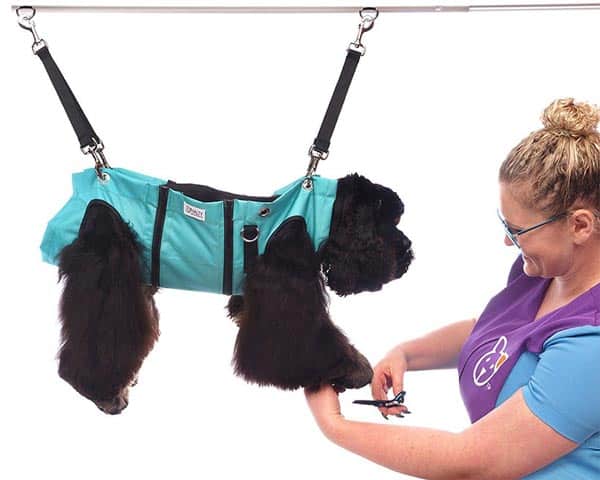 Dog Grooming Table
For any of the above options, you'll also need to find a good quality dog grooming table. These come with the secure fittings for the dog grooming harness to attach to.
A dog grooming table will cost you anywhere between $100 all the way up to a few thousand dollars for the top-of-the-line equipment.
Ideally, you'll want a few different harness options available so you can pick based on your customer's size and temperament. This ensures your customers are always at their most comfortable for their pampering session!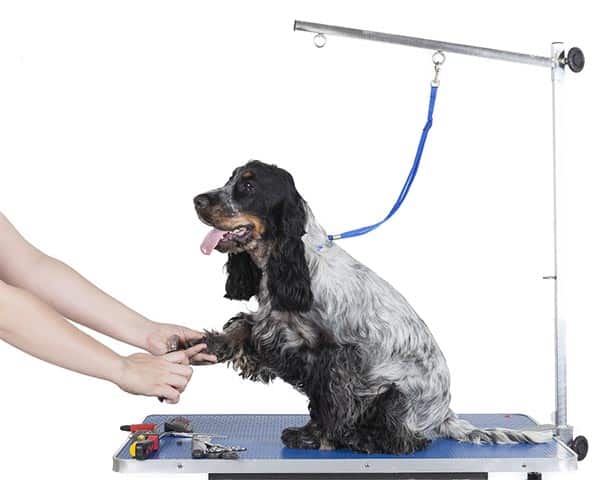 The Right Tools For Your Business
Having the right dog grooming harness is a vital part of ensuring your business's success. Make sure products are high-quality, durable, and comfortable for the best results for you and your clients. Although a bag of treats won't go amiss either!
The right tools for your dog grooming business aren't just on the table. Daysmart Pet Software specializes in business management software for pet groomers. We can help you grow your business and run it more efficiently with a free trial.