Decorating Your Salon For The Holiday Season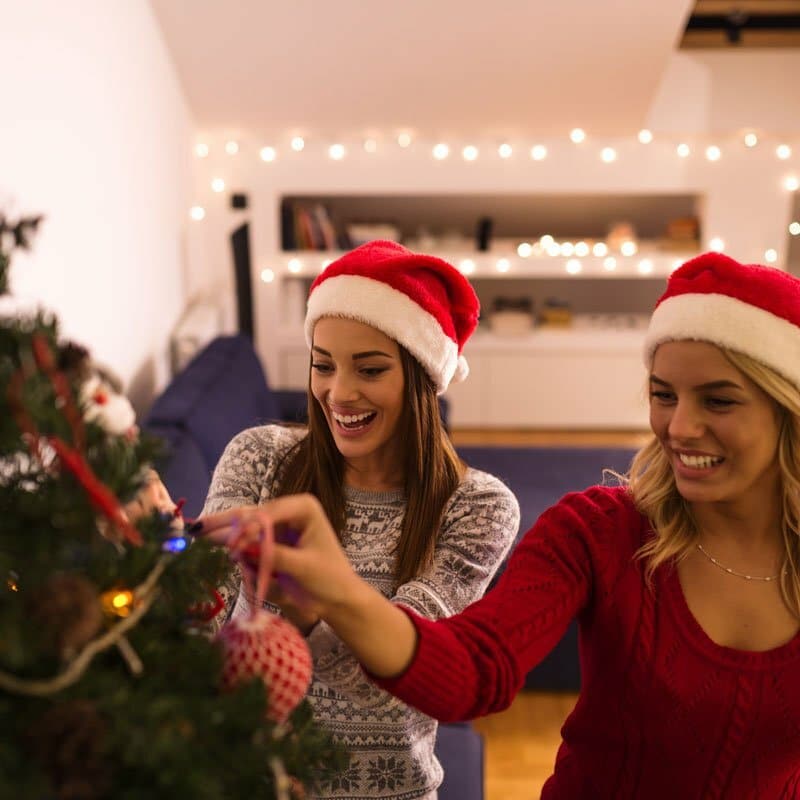 Christmas is coming around quick and your chairs will be fully booked, but is your salon in the holiday spirit?
Adding some salon decorations for Christmas is the perfect way to attract new customers, create a better client experience and keep stressed-out employees in the holiday spirit.
Set yourself up for a great customer experience by creating an inviting storefront during these peak holiday months with these top salon decorating tips:
Deck the Windows With Salon Decorations
Attract the attention of passers-by; transform your windows with eye-catching Christmas displays such as a small tree with colored ornaments that align with your salon's colors. Don't underestimate the power of what people see from the street. You'll be surprised at how many clients you can engage with a festive display that creates a fun and welcoming environment.
Mirror Magic Salon Decorations
With clients spending the majority of their time at your salon looking in the mirror, this is a great place to add some decorations! Drape garland around the mirror at each stylists' station or add some festive mirror stickers for an extra touch of magic. Remember, don't go 'over festive' with your mirror decorations – clients want to be able to see their new hairstyle around your decor!
Spruce Up Your Merch
Don't forget about your retail products – spruce up your displayed merchandise with colored or burlap bows to create a gift-inspiring holiday feel for your product displays. This is a great opportunity to draw attention to your products and upsell with special holiday gift wrapping for the perfect Christmas
Creative Christmas Tree
The classic Christmas tree is a must-have to complete the festive look! You don't have to be boring, though – get creative by decorating your tree with handmade hairdressing ornaments or decorate it with hair rollers and accessories from around the salon.
You could also make this into a fun bonding activity or competition for employees to decorate and make ornaments for the tree, boosting employee morale and team collaboration.
Light It Up
Lights are a classic Christmas decoration, and that's no surprise seeing as it is scientifically proven to make you happier! Spread the Christmas joy by adding twinkling lights throughout your salon.
Try wrapping them around the front desk, windows, mirrors or even outside to add a holiday glow and make certain areas brighter. Extra lighting is especially great in the salon world where good lighting is key (especially for that new hair selfie!)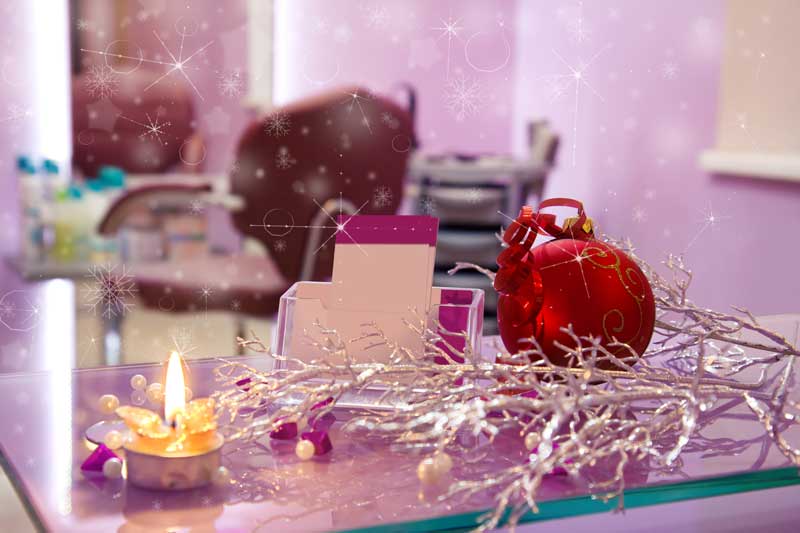 Consistency is Key For Salon Decorations
When it comes to salon decorations, wild isn't always wonderful. Too many decorations will make your salon look cluttered and disorganized. Try to keep your decorations consistent with your branding by choosing a theme that suits your salon. Stick to one-holiday decor style for a classy look and feel. For trendy salons, try a rustic Christmas style. Have a modern, sleek salon? Try a white and silver theme!
Remember, decorating your salon doesn't have to be a boring yearly task. Make it fun and get creative! Get all employees involved with the decorating to help them bond and accomplish something as a team.
If you don't have a lot of space or a large budget for decorating, even some lights and tinsel or a small tree in the window sill will add that little extra Christmas magic to your salon. Before you know it, clients will be flooding through your doors!
Spend less time on paperwork and spend MORE time on decorating! Download Daysmart Salon absolutely free for 14 days!