What Recreation Facilities Need to Know When Evaluating Facility Management Software Solutions
Recreation facilities need software to help them manage many moving pieces for their day-to-day and long-term operations. Does your current recreation facility scheduling and management software meet your needs?
If you're using multiple tools, doing administrative tasks manually, or spending time on operations at the cost of offering the best customer experience, it may be time to research a new software solution. The right recreation facility scheduling and management software will improve efficiency, provide better customer service, and boost revenue.
Don't feel overwhelmed on your path to searching for a better software solution. We've created this buyer's guide to support your research. The guide covers:

Common barriers to adopting new software and how to overcome them
Reasons you should consider transitioning to a new software provider
How to prepare for conversations with potential recreation facility scheduling and management software companies



Common Barriers That Interfere with the Switch to a New Facility Management Software
It's natural to be hesitant when making the decision to bring on a new recreation facility scheduling and management platform. But it's important to remember that these changes may be necessary in order to find a solution that is a better fit in order to meet the needs of your operation.
Let's take a look at some common barriers that arise when researching a new recreation facility scheduling and management software.
Onboarding uncertainty
The concern: Not knowing how much time onboarding a new software may take and how frequently it will take staff away from their daily tasks.
The opportunity: Many recreation facility scheduling and management software providers work with their customers to find the best options for onboarding. They'll reach out about scheduling and often have additional resources for recreation employees who need assistance after the initial onboarding, including webinars, blog posts, videos, a frequently asked questions page, and a dedicated support team.
Working with your budget
The concern: A new recreation facility scheduling and management software won't work within your budget.
The opportunity: Choosing software that's a better fit for your recreation facility will actually save you money. An all-in-one solution will eliminate the need to pay for multiple tools. Plus, the features of an up-to-date, cloud-based platform will enable you to streamline and automate tasks, allowing money, time, and other resources to be dedicated to efforts that increase revenue.
Impact on customers and staff
The concern: Onboarding, switching systems, and adapting to change will have an impact on the customer experience and the ability of staff to do their work.
The opportunity: Software providers have worked with many recreation facilities just like yours. They have a solid plan in place to minimize downtime. One of the benefits of purchasing best-in-class software is that it gives your facility features that make it easier for your staff to streamline their work and for your customers to have a seamless experience.

Why You Should Reevaluate Software Options for Your Recreation Facility

Any of the barriers listed above can be overcome once you assess the opportunities and embrace the benefits of adopting new software for your recreation facility. Focus on the ways that new software can help transform your business.
Here are several reasons to consider researching a better software solution for your recreation facility:
Your facility could be running more efficiently
New software will help your staff work more efficiently, which prevents burnout
You will save time and money
You'll have the top features developed for your industry
You can focus on business growth
You can provide your customers with a better experience


How to Prepare for Your Conversations with Prospective Recreation Facility Scheduling and Management Software Providers

Once you've decided that you're ready to research new options for recreation facility scheduling and management software, you'll want to schedule interviews with representatives from software providers.
You might already have questions or need a place to start. We've pulled together some questions that will help you seek the information you need to make the best decision when purchasing new facility scheduling and management software.

Ask These Questions of the Recreation Facility Scheduling and Management Software Providers You're Researching

Can you share your typical transition timeline?

Do you anticipate anything different for us?
Should we expect any delays?
How will you support the transition?

What does your pricing structure look like?

Are there hidden fees?
How can you save my facility money? 

What is the data transfer process like?

Will we lose access to key information?
Have you ever experienced issues during data transfer?

How would this transition impact our customers?

What disruptions should we anticipate?
Do you offer a portal for customers to access important information?
How do you support appointment booking for customers? 

What kind of training would you provide for us to learn your software?

What kind of support do you offer?
Will we have points of contact we can reach directly for help?

What successes or challenges have you seen with other facilities?

Do you have case studies to share?
Do you have references we can contact?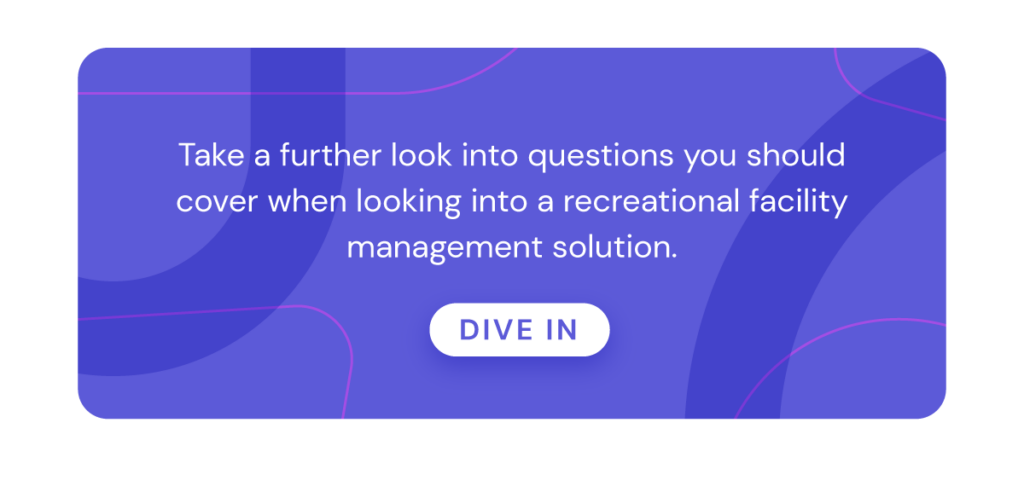 Based on the Information You Receive, Ask Yourself These Questions

How will the logistics of a transition impact my recreation facility? My customers and employees?
Will I be well-supported by this provider during the transition and beyond?
Will this software scale with my facility as it grows?
How will my team benefit from a transition?
Is it financially feasible and/or beneficial to switch?
Does it make sense for my recreation facility to make a transition at this time?

Top Features to Look for in Recreation Facility Scheduling and Management Software

As you research facility scheduling and management software providers, take a deep dive into the features they offer. Consider how comprehensive the features are and if they're flexible and robust enough to support your recreation facility in the short and long term.
These scheduling and management software features should be top of mind for your recreation facility:

Easy-to-use booking and reservation tools
Alerts for double-booking
Automated registration confirmations and reminders
Manage invoices and contacts
Pain-free resource management
Versatile accessibility from a computer, tablet, or mobile device
Seamless online and in-person payment acceptance
Available integrations for functions like accounting and marketing
Custom reporting for tracking trends, customer engagement, and growth
Easy navigation for customers to view and register for upcoming events

Seize Your Day with DaySmart Recreation

DaySmart Recreation is the all-in-one recreation management software solution that allows you to engage your community, boost participation, increase member retention, and strengthen customer loyalty.
A partnership beyond software. We're committed to providing high-quality services and support so you can focus on managing your facility. No matter your go-live deadline, our dedicated onboarding team professionally trains, tests, and does quality assurance checks to ensure you have a successful product launch. Our in-house customer success and support team will be there to help you with any questions that might arise and can be reached by phone, email, and chat.