A Complete Guide on How to Choose the Right Pet Nail Grinder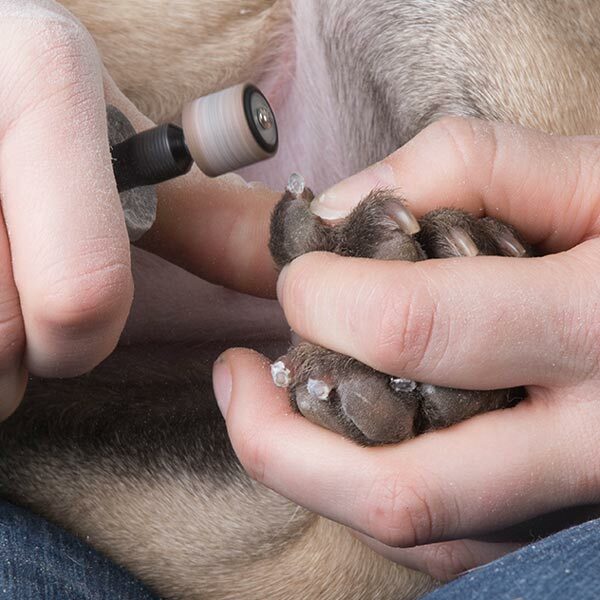 A Complete Guide on How to Choose the Right Pet Nail Grinder
When setting up your pet grooming business, you need to make sure you have the best tools for the job.
A pet grinder can be an essential tool for making your life easier and increasing your pet clients' comfort when trying to trim their nails.
But what makes a good pet nail grinder, and why do you need one?
Take a look at our short guide about how to pick the best pet nail grinder for your business and the types of features you should consider when making a purchase.
Why Choose a Pet Nail Grinder?
Pet claws can cause a lot of damage to a person and their property. If left untrimmed, they can also become a major discomfort for a pet.
If your customers have hardwood floors or tiles, they may hear a familiar tik-tak of the pet's claws across the floor, especially if a pet is older or lives most of the time indoors.
Natural wear and tear of the nails diminishes over time, and many pet owners are unaware of this.
When a pet is brought into a salon for a groom, the nails need to be checked, as well as the coat. If the nails are curling back into the pad, then it is past time for a trim.
Many pet owners have considered declawing as a permanent option for their cats, but this is far from humane. Veterinarians will advise against it as a solution, as it is essentially removing the cat's fingertips.
Nail clippers are also an option, but you run the risk of catching the 'quick' blood supply inside the claw. Doing so causes a lot of pain for the animal and likely for you too.
A pet nail grinder is a much more gentle and natural alternative to declawing and far safer than using clippers. Reducing the pet's nails can be done easily and effectively with the right tool.
Let's look at some things you need to consider when choosing a nail grinder to maintain a healthy claw length on a pet.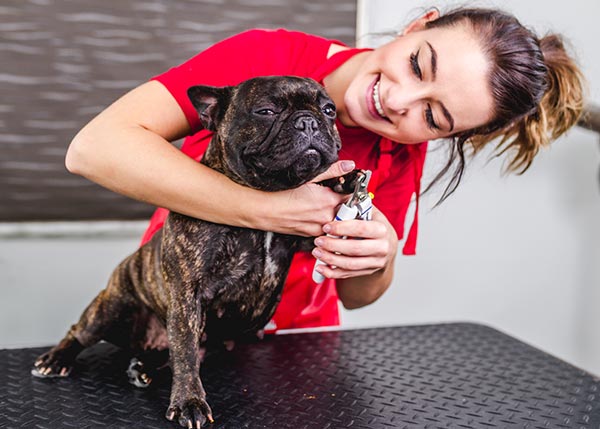 Device Power
When trying to choose a pet nail grinder, you need to consider how powerful the device will be. Obviously, you want something with enough power to rotate the grinder against an animals' nails.
This will be more of a consideration for dog owners as cat claws are much finer and easier to grind down. It is essential to find a balance between devices that are too underpowered or too overpowered.
An underpowered device will stop grinding immediately as it comes up against any tough friction. Too overpowered, and it won't be easy to control and may heat the pet's nails.
Device Noise
As most pet owners can attest to when getting out the vacuum cleaner, pets do not like the noise of most motors.
For this reason, you need to choose a device that is quiet enough that the animal does not freak out when you turn it on. Grooming sessions can be stressful enough for an animal.
If the device has a particularly low or high pitch when grinding, many dogs and cats will try and break free from your grasp, which could result in injury for both of you.
Maneuverability
If you are working alone on grinding a pet's nails and the pet is particularly jumpy, you need to make sure that you have enough maneuverability with the device.
This could mean the difference between a corded and cordless device. Some grinders are cordless, which makes life much easier when trying to juggle a wriggling pet at the same time.
This may come and the cost of power to the device, though, and you need to ensure that your grinder can hold a charge long enough to complete the task.
Comfort
The task of grinding your pet's nails will take some time, and you will be holding a potentially heavy device for all of it.
You should consider buying a grinder that is easy to hold, not too heavy for your hands, and that has a good non-slip grip.
You and the pet are likely to become a little sweaty from experience. A non-slip grip will prevent any accidents occurring by dropping the device.
Ease of Use
You also want to consider the convenience of the device itself. How easy is it to store and assemble? Is it easy to change the parts as needed? Can you get replacement grinders easily?
Consider all of these options when thinking of purchasing a nail grinder for your grooming business.
The Best Nail Grinder For Dogs
The Andis Cord/Cordless Grinder is a fantastic choice for both dogs and cats as it is designed to be used on both pet types.
With two grinding speeds (normal and turbo), it is quick, adaptable, and can be made to fit either pet claw type. It also offers a corded or cordless application for flexibility of use.
It is perfect for small to medium-sized animals, but it may struggle with larger dogs' nails. However, Andis does have another grinder that is similar in specification and is designed for dogs of all sizes.
One of the best things about this grinder is that it is extremely quiet when it runs. If you groom a particularly nervous dog, this makes a great choice as the noise should not disturb them too much.
Check out one of our favorite competitive groomers/Andis educator's overview of what options are available with the Andis product line for nail clipping.
The Best Nail Grinder For Cats
The Dremel 7300-PT is a great choice if you are looking for a cat nail grinder. It is extremely lightweight, making it very easy to maneuver. It is cordless too, which adds to the flexibility.
The device is noiseless enough not to disturb a cat when you are grinding. But one downside is there is not nail dust catcher, so you will have to perform a cleanup when the job is finished.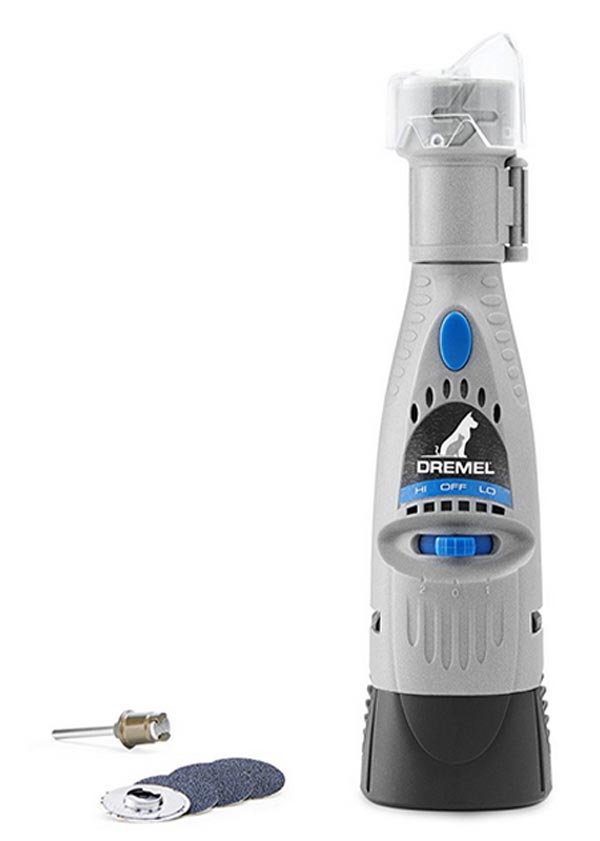 Find the Best Pet Nail Grinder For You
There are several things to consider when buying a pet nail grinder for your business. Much will depend on the size and disposition of the pets that you will be grooming.
Try to find a good balance between power and noise, and you should be able to give the perfect pet manicure with considerable ease using a grinder.
If you are interested in your developing pet grooming business, please look at our packages page and see how we can help you grow.