The 23 Funniest Hair Salon Names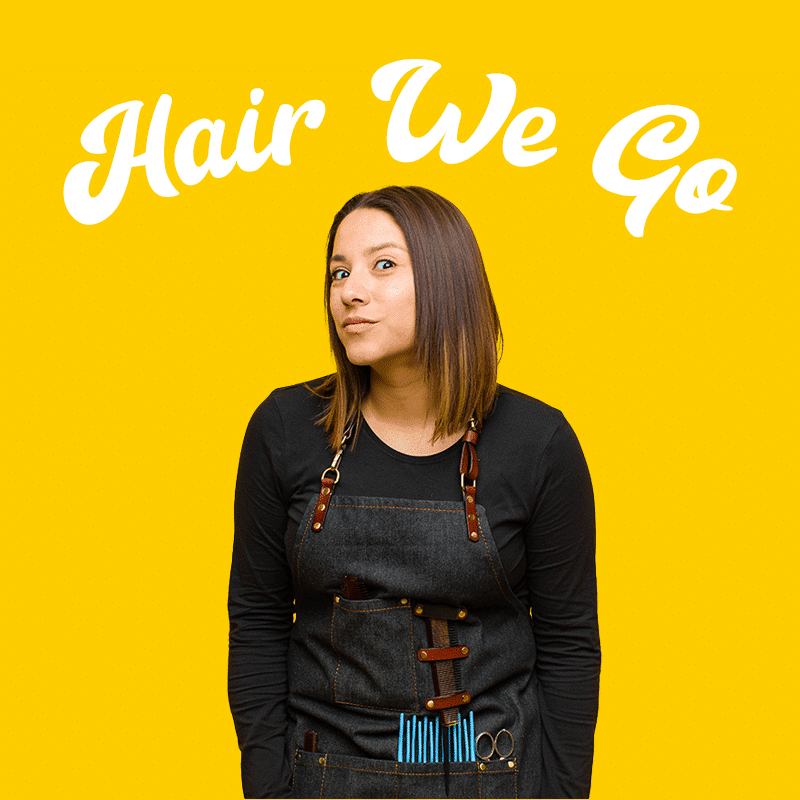 Peek-A-Do, it's us! Here to bring you the most hair-larious salon names in the game.
Have you always wanted to go to Caesar's Palace, but you'd settle for Scissors Palace any day? Then step right up for the Mane Attraction! Okay, you get it with the puns, right?
Creativity is not something that hair salons lack, so when it comes to their names, there are no-holds-barred. There's nothing less appealing than a bland storefront with a lackluster, obvious sign above the door boasting "Haircuts." Every hair salon does hair, but does every hair salon have a hilarious, impossible-to-forget name? The answer is quite obvious.
All jokes aside, comedic advertising demands attention. Once people are paying attention, you're that much closer to selling them your products and services. Avoid the blues in your salon, and gather some fun ideas from these great names.
These Hair Salon Names Are Unbeweavable
The best part about names is their ability to convey exactly what your salon does; from fades to buzzcuts, to styling, you can choose a name that is specific enough that experienced clients will know and general enough that new customers can understand. This list could go on forever – there are some outlandish ones out there – but we kept it to a sweet list of the best 20 we could find.
1. Lunatic Fringe
We are are very aware of how eccentric many of us salon stylists are. This salon appears to be a bit more forthcoming with crazy that resides in us all. Personally I like my fringe to remain as sane as possible but with 2020 being the wild ride it has been, maybe we should try it out. Lunatic Fringe is based in Utah and has locations in Idaho and Ohio.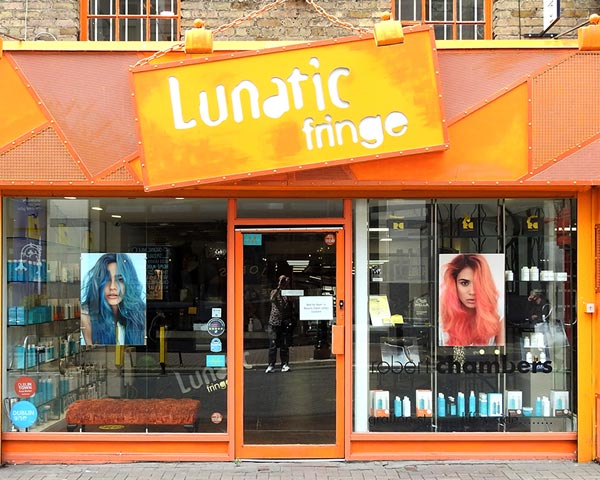 2. Hair Today Dye Tomorrow
This clever title you can read multiple ways which is why we love it so much. At first, its totally giving us James Bond title vibes but after further inspection it does feel very pragmatic.
3. The Mane Tamer
If someone was looking to compete with this salon down the street, we might suggest incorporating a tiger. Tiger King has captivated many of us not only by its salacious drama but…the hair, who else was taking note of the hairstyles on that show? (If you were taking notes then you probably should start thinking of a salon name, and please share with us a photo of your sign).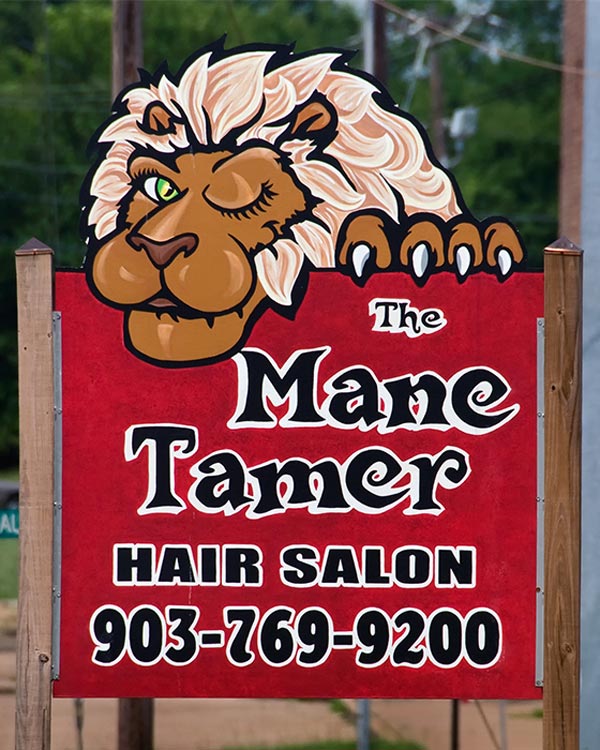 4. Anita Haircut
This one is hilarious for its simplicity and its wit. Anita Haircut sounds like it could be your neighbor, or it could just be your neighborhood nail salon. You'll just have to find out.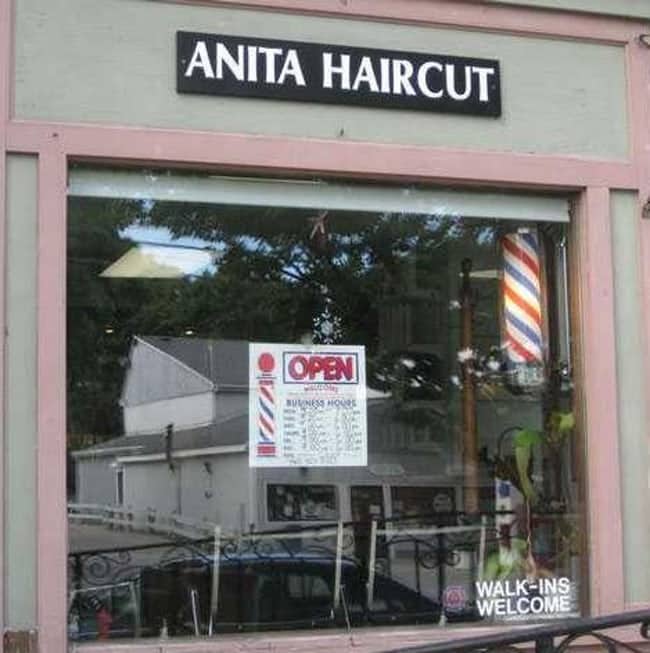 5. Jack of All Fades
This is Anita Haircut's boyfriend and make no mistake, this crackerjack barber can handle any request; outlining, fading, blending, line cutting… He's a maestro with the clippers, so sit back.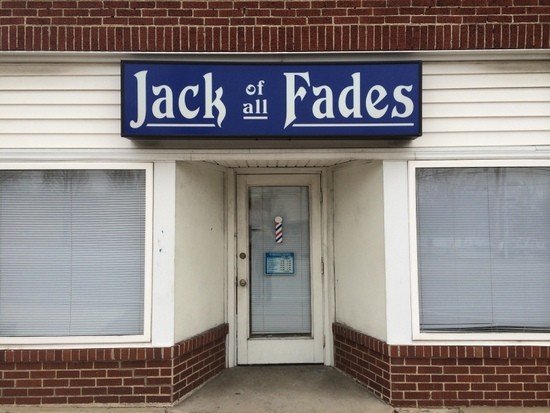 6. A Breath of FresHair
Stepping out of this salon with your new luscious locks, as the wind catches your hair and perfectly frames your face… you'll wonder why you waited so long to blow in here.
7. Ooooh Girl, who did Your Hair?
The first thing you say when you see your girlfriend's fresh cut: "Oooh girl, who did your hair!?" Now they can answer: "Ooooh girl who did your Hair" salon! Confusing at first, you'll catch on.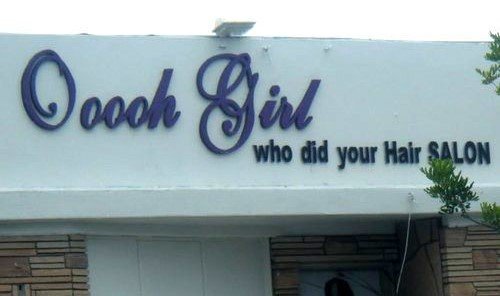 8. You Are Hair
A salon decorated with maps and compass points? Remind clients to be present during their salon experience – include a big red star on your ceiling to remind your guests – they are here.
9. Hairitage
Here, you can explore your roots.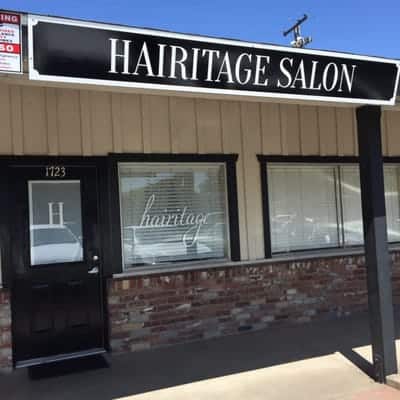 10. So Fresh and So Clean, Clean
We just thought of this one while thinking about bands. This is the way you and your hair will feel leaving this salon. This name's for you, Outkast!
11. Hairport
Flights arriving daily! Depart in style with a new first class look.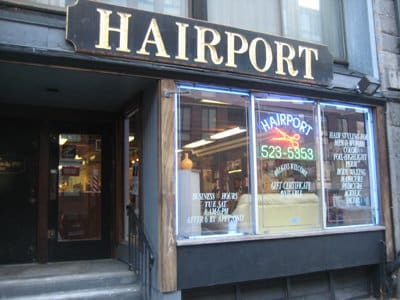 12. Cut-N-Edge
Enough said for this one!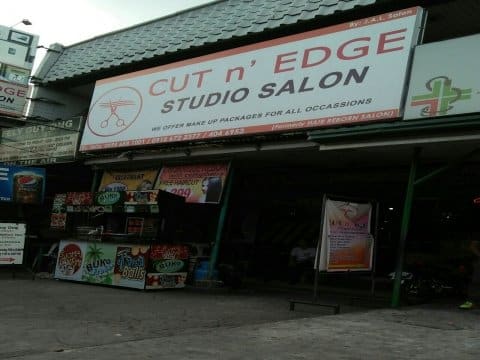 13. Shearlock Combs
It's elementary! He doesn't even need a sidekick.
14. Hairphernalia
Any compound word that includes the "hair" can be easily substituted, re-positioned and re-purposed to become punny phrases such as "Hair to Eternity" or "Hair to Please You"
15. Julius Scissor
The long lost cousin of Anita New Hairstyle.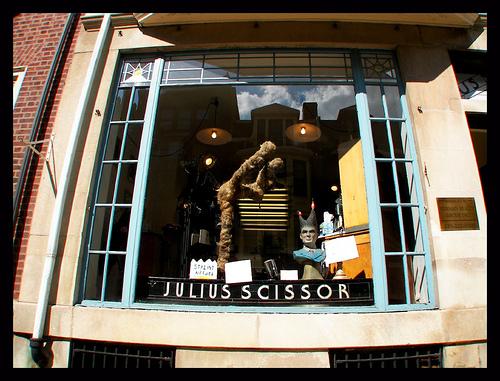 16. The Tortoise and the Hair
Struggling to come up with your own funny hair salon name? Start with your favorite story, movie, or song and find opportunities to add in Style, Hair, Shears, Clippers… whatever works.

17. The Twisted Scissor
Hey, that's one of our favorite bands! We mean salon names.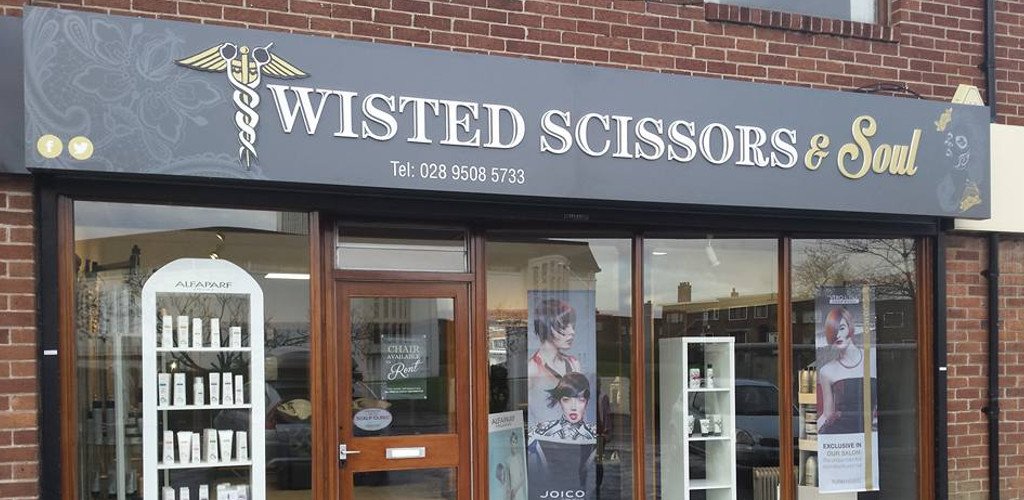 18. Hair We Go!
Somewhat related are homonyms – words that sound alike but are spelled differently and have different meaning to unearth your pithy pun, bleeding edge brand or eye-catching shop name.
19. Deja Do
Tired of getting (or seeing!) the same old (boring) hairstyle? This salon vows to never repeat history – always something new for you at Deja Do.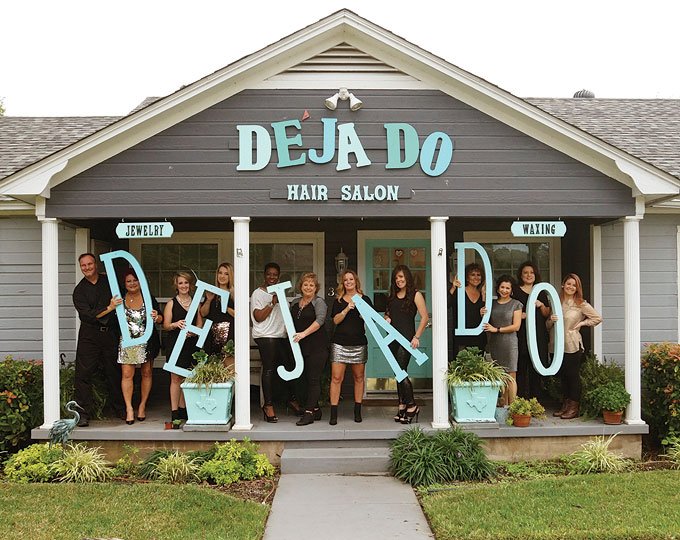 20. Cut and Dry
It says what it is, and it delivers. A dry sense of humor and a wicked haircut all in one.
21. Grateful Dreads
Establish your specialty before your customer even gets in the door. If your salon is great at maintaining, making, and/or repairing dreads, consider a name that emulates that.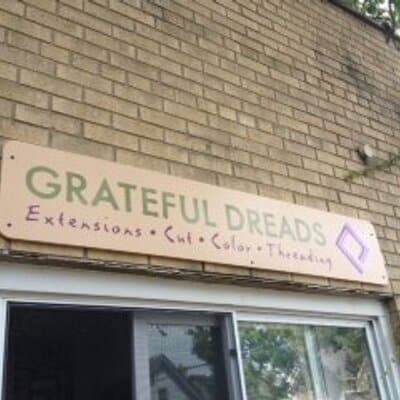 22. Curl Up and Dye
While it might sound like an insult, it's actually great advice. Color and styling are the cornerstones of any new do, so embrace change (and curl up and dye!)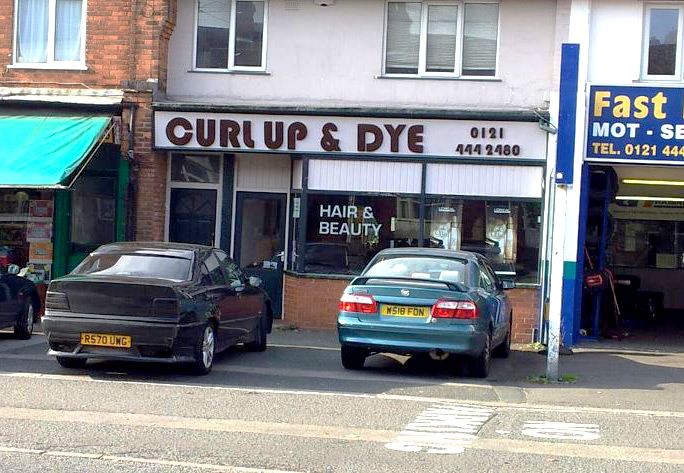 23. I'll Cut You
Vaguely threatening, this is also a service delivery promise – they will cut you!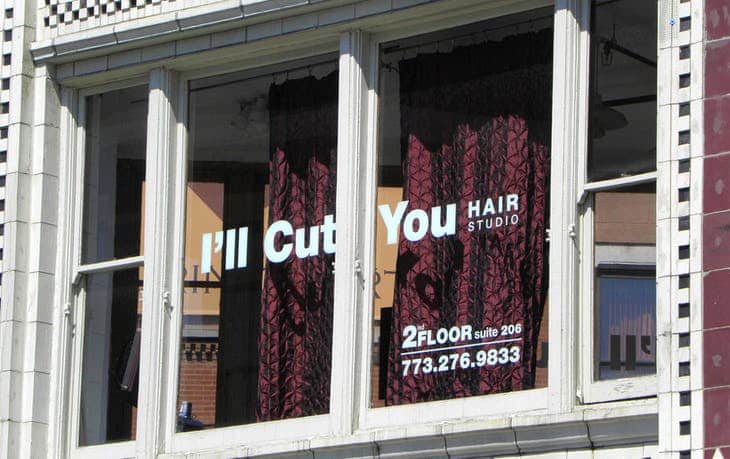 Make It Special
The more meaning and significance your name has, the more it will resonate with customers. Each of these names was hilariously weird in their own way, and we bet there were some great stories involved in their making. Either way, we knew they were the hair salon names because they stayed in the realm of what the general population would recognize.
The more obscure your name, the more your guest driving by will wonder what you do, and not what you can do for them.
Need Some Help?
Once you get rolling, you'll realize it's pretty easy to make up some funny names. Start rhyming, substituting, and before you know it, you'll have a hilarious title to work under. Use song titles; book titles; cliches; phrases; and the like. These seem to work for their memorability as well as their classic nostalgia.
If you've yet to name your business, try your hand at a few and see what people think. The response can vary when it comes to humor, so get an idea of what your clients like. If you've already established a name but are ready for a change, chances are, it's time. Rebrand your style in a fun way with a funky name.
Put Some Style in Your Name
Naming your business is an incredibly important endeavor, and nothing lightens the load more than choosing a hilarious title to follow you through your years of success. If you're smiling every day when you answer the phone, you know you've chosen the correct name. We encourage you to be as creative as possible. Nothing gets lost more than another scooping of the generic, same old same old.
Don't hesitate to be funny. If your personality is light and humorous, this is a perfect time to use it. It'll take mere moments before people are texting or calling their friends to let them know about the new hair salon on their block.
We love to laugh, so send us your ideas!
Start your 14-day free trial today!