15 Festive Nail Designs For Christmas Inspiration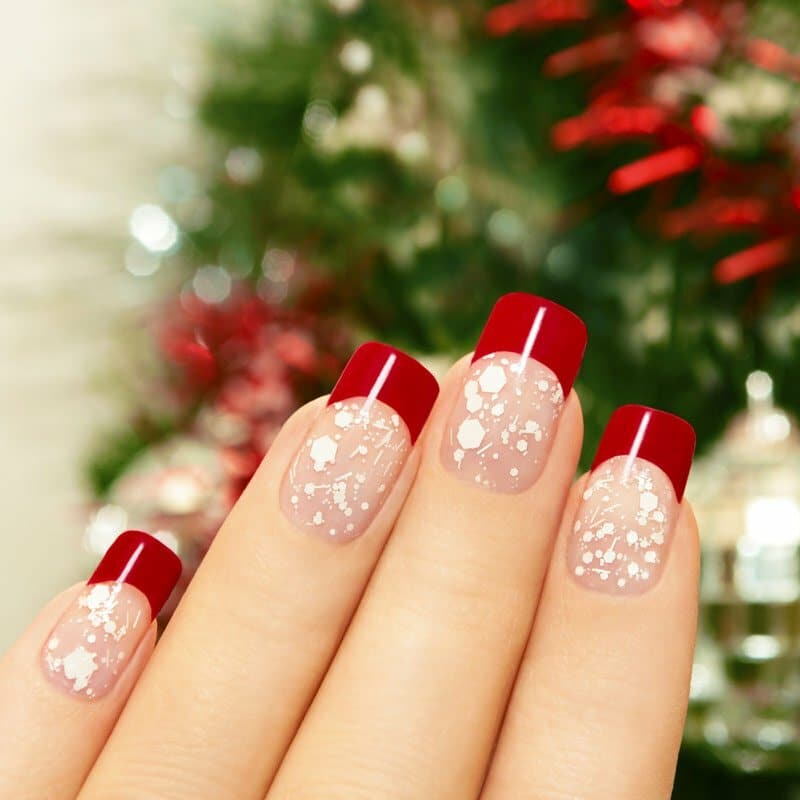 The Christmas season is upon us once again, and one of the great joys of the holidays is decorating. For some of us, though, decorating our house is not enough. Instead, we need something a little more personal to get into the holiday spirit. For some, this means wearing Christmas-themed sweaters. Others put on necklaces or bracelets with holiday charms and decorations. Some even use makeup, and if you're among this group, we've got great news for you. We've found some awesome Christmas nails to keep you looking and feeling festive. Read on, and we'll tell you more about them.
Our top 14 Christmas nails:
1. Candy Cane Stripes
Let's face it, painting is tough and painting on something as small as a fingernail is even tougher. If you're not among those who are artistically inclined–most of us aren't–it may seem like having themed nails is only a pipe dream.
It's not, because there are plenty of creative designs out there that don't require a lot of skill to pull off. Among these are candy cane stripes. Simply paint your nails one solid color–candy canes come in a huge range of colors these days–and draw stripes on them in a different color. If you really want to switch things up, you can do a different color for each nail.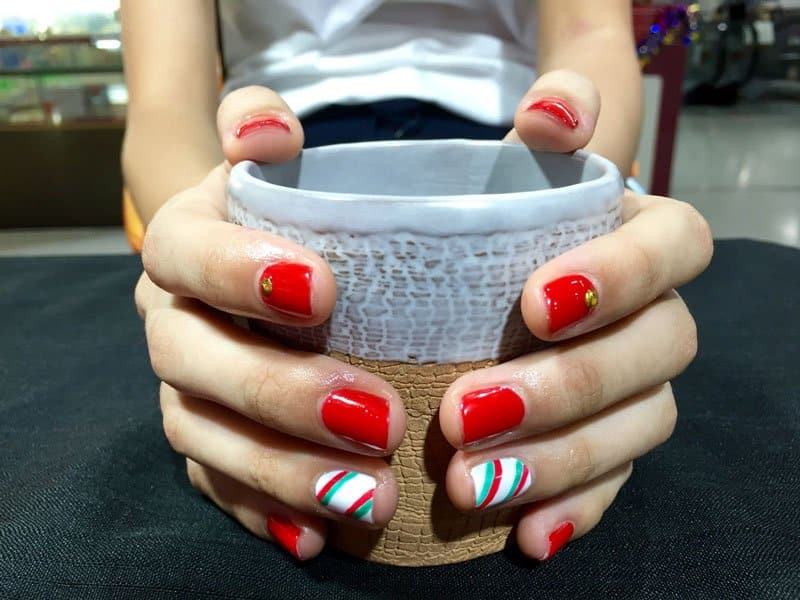 2. Presents
Another unique idea that's not too hard to do is painting your nails like presents. Again, it just involves one solid color, followed by stripes in a different color drawn over it. Some like to add a bow onto these designs, but a simple cross pattern imitating ribbons should sell it.
3. Polka Dots
This is a classic pattern that works almost any time of the year. Just add some red or green or even paint white polka dots to look like snow and it works for Christmas, too.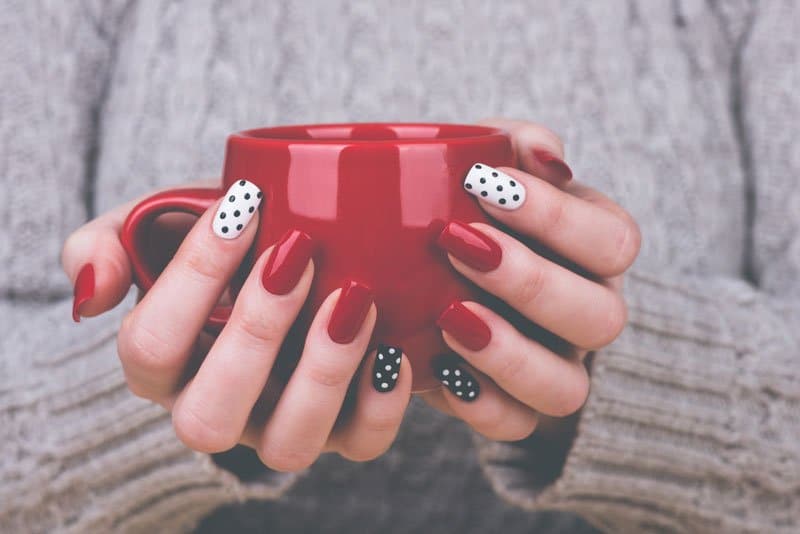 4. Santa
He's making a list and checking it twice. He's gonna find out whose nails are nice. What says Christmas more than Santa Claus? Not only is he jolly and representative of all the joy this holiday brings, but he's also pretty easy to put on your nails.
To pull off this design, just put a red section at the top of your nails, followed by a thin white stripe. Then paint a small part of the bottom white, add two black dots for eyes, and a pink one for a mouth.
5. Penguin Christmas Nails
This design starts with painting your nails black. Once this has dried, draw a white half oval within the black area of the nail. Above that, add white circles with black dots to make eyes, and then three orange dots to make a beak and feet.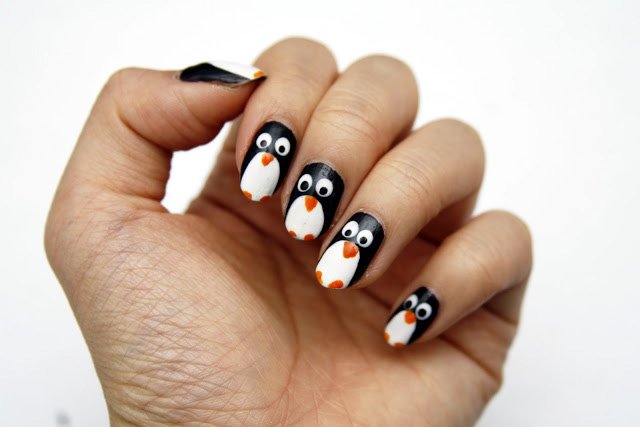 6. Reindeer Christmas Nails
This is the same premise as the penguin design. Paint your nails brown, then add a round red nose, two white eyes with black pupils and add antlers.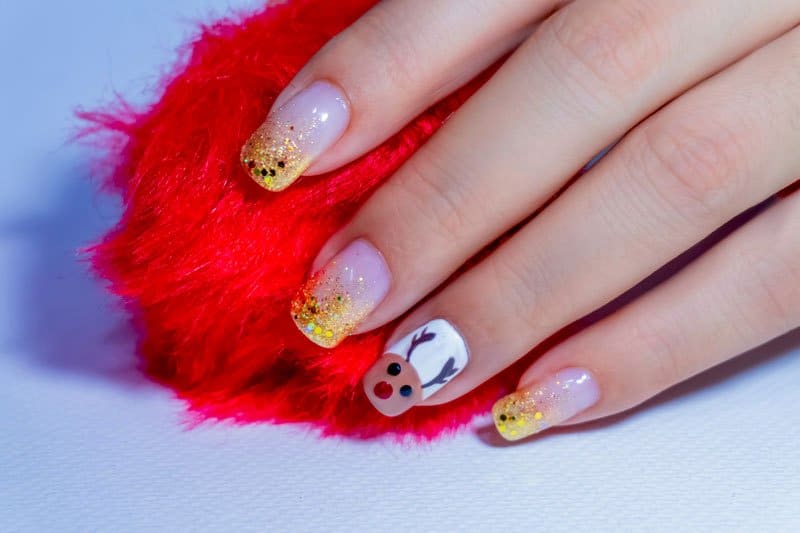 7. Snowman Christmas Nails
To make this one, just draw three white dots on top of each other in the shape of a snowman, then add eyes, orange nose, mouth, buttons and stick arms.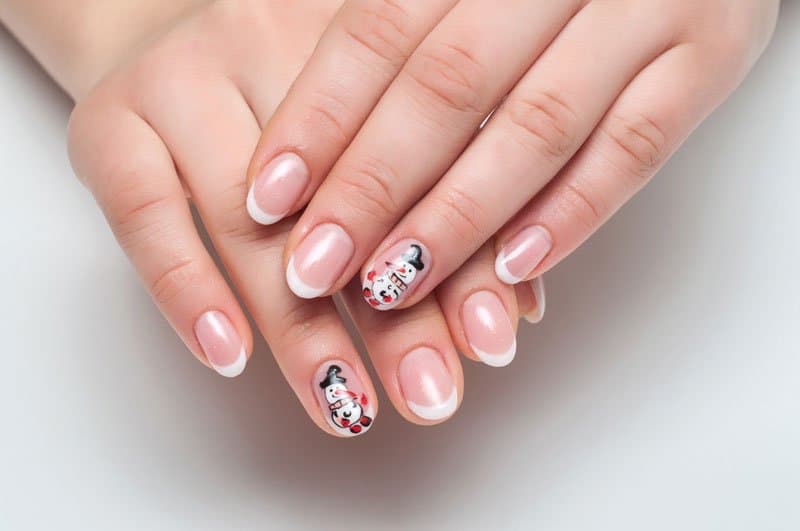 8. Christmas Tree
To make this one, you have to draw a long green triangle on your nails. After this, it's up to you. People have decorated these 'trees' in all kinds of different ways, so have fun.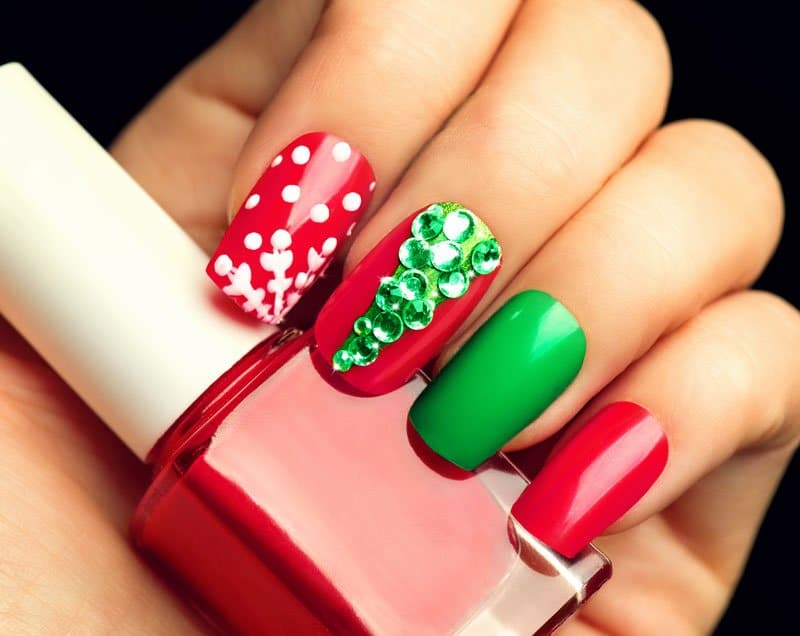 9. Christmas Lights
To pull off this Christmas nails masterpiece, start by painting a black, wavy line on each nail. Then, add colorful circles, ovals, or even diamonds to make lights.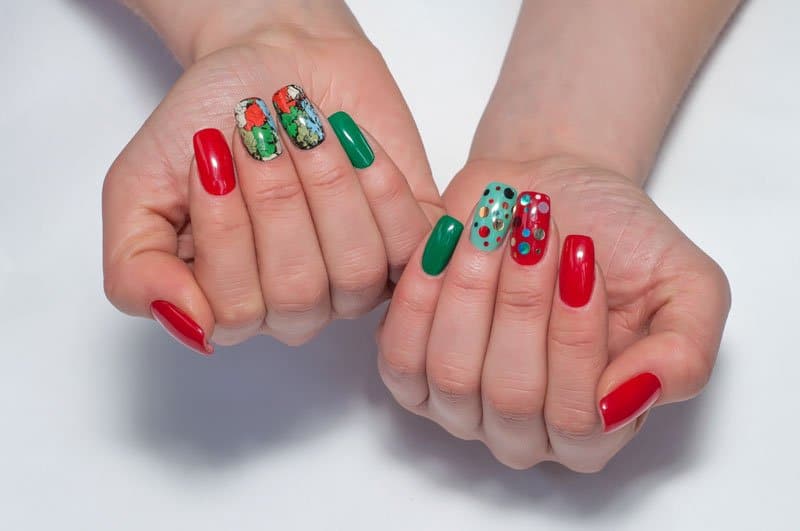 10. Snowflakes
If you can pull off this complex design, you have our respect. It involves painting a snowflake on each nail. Please note that there is a simple, and equally festive, way to do this. Simply paint your nails blue. Then, add white dots and potentially a white line at the bottom to give the impression of a snowstorm.

11. Santa Hat Christmas Nails
This one is a little more complex. It involves drawing a curvy, red triangle, and then adding a white ball on top and white trim on the bottom. You can add a few texture lines if you want and then you have a Santa hat.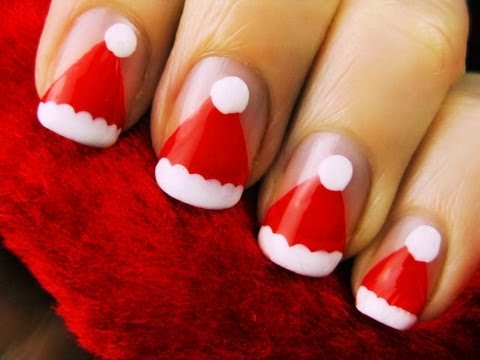 12. Sweater Designs
This one is becoming very popular as of late. It also takes a lot of skill to pull off. Say what you want about Christmas sweaters, but the designs on them are hard to transfer onto a fingernail. The upside is that what often doesn't look good on our bodies tends to look great on our fingernails.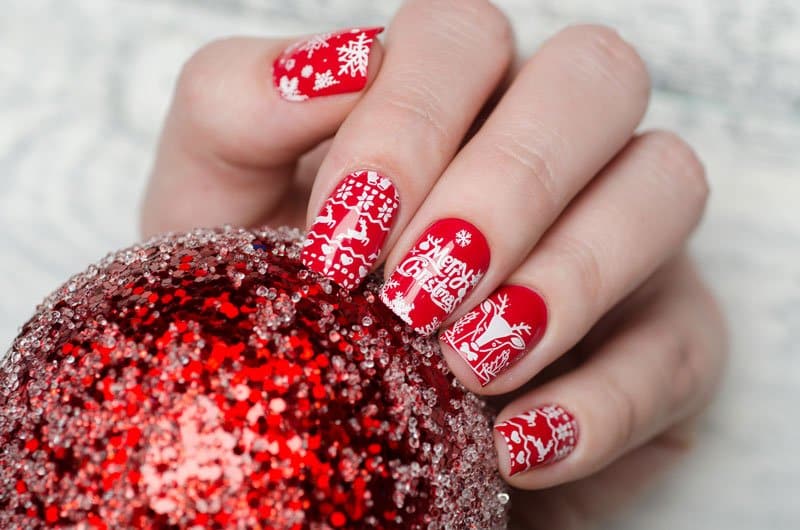 13. Bows
There are a few different ways to handle this one, so look up a few ideas before committing to anything. Regardless of what you choose, it's not a particularly difficult design. It requires a simple colored line with a bow drawn on it somewhere.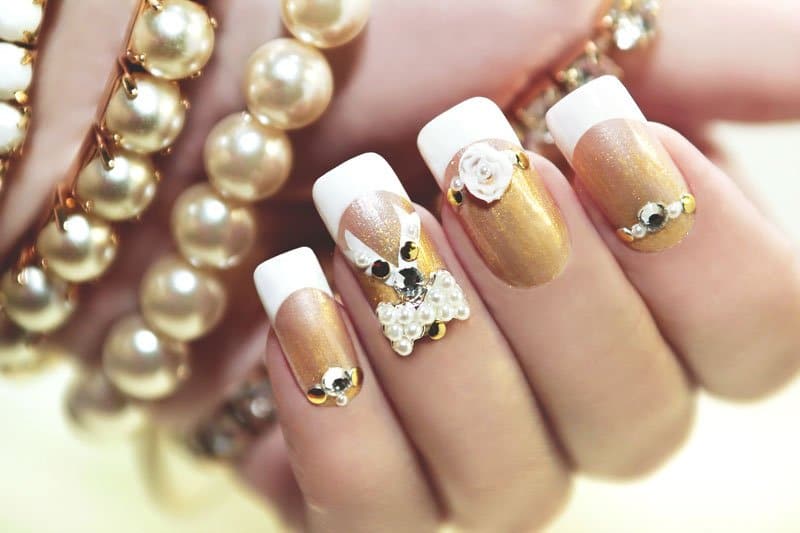 14. Glitter
You can do a lot with glitter, and if you combine it with some festive colors, it can make a design all on its own. You can even pair it with another design to make things stand out more. On a Christmas tree design, it gives the twinkle of tissue. In a snow design, it gives a more reflective, shiny look to the snow.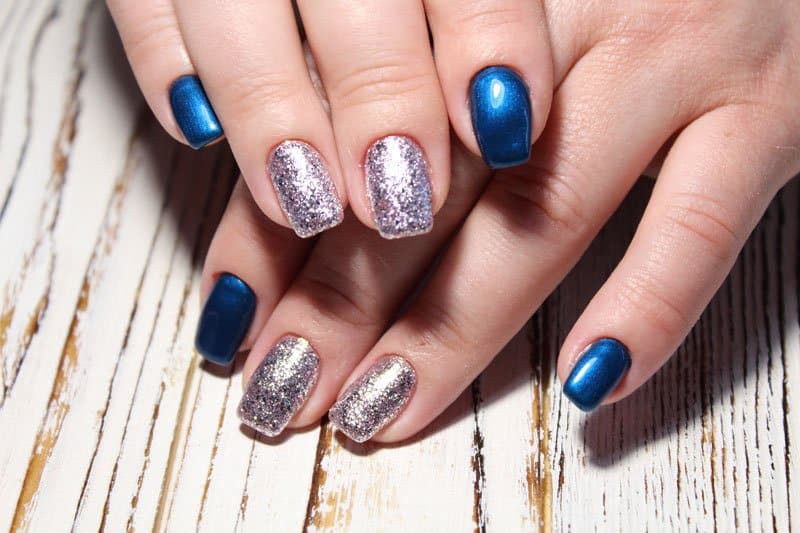 15. Ornaments
This is another design that provides a lot of creative potentials. The simplest design is a glass ball. However, ornaments are rarely as simple as a plain glass ball. Feel free to decorate them in all kinds of ways.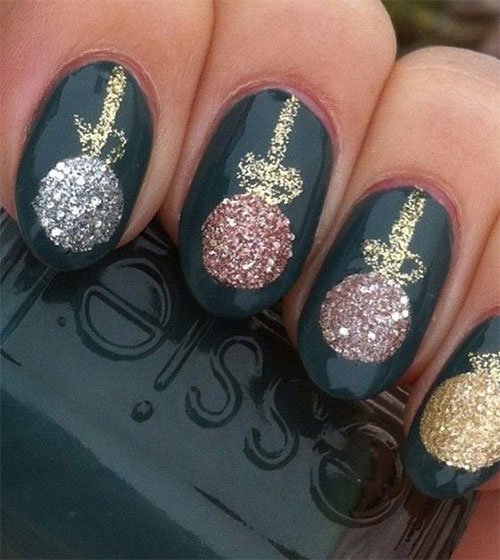 Christmas Nails
There are all kinds of Christmas nails out there, if you feel like putting a little twist into something we've mentioned, feel free to do so. If you need a logo for your salon, we can give some advice on how to design one. Also, if you need a laugh, we can tell you about some of the funniest salon names out there. Sit back and get ready for a laugh.
Looking for nail salon software to help you run your business more efficiently and grow? Daysmart Salon's nail salon software has everything you need, click here to learn more!