National Mentoring Month: Meet the Owners of Mucky Pup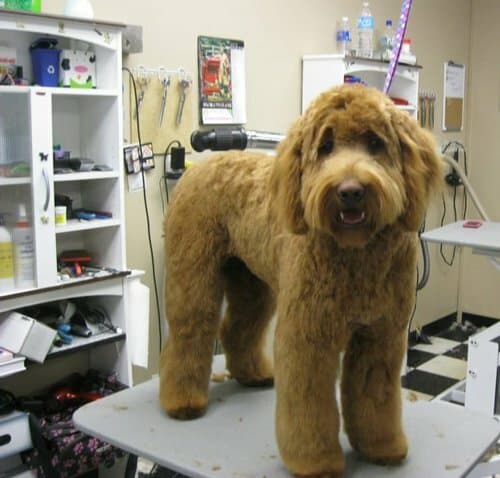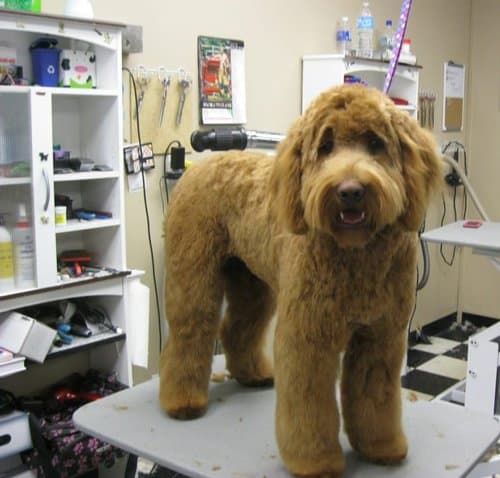 National Mentoring Month is dedicated to raising mindfulness around the importance of mentorship, which is particularly powerful in the world of small business. Young entrepreneurs can benefit greatly from professional mentoring of a seasoned pro who has succeeded in their desired career track.
Yet finding a mentor—or the right mentor—can be difficult as an up-and-comer. That's why DaySmart Software, the makers of Daysmart Pet, is committed to supporting and educating entrepreneurs.
In the spirit of National Mentoring Month, we sat down with Daysmart Pet customers Jackie Boulton and Deb Cameron, sisters and co-owners of Mucky Pups, to discuss their careers. Jackie and Deb opened Mucky Pups in 1996 and have grown from up-and-coming entrepreneurs to grooming business experts. Here is the story of their careers and how they transitioned from mentees to mentors.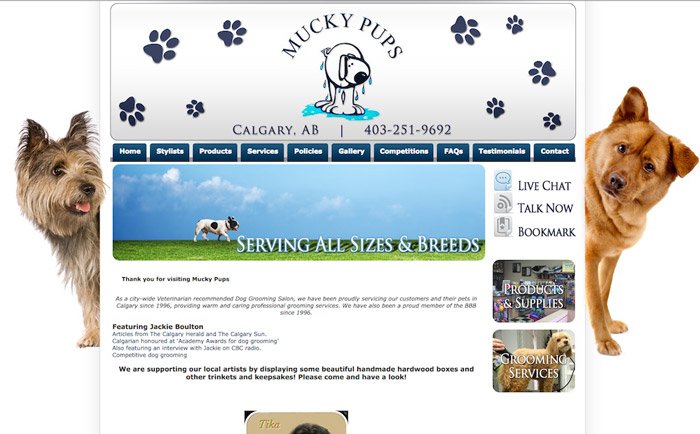 Q: What is your favorite part about running a grooming shop?
A: First and foremost, we enjoy the dogs and the clients, and doing what we love every day. There are pros and cons, but it's nice to have the control and flexibility we have as owners. I started grooming at a local shop in 1986 and Deb followed two or three years later. We grew up with animals, horses and tons of dogs, so it was in our blood. Once Deb saw how much I was enjoying grooming, she followed along. We get along really well, obviously.
When she chose to leave the salon where we both worked in the winter of 1995, we got talking about what we wanted to do. We didn't want to leave pet grooming but didn't want to work for anybody else. Starting our own grooming shop was something we could do together.
Q: What are some the biggest challenges you face as a small business owner?
A: The biggest thing that comes to mind is staffing. Finding dog groomers is difficult, but finding good dog groomers is even more difficult. There aren't a lot of schools in Canada. Once you find a skilled groomer, the biggest challenge is hanging on to them.
Q: So, how do you attract and retain talent?
A: What separates us is that we pay better than a lot of local grooming shops. Our employees work hard, so we like to reward them and make sure everyone can make a decent living. We are also very busy; there's always work for them to do. The harder they work and the more motivated they are, the more money they can make. That's something we have above other salons that seem to struggle financially.
We didn't start a business to get rich. After 23 years, we are still in the shop doing the same things that our employees are doing, including cleaning kennels and doing shampoo jobs. We do the mundane tasks, and that's what gives us incentive to succeed.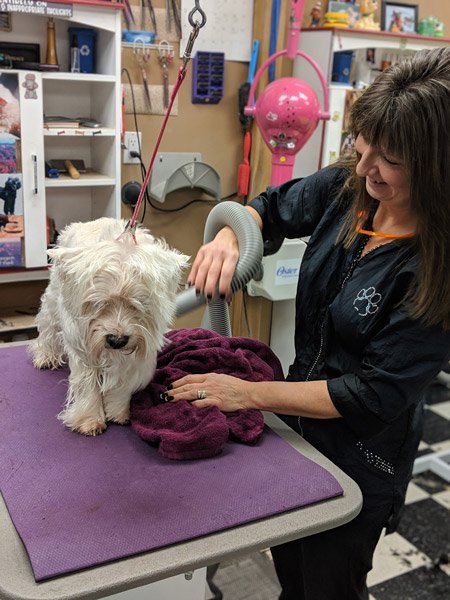 Q: Who is/was your professional mentor? How did they become your mentor?
A: We discussed this and decided our mentors were our parents. Our dad got Jackie a job grooming at a local place, Barking Lot, in 1986. He knew the business owner and kept telling her how good I would be at the job. The owner ended up taking a chance on me and the rest is history.
Our parents were small business owners. They had a little bakery called the Daffodil in Calgary for a long time. We grew up watching them, and they instilled their morals of working hard, being honest and being ethical. Our dad never got to see how our careers in grooming grew, but he would be so proud of us. The biggest thing our mom gave us was moral support. She was someone to lean on and talk to; she shared advice on day-to-day issues and would tell it to us straight.
Q: Why is it so important for small business owners to have mentors?
A: It's really helpful to have guidance, advice and support—not necessarily from another groomer, but just a small business owner. How would they handle certain situations?
In the past, there were times we didn't like the way our superiors handled things. It's a big reason why we left the previous business we worked at. We poured our soul into the shop for 10 years as if it was our own, but there was a lack of respect in the workplace. In this case, our past experiences taught us what not to do. We thought, when we had our own business, we would treat people the way we want to be treated. We would be helpful and understanding. Hopefully we have stuck to that—we think we have.
When our employees do something that isn't quite right with a customer or dog, we show them the best way to do it. We teach them how to speak to customers, even when they're upset, so they can handle those situations and make them better for those customers, their dogs and for each other.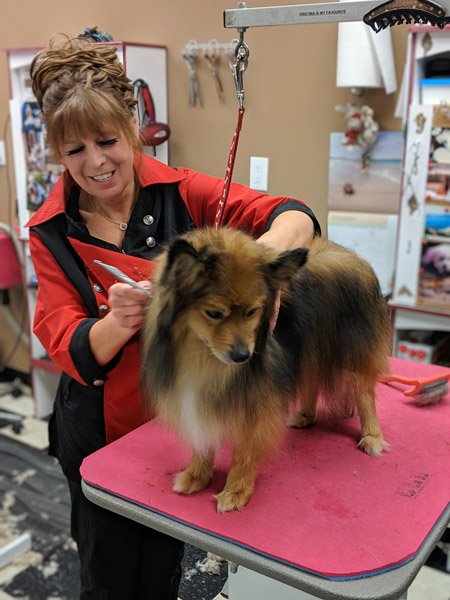 Q: What advice would you offer to aspiring groomers?
A: The advice we give our employees is the advice we tell ourselves every day: work hard, love what you do and be dedicated. Many aspiring groomers think that they will get to play with dogs all day, but ironically, that's the last thing we have time to do. Most people are very surprised by how physically and emotionally draining it is.
You need physical support to wrangle struggling dogs, and you need emotional support when the job gets tough. Many of our clients are on their third or fourth dog with us, so you go through their lifecycles together, and we get very attached.
In addition to loving what you do, you need to understand why you like it. Grooming requires enormous amounts of patience. You're dealing with dogs, and each have their own little quirks or may have behavioral problems. You need "dog sense," which many people don't have. We recommend shadowing a groomer before paying money to go to school. You need to be a strong person to be a groomer—it's a high-burnout job.
You also need to continuously educate yourself. Don't get stuck in ruts for the way you do things or the equipment you use. In fact, always upgrade your equipment! When we first started, we used one big calendar and a pencil to keep track of scheduling. Many groomers are still doing this, or using a 5×4 index card to keep track of client information, which requires a lot of manual work and filing.
Once our business scaled, we saw a need for software. Today, we use Daysmart Pet software across two processors, monitors, tablets and our phones—anytime, anywhere. We use many of the software's features—such as text and email reminders, which save a ton of time—and there are still more we're learning about to gain visibility and raise or lower our bottom line. If groomers want to be busier, they should invest in software.