5 Ways the Wrong Salon App Can Tarnish Your Business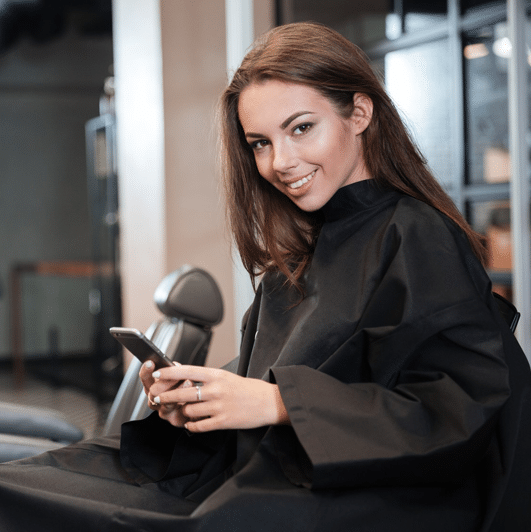 In today's day in age, it is expected for owners to utilize a great salon app for their business. Learn about the damage that can be caused by a shoddy app here.
Researchers estimate that nearly 43 percent of the world population owns a smartphone. It's no wonder then that people have created mobile programs for nearly everything, including the perfect salon app for your business.
However, while there are many brilliant apps that will help make your salon run better, there are also certain apps that will negatively affect your business. Before you begin implementing any new apps and software into your business plan, it's important to do research. Luckily for you, that's where we come in!
We've outlined 5 flaws of some apps and how they can hurt your business. These steps will help you recognize the dangers that come from a bad salon app and how to avoid them. Let's get started.
1. Incompatible with Multiple Devices
The first thing to verify before incorporating a new mobile app into your salon is whether it is compatible with multiple devices. Some software only works with Apple devices, while others only work with Android. If you choose one with limited or poor compatibility, your customers will take note and not in a good way.
You can tell that a software is poor in three ways: if it doesn't open on multiple devices, if it takes a long time to load, or if the display appears distorted. Any of these problems will drive away potential customers and destroy your brand image.
Around 47% of viewers expect your site to load in 2 seconds or less. Not only that but if it doesn't load in 3 seconds, 40% of your visitors will be gone. That's why it is so crucial to choose a salon app that will work quickly with all devices, including iPads and tablets.
2. Not Customizable
Another crucial flaw with some apps is that they are not customizable. Your branding may be one of your biggest assets. However, if you are not careful, poor customization will make your salon easy to forget.
Look for a salon app that will not only allow you to change the colors and images but also some of the features. This is your chance to truly show what makes your business unique. If your customers or employees are going to see it every day, make sure that it is accurately reflecting what you and your salon stand for.
3. One Way Communication
The next way a salon app can taint your reputation is by limiting the channels of communication. A good app will help your customers feel not just connected to the store but heard and understood as well.
Some apps only allow customers to schedule their appointments. Then the customer is left alone. Not knowing whether your team really cares about their appointment.If something comes up the day of the appointment, this customer is more likely to cancel. However, imagine a customer that signs up for an appointment and immediately gets a response back by text or email from a team member saying how excited they are to be working with them. This customer is much more likely to look forward to the appointment and follow through with it as well.
Two-way communication is also important because it allows you to address your clients' concerns before they become big problems. Another way this is important is for repeat visits. Studies have shown that a repeat customer is way more valuable to a business than a new one. With two-way communication, you can send reminders, customized birthday specials, and more. This will help guarantee that your customers will keep coming back.
4. One-Dimensional
While salon apps are a huge benefit to customers and management, it's important not to forget your employees in the process. A good salon app should not only be easy for the customer to navigate and use but also the employee. By choosing an app that only focuses on the customer experience you risk your employee's happiness and productivity.
This is important because companies that have happier employees are more likely to outperform their competitors by 20%. Your employees have a tremendous impact on the ROI of your company. When looking for a salon app, choose software that will please both them and your customers.
You should also look for software that can perform multiple functions. One app may be incredibly good at scheduling, while another separate app might be good at managing time.
However, you don't have to choose between the two. Instead look for an app that successfully combines all of your needs into one platform. This will make it easier for you and your employees to handle.
5. Poor Tracking
The last way that an app can hurt your salon is through poor tracking. Information is crucial for businesses to grow and develop. Without it, businesses won't know in which areas to expand or remove. Luckily, however, with recent advances, it's easy to collect information on your customers. In fact, there's a reason why this time period has often been called the Age of Information.
If the software you are looking into doesn't provide reports, you might want to reconsider. However, even worse than not having a tracking capability is using a program that gives you poor information. This is where you'll have to do a little bit of research.
Read how other users have felt about the software and how it has helped them make decisions. Or talk with the software provider and see what tracking capabilities they have and how they are calculated. By following these steps you should be able to find a salon app or software that will give you real and actionable data.
However, if you are new to data collection and not sure what to do with the data once you've found it, don't worry. Just check out these key tracking strategies that will help you grow your salon business.
Get Started with Your Salon App
Now that you know what to look for and what not to look for it's time to get started. Launch your new salon with your new software, and watch as business comes flying in.
Have any questions? Contact us and let us help you grow your salon or try Daysmart Salon absolutely free for 14 days!