Check Out What We've Recently Released!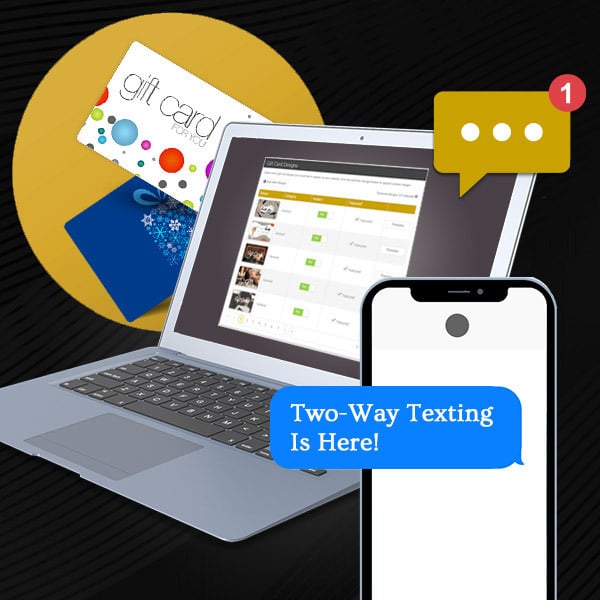 Daysmart Salon is frequently updated with new features so you can streamline your operations, increase your profits, and grow your business. Our latest release ensures better client communication and helps you boost revenue through your online booking site!
Learn more about these exciting new features below:
Scale Personalized Client Relationships with Two-Way Text Messaging!
The holiday season is upon us and although business might look different this year – communicating more effectively with clients should be a top priority, and text messages are rapidly becoming a preferred means of communication!

In fact – 67% of clients would rather text about appointments than by email or phone, and 75% are frustrated when they can't respond to a text from a business. For that reason, our latest feature – Two-Way Text Messaging is fully integrated with SMS Appointment Reminders.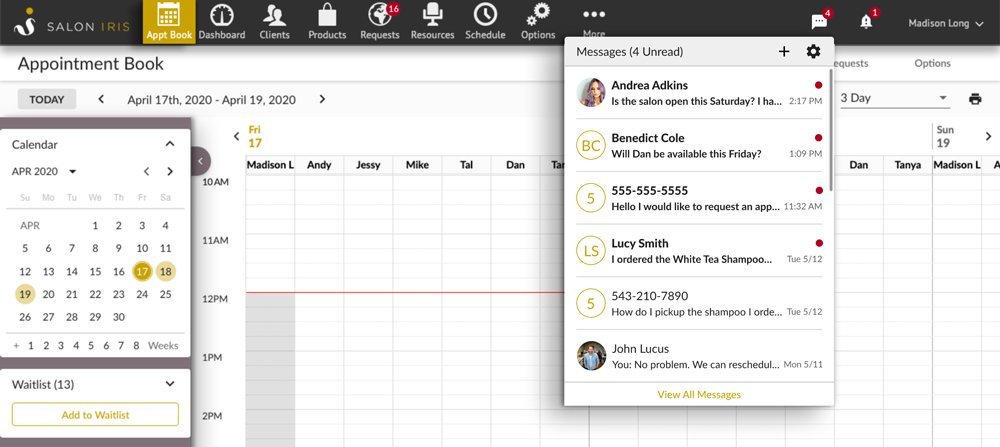 In-App Notifications in Real-Time
Provide customers with your business's special SMS number, and view notifications in the upper right of your Daysmart Salon software every time you receive a new text message. Message notifications are viewable from every screen – so you never miss an important message.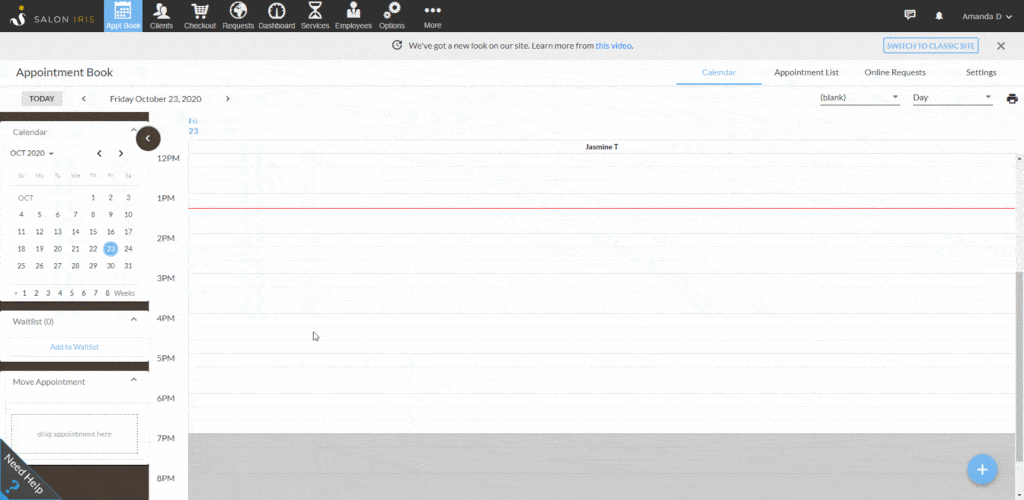 Impress Clients With Speedy Replies
Working in a salon means being in constant contact with clients, and communicating effectively shouldn't be a challenge. Daysmart Salon two-way texting simplifies responding to incoming questions or initiating new client conversations!
Simply click on the message icon (located at the top right), click the plus sign on the left to start a new message – from here you can either create a brand new message, type in an existing client's name/phone number, or type in a new phone number to start a new message. All incoming/outgoing messages will show on the left side of the screen and will display a name (if they are a client in your database) or a new phone number if they aren't. Click the settings gear to filter by unread or archived messages.
Communicate With Clients Anywhere, Anytime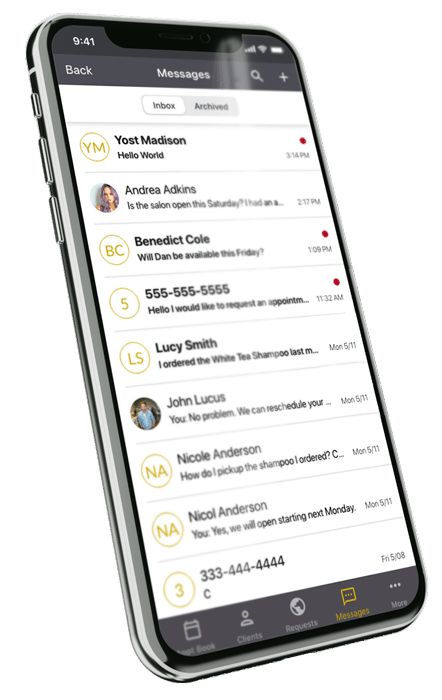 Engaging with clients doesn't have to end when your shift does (although it can if you want it to), turn on in-app mobile notifications to ensure you never leave customer inquiries lingering. The Daysmart Salon Mobile Apps for Apple and Android will
allow you to communicate with clients at any time from the new 'Messaging' tab.
Include emojis 💇‍♀️ ✂️ 💄 🙌 🎂 💈💅🏽 in your text messages to entice and engage clients and receive photos from clients with past styles, cut/style preferences, makeup looks, and more! Turn on in-app mobile notifications and never miss a message.
Learn more about our latest communication tool – Two-Way Texting, and start communicating with clients on the channel they prefer. Call us at (800) 527-7600, visit this step by step article or watch our training video to see it in action!
(Note: You do need to set up email or text reminders in order to use the Two-Way Texting feature and integrated desktop subscribers will need to be signed up for Remote Access).
Boost Revenue By Selling Gift Cards Through Your Online Booking Website!
Keep profits coming into your salon even when you're closed with our latest feature – Online Gift Cards. As part of our efforts to help our customers during the pandemic, we wanted to provide a way to continue making money even when your salon is shut and provide your clients with a way to support you without having to visit the salon! Gift cards are important for generating additional revenue (now more than ever), but few salons focus on this and miss out on potential profit.
If you're already using our free online booking system and Integrated Payments then don't delay – start boosting revenue by enabling Online Gift Cards today! Simply log into your online account, click on your name in the top right corner, and then click 'Manage Online Booking' and then click 'Online Gift Cards' under the 'Manage Business Information' section.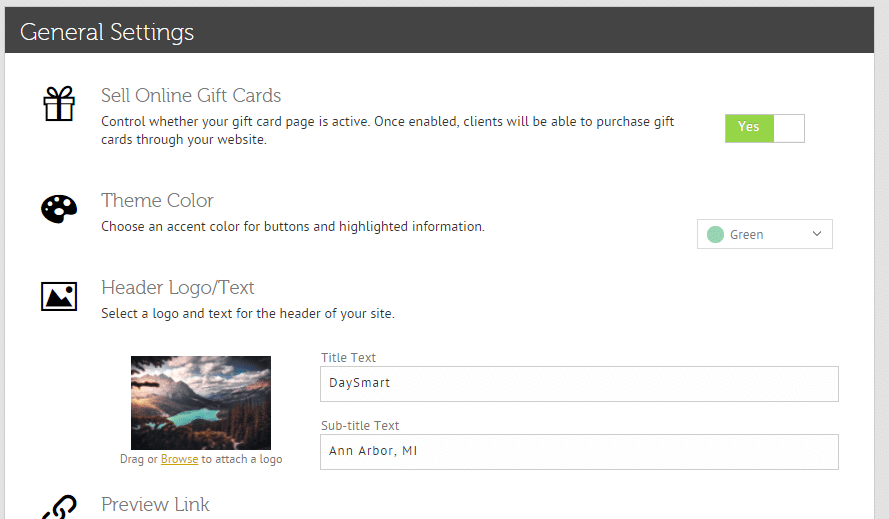 You'll now see the Online Gift Cards screen. Once you have clicked to enable, you can then fully customize your Online Gift Cards page by choosing your theme color and header logo to match your brand. You can then select your suggested amounts, allow for custom amounts, add expiration dates and gift card policies if required.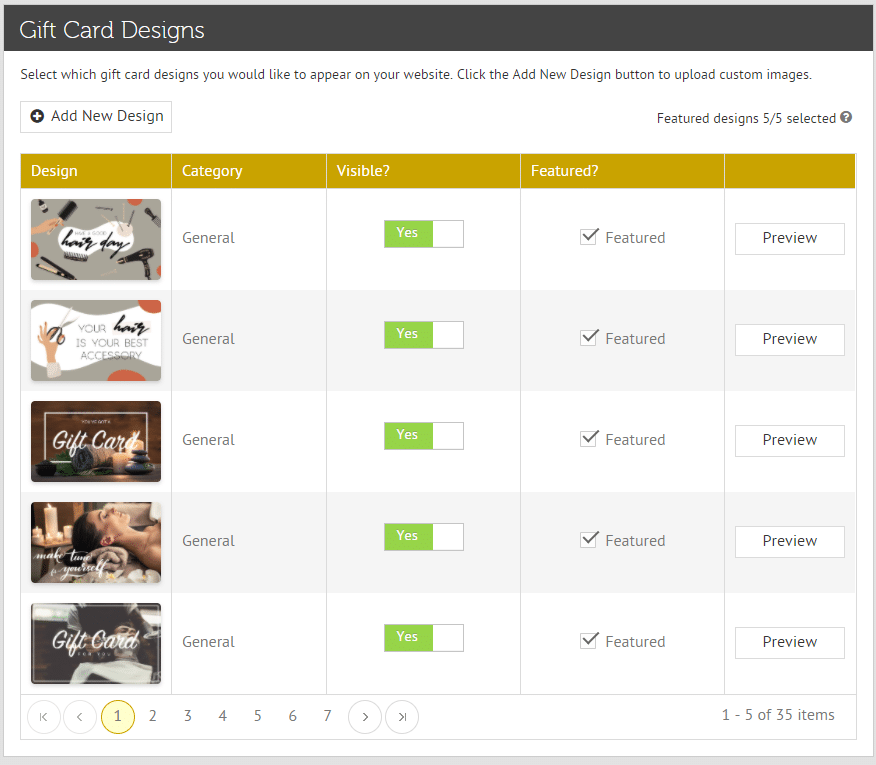 The customization doesn't end there – under the 'Gift Card Designs' section, you can select which gift card designs you would like to appear on your website and which ones you would like to be featured. You can even add your own custom designs by clicking on the '+ Add New Design' button to upload your own custom images.
Learn more about our new online revenue booster – Online Gift Cards, and start earning profit even when you're closed! Call us at (800) 604-2040, visit this step by step article or watch our training video to see it in action!
(Note: this feature does require the use of our Online Booking system and Integrated Payments (US only). Contact us at (800) 527-7600 for more details!