Customer Spotlight: From One-man Show to Award-Winning Barber Shop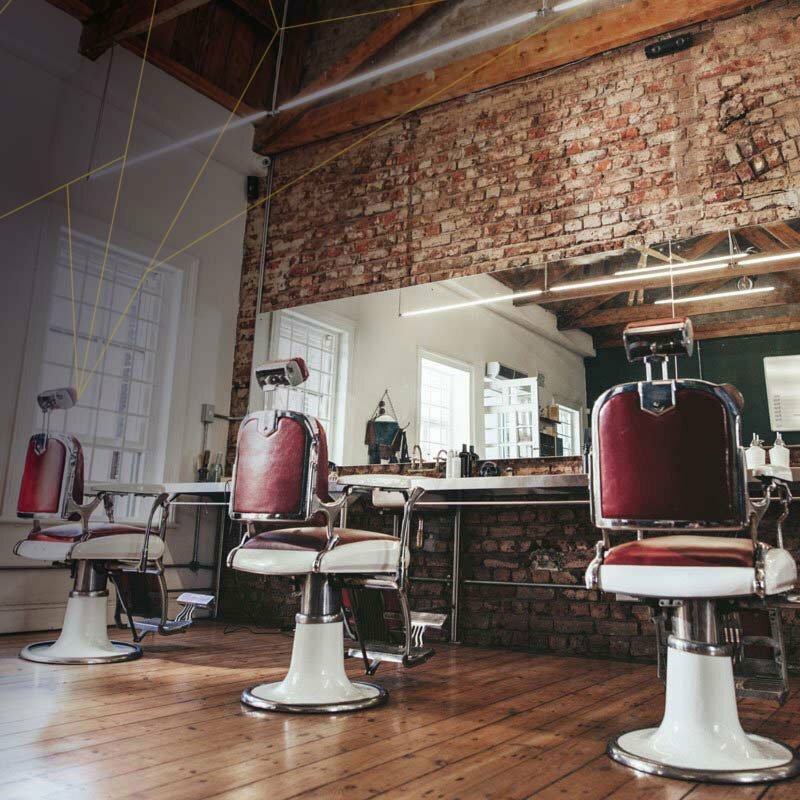 [vc_column][vc_row_inner][vc_column_inner][vc_column_text]Daysmart Salon customers are passionate small business owners who excel at what they do. As part of our commitment to supporting and educating entrepreneurs, we created a monthly Customer Spotlight series to showcase our customers' expertise in growing a successful business.
For this month's Customer Spotlight, we sat down with John Hall, owner of The Ultimate Barber in Alexandria, Virginia. Through building an online presence, John was able to grow his one-man business into a ten-chair, award-winning barber shop.
Here's the story of how John got to where he is today:
[/vc_column_text][/vc_column_inner][/vc_row_inner][vc_row_inner][vc_column_inner width="1/2″][vc_single_image image="16261″ img_size="full"][/vc_column_inner][vc_column_inner width="1/2″][vc_column_text]Q: How did you get your business off the ground?
A: After my first salon and spa business didn't go as planned, I decided to pursue a career as a barber. In 2010, I rented out a chair in a barber shop and created what is now my brand, The Ultimate Barber.
I started promoting my brand on Facebook and Twitter, and from there things exploded. As my online following grew, so did the number of customers I served in the barber shop.
Eventually, I got to the point where I couldn't handle the influx of clientele. That's when I opened The Ultimate Barber shop, and we have steadily grown from my one-man show to a ten-chair shop.
To this day, our shop relies on our social media accounts, including Facebook, Twitter, Instagram, LinkedIn and even Snapchat, to bring in customers. Building a brand and curating an experience is what helped my business take off.[/vc_column_text][/vc_column_inner][/vc_row_inner][/vc_column][vc_column][vc_column_text]Q: What's your favorite part about running a barber shop?
A: There's nothing I love more than being a business owner, offering my services to the public and then getting to see them come alive across the city. It's exciting to feel like you play a part in people looking good, feeling good and even getting jobs. We work on some newscasters, so our barbers' work is being shown off on TV, in print ads and at award shows. Having the bragging rights of telling people, "That's my haircut," when I see one of my clients is what makes it all worth it.
It's also been really rewarding to see The Ultimate Barber be recognized for that hard work. We've been named the best barber shop in Alexandria from 2012 to 2017 by Northern Virginia Magazine. We've also been recognized for the best men's haircut each year from 2014 to 2017 by Virginia Living Magazine. It feels good to be an award-winning barber shop.
Q: What are some of the biggest challenges you face as a small business owner?
A: I don't see the challenges I face as obstacles because I love the entire experience. Running into a challenge is just an opportunity to enhance your business and get out of your comfort zone. You have to be comfortable with making changes to operate a successful business. Always be sure to stay one step ahead of your competition. In the world we live in today, that usually means embracing technology. Things are constantly changing, and you have to change with it—that's the type of person I am.
As you grow your business, new challenges will come up, such as finding the right staff. I have to be a role model for my employees and train to them to exceed clients' expectations—which are higher since we've won awards. It's hard to accomplish, but when you bring on the right staff, and ensure they deliver our services to the best of their abilities, your clients will leave happier.[/vc_column_text][/vc_column][vc_column width="1/4″][vc_single_image image="16260″ img_size="medium"][/vc_column][vc_column width="1/4″][vc_single_image image="16259″ img_size="medium" alignment="center"][/vc_column][vc_column width="1/2″][vc_column_text]Q: How has Daysmart Salon software helped grow your business?
A: I've always used Daysmart Salon at my business because I wanted to simplify my management process and make my business look more professional from the start. (I came a long way from keeping track of everything with pen and paper.) The marketing features have helped me grow my client base and retain existing customers. Many of my clients have said they've never seen a barber shop work as efficiently as mine, and that's thanks to the software keeping me organized.[/vc_column_text][/vc_column][vc_column][vc_column_text]I'm a numbers guy, so the reporting feature has also been really valuable. I've improved my ability to track revenue, set goals, manage budget and even predict my hiring needs. My barbers also appreciate the reporting feature because it allows for more in-depth, detailed performance reviews.
I'm able to quantify how they're performing, show them their strengths and weaknesses, and they know exactly what they need to work on. It makes them feel valued and invested in the company. They aren't just working at a barber shop, they're helping the company grow.[/vc_column_text][/vc_column]