Free Tele-Consultation Service for Salons and Spas Impacted by COVID-19
Daysmart Salon software today announced the availability of a free tele-consultation service for its 14,000 salon and spa customers. Users of Daysmart Salon software can now engage with clients virtually to consult on at-home treatments, offer lessons on hair care, makeup or hair color and develop new revenue by booking paid tele-consultations.
By integrating this service with their existing business management solution, salon and spa owners will be able to effectively maintain client relationships, continue selling products and services and manage the health of their business operations – all from one platform.
The pandemic has forced many businesses to close their doors, and for those that require face-to-face interaction, that impact has been detrimental to their growth. Moreover, hair clipper sales rose by 166% in the last week and at-home hair color increased 23% over the same timeframe from the previous year, according to data from Nielsen. Recognizing its salon and spa customers faced a significant financial threat from COVID-19 – and that their clientele was in need of salon and spa interactions – Daysmart Salon fast-tracked the development of this service and committed to delivering it to current customers at no cost.
Using the tele-consultation service, salon owners can interact with clientele through this "video face-to-face" feature to offer complimentary consultations on home hair coloring or styling, or to sell customized hair, nail, and makeup lessons or advice. Early users of the system have also found it an effective way to maintain contact with employees.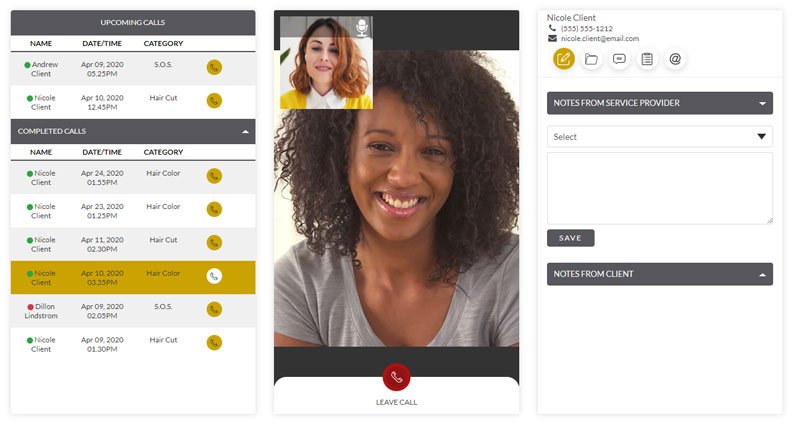 The release of the free tele-consultation service is one of many steps Daysmart Salon has taken to offer assistance to customers impacted by COVID-19. At the start of the forced business closures, the company established free email capabilities and amended their text marketing modules to make it easier for customers to communicate with clients and employees. Additionally, Daysmart Salon launched a partnership with Kabbage, Inc. – an online financial technology company dedicated to small businesses – to deliver customers a streamlined, simplified SBA loan application process. Those interested in applying can visit this link.
"This is an incredibly challenging time for everyone, especially businesses that rely on face-to-face client interaction," said Jeff Dickerson, CEO of Daysmart Salon. "Our mission has always been to empower small entrepreneurs to create sustainable growth—and that can mean adapting to challenges like the one created by the current pandemic. We hope every Daysmart Salon customer takes advantage of this new, free service to stay connected to clients or explore new revenue opportunities."
To learn more about the new tele-consultation service, please visit this link.