Let Your Salon Station Stand Out With These Funky Salon Station Ideas
Let Your Salon Station Stand Out With These Funky Salon Station Ideas
According to a study, women spend over a month of their lives in the hairdresser's chair! And when it comes to beauty, it's not just about hair. There are nails, skin, brows, spa treatments and much more to fit in.
When a client steps into a beauty salon, what do they want to see? A sleek, trendy place that is clean, stylish and makes them feel like a million dollars.
But have you noticed that many salons seem to blend into one mundane look of black and white with silver accessories? It's not a bad look, but it doesn't do much for the imagination.
If you want to make your salon station stand out from the crowd and be a cut above the rest, check out these funky salon station ideas.
Go Modern
A modern, sleek style is always a successful look for a salon. Keep everything clean and polished so that your clients get a luxury feel when they walk through the door. Just make sure not to create a space that resembles a dental clinic.
Keep it neutral, but make bold statements with colorful accessories and salon equipment. For example, accent the room with an ultra-glam chandelier. Or use brightly hued salon furniture to add a splash of color.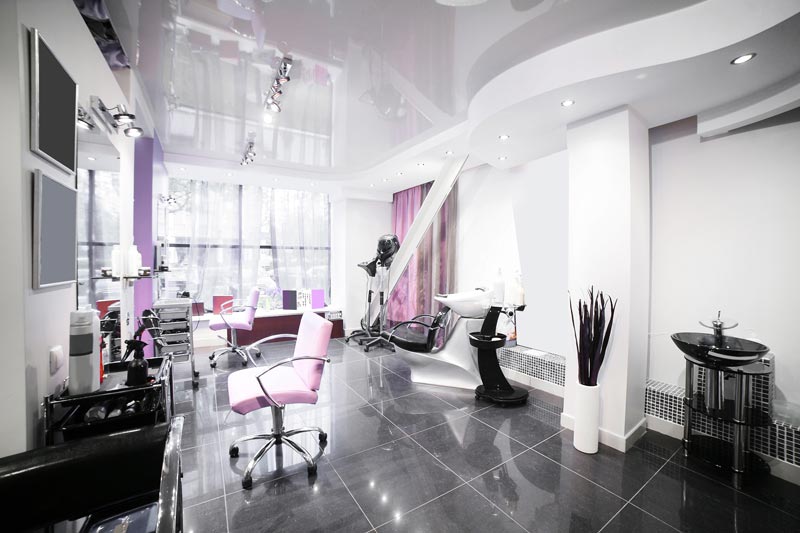 Try All-White
It might seem extreme, but the sleek styling of an all-white salon gives such a fresh and bright look. Mix it up with some geometric accents to add a bit of snazziness into the white haven you've created.
Inspirational Icons
Take decoration inspiration from classy icons. Use a huge vintage photo print of someone like Marilyn Monroe or Audrey Hepburn, and take colors and inspiration from the print. For example, use the color of Marilyn Monroe's red cherry lips for your salon furniture and accessories.

Bring the Outdoors In
Sprinkle your salon with a touch of nature to give it a serene vibe. Decorate with peaceful blues, emerald hues, and earthy tones to help your clients get into a relaxed state of mind.
Keep the light as natural as possible with big windows and flowing drapes. And literally bring the outdoors in by accessorizing with plants such as succulents and cacti. Indoor plants can drastically improve the air quality inside the salon too, which is handy if it's a hot day and you've used a lot of hairsprays!

Home from Home
There are lots of chic salon station ideas to try and create a real homely vibe. The idea is to give them a comfortable experience, just like they were having their hair or nails done at a friends place.
Use homely drapes and squishy sofas with lots of throw cushions and cozy accessories. Use neutral colors for decoration and add a large modern mirror wall to make sure the setup doesn't look frumpy.
However, if you're salon is actually running from your home, you should avoid the cozy, comfortable feel. Make sure to show your professionalism by keeping it sleek and modern.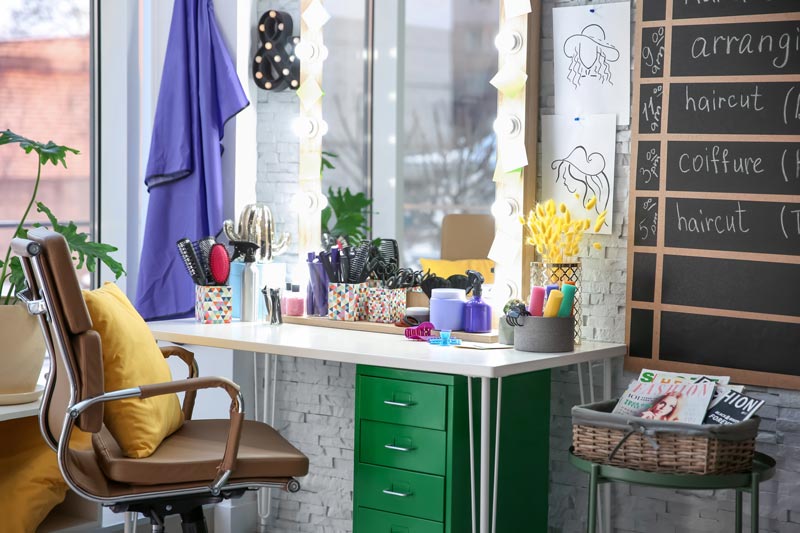 Statement Floor
Add some serious style to your salon with a bold statement floor. Keep the rest of the room less visual and make your fancy floor the focal point of the room.
Whether it's a 1950's style salon with black and white tiles or it's modern with a floor full of color, it'll give your salon the wow factor.
Shabby Chic
Going for the shabby chic style can create many salon station ideas and can be absolutely charming when done correctly. Use your surroundings to your advantage. For instance, if there are beams, expose them and make them a rustic feature of the room.
Use vintage looking furnishings and antique style salon equipment. For example, instead of using generic modern looking mirrors all the same size, use a mixture of large and small antique style mirrors for a statement wall. However, always remember to be practical in your choices!

Salon on Wheels
If your salon is on wheels, it doesn't mean you have to compromise on style. Remember that less is always more in a mobile salon. Keep the clutter to a minimum, but make sure to add some girly touches so that it doesn't look too clinical.
Let There Be Light
Brighten up your space with sparkling lights. Lights make all the difference to a room, even if you are lucky to have a lot of natural lighting.
Use chandeliers, recessed lighting, wall fixtures, and even twinkly fairy lights to dazzle your customers!

Fun Salon Station Ideas
Even if you're going for a minimalist, all white look, use creative artworks and accessories to jazz up the salon. Arty or funky accessories hung around often make for great conversation starters.
DIY Your Own Wall Art
Create something of your own or organize a bonding DIY day with all your staff. For instance, try using false lashes for wall art. Just get browsing on Pinterest, grab some leftover bits and bobs from your salon and you could create something really fun.
Rejuvenate Boring Signage
Rejuvenate your signage by incorporating your salon theme into the sign. For example, display the salon's WIFI password on a cute whiteboard. Frame it and make sure it matches the decor of the salon.
Or, to make sure your clients are aware of promotions and deals, use a rustic looking chalkboard as a sign. If you don't have a deal on that day, just add an inspirational message.
Pamper Your Clients
Your clients come to you for a full-on pampering sesh, so why not add a bit of extra luxury to the experience. For instance, create a hot drinks station where the client can make their own tea, coffee or hot chocolate.
It's little things like this that make a big difference in how welcomed clients feel when they enter salon stations.
A Cut Above the Rest
Yes, updating your station with some of these funky salon station ideas can make your salon a cut above the rest. But, before you start worrying about what your salon looks like on the outside, you need to make sure that it's running smoothly internally.
For all your business management needs, Daysmart Salon is here to help. We can get you on the right track with appointment scheduling, client data management, staff scheduling, online booking, mobile support and so much more. Sign up for a free trial today!