Say Goodbye to Summer: 7 Fall Nail Designs You're Sure to Love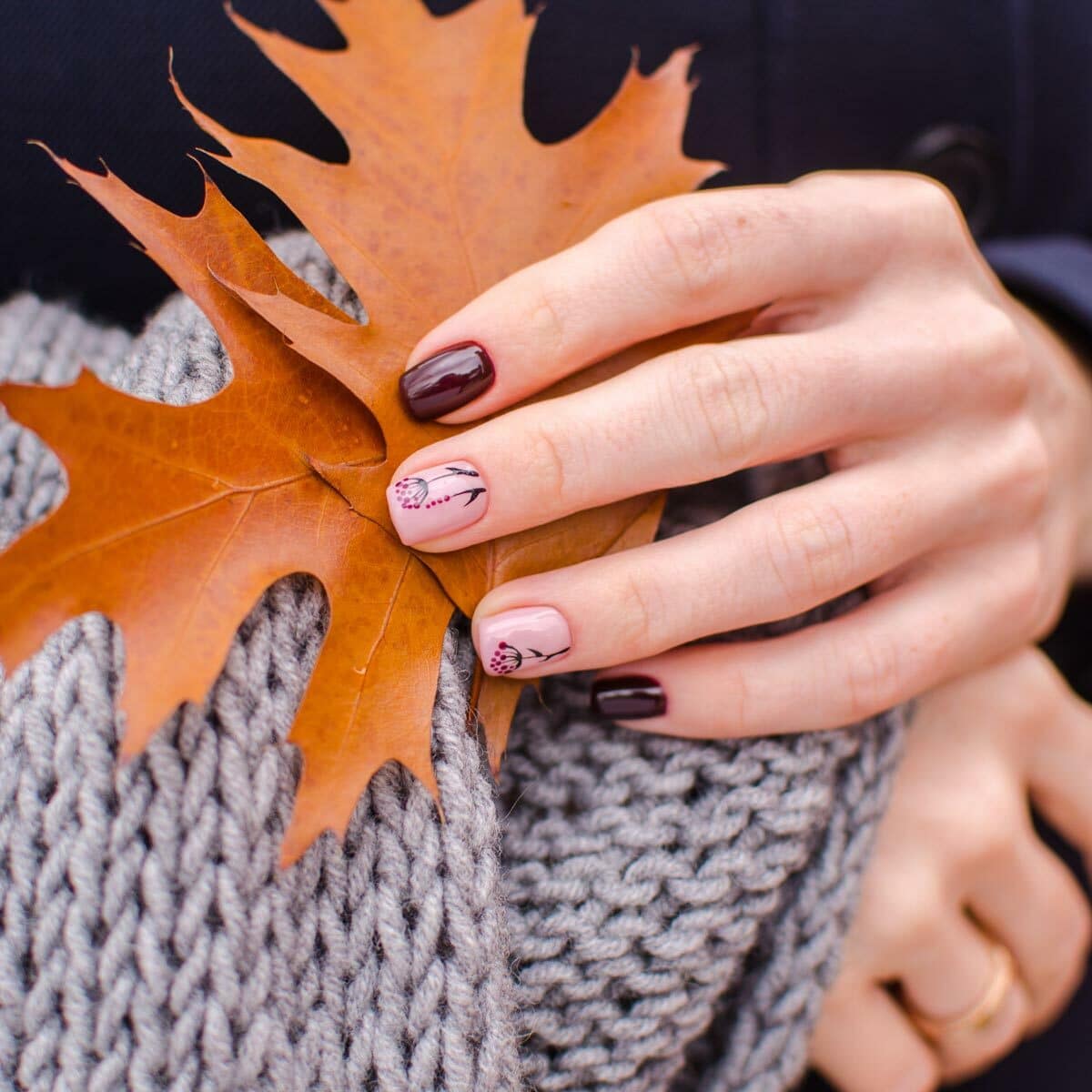 The colors of the leaves are changing and that means your nail designs are too. Summer is slowly drifting away as the temps cool down and the fall season sets in. But just because summer is officially over doesn't mean your mani and pedis have to be left behind, too. Check out these 7 nail designs fall you'll be in love with just in time for the changing seasons.
Nail Designs Fall
1. Marble Mani
There are plenty of DIY nail design ideas out there, but one of the best might be this marble nail design. While it's really perfect for any season, you can gear it towards fall with dark jewel tones.
The best part? This design isn't water-based like many others.
Inside the design, you'll see smokelike swirls and vampy hues, perfect for your next Halloween party. Get creative with different color tones and designs to see what you like best.

2. Leafy Nail Designs Fall
When you think of the fall season, what's the first thing to come to mind? While there are many beautiful things about autumn, one of the most mesmerizing is the leaves changing color. Why not take inspiration from nature and create a nail leaf design?
You have a ton of options when it comes to working with leaves, especially when you take inspiration from the real ones around you. Using yellows and oranges, you can create the perfect blend of color for an autumn leaf.
Opt for a solid base to make the leaf stand out, or stick with current trends and use your ring finger for the leaf design.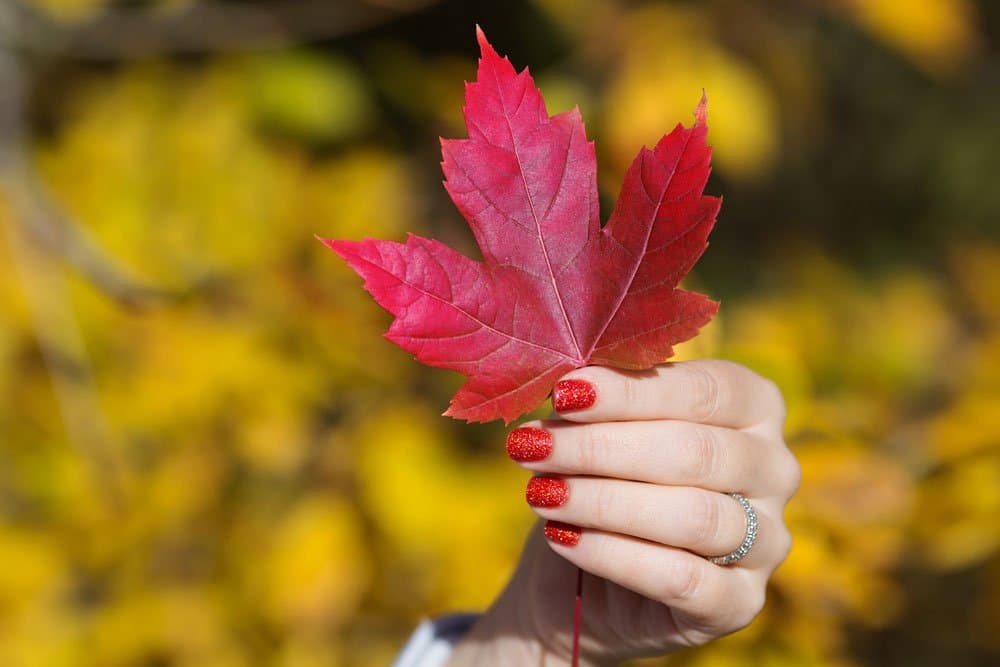 3. Swirly Branches
Once the last leaf falls from the tree, the branches remain bare until spring eventually makes an appearance. While some may find this depressing, others take inspiration from the bare branches.
Create a swirly tree branch design on your nails for a touch of fall throughout the season. Use dark and light browns with a metallic texture for the ultimate tree design. Or opt for a shimmery color with solid painted tips for a more unique look.
You don't have to be a professional nail artist to perfect this look, which is the best part! The imperfect design offers a variety of painted tree branches.

4. Ombre Sparkles
If you haven't noticed, ombre is a trend taking over everywhere. From hair highlights to bedroom curtains, ombre is everywhere. Adding them to your nail design is no different. Instead of blending in with the crowd with this fall design, stand out by doing something a little different.
As you start with your clear base coat, work from the middle of your nail to the tip, add a coat of sparkles. As you continue to add more coats of color, work your way down the nail closer to the tip with each new coat.
Not only will your ombre style have the perfect combo of color hues but your nails will stand out with a sense of sparkle. You can always add the sparkles last or to one finger as we mentioned earlier.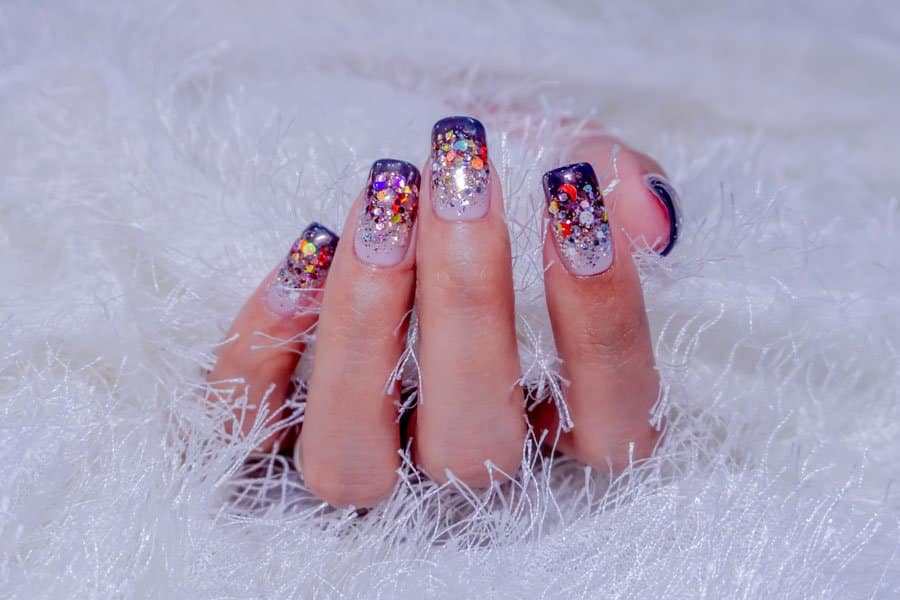 5. Nail Designs Fall to a Point
Your nails don't always have to work around the colors and designs to stand out. Want something a little more out there and perfect for Halloween?
While the popular nail shape is rounded or square, make yours come to a point. Not only will this fun and totally appropriate nail shape draw attention but you can customize it to any degree of sharpness you want.
Add some gold flakes, geometric patterns, or any nail accent you desire to make this nail stand out even more.

6. Matte Meets Glitter
We know fall is all about the dark hues and jewel tones, but that doesn't mean they have to stay that way. We already added sparkles to the ombre design, so why not make some glitter stand out with a matte finish?
There are some beautiful matte colors which stand out all on its own, but just a touch of glitter can do wonders for this nail design. A matte plum purple or cherry red is the perfect autumn color, but add some glitter and watch how this nail design changes.
Embellish this bold look for a romantic date night or a laid-back Halloween party. If you want to get fancy, add a swirl to your ring fingernail while adding some glitz and glitter to the others.

7. Dark Plaid
Last but certainly not least is one of the most popular fall trends out there. Men and women alike save their best plaid clothing for the autumn weather and we don't blame them. While pastel and bright colors work well for this design, dark plaid can work even better.
Add a base coat of whatever color you choose and make sure they dry completely. Next, draw thin crisscross lines using a sticker brush in a variety of different colors-we recommend red, black, and white.
The best part about this sophisticated nail design is you have so many options when choosing a blend of colors. While it does require a steady hand, this is no design a professional artist can't handle.
Nail Designs Fall – You'll Love
From plaid to matte finishes, the fall nail designs are endless. Depending on your sense of style and your Halloween outfit, any of these designs could work for you.
Can't decide on just one? Try them all and see what looks best! You're guaranteed to get compliments on them all.
Looking for nail salon software to help you run your business more efficiently and grow? Daysmart Salon's nail salon software has everything you need, click here to learn more!