Show Off This Summer With These Trending Nail Designs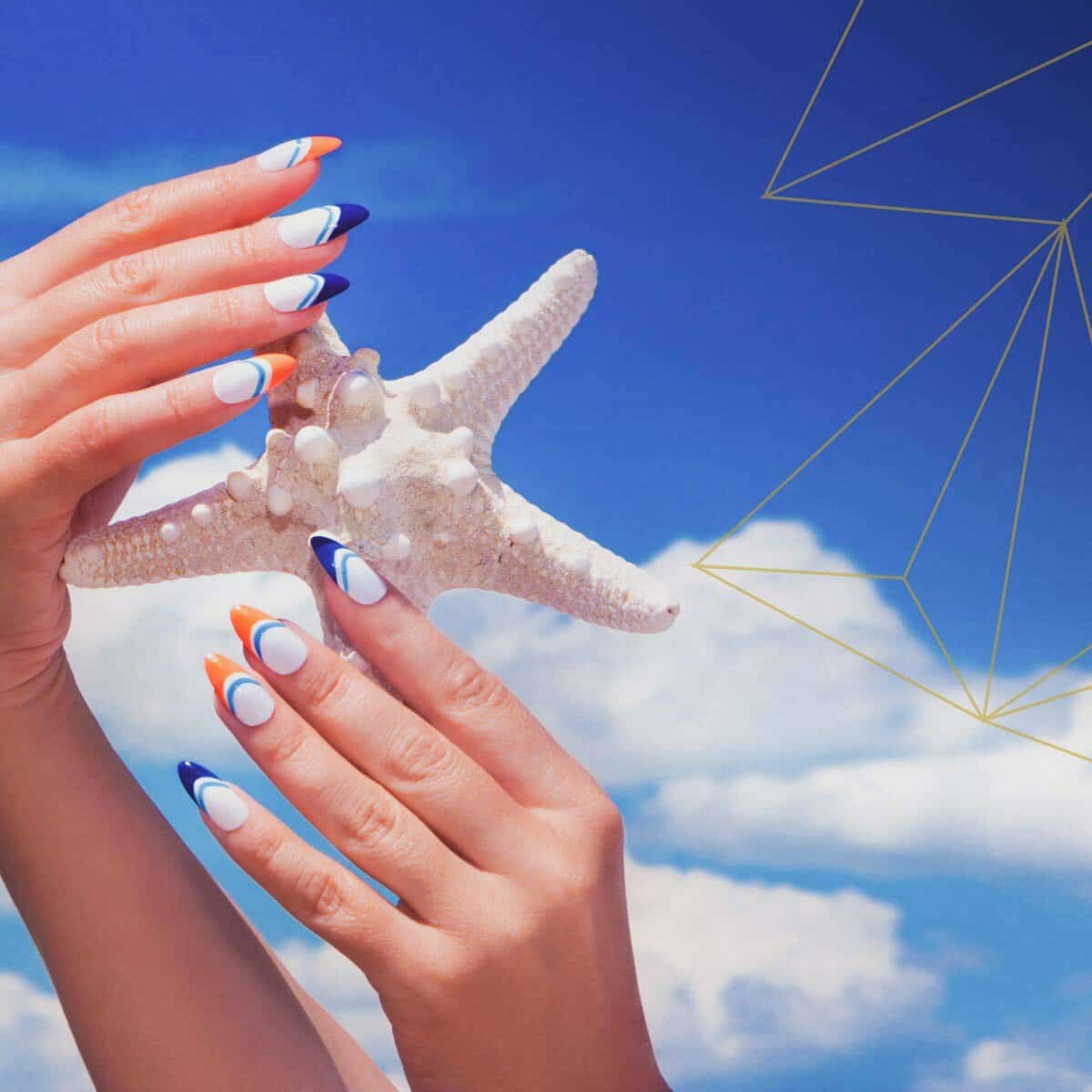 Looking For A Trendy Summer Nail Design? Check Out These Summer Trends
Trending nail designs are a fun way to explore new styles and make a statement. The only problem is we often find ourselves in a style rut.
This can mean you return again and again to the same nail art styles that you know and love, without the excitement of something new! Rather you're a nail tech or just a nail art enthusiast, these nail art ideas are sure to shake up your nail care routine.
Check out these hot nail art ideas and show off your style!
Vintage Inspired Trending Nail Design
Think nail art is something new? Think again.
These vintage-inspired nail art designs will get your style up to date, with a trip to the past.
The 30s/40s Inspired Half Moon Nail
Let your inner Dita von Teese out with this red hot, vintage-inspired half moon shape. This style was popular in the 1930s & 1940s with Hollywood starlets and hasn't yet lost its luster.
"And when I was researching style in the early part of my career, I looked very closely at the details of photographs of women of those decades and noticed that they would leave the moon of the nail bed bare; sometimes they would leave a sliver of white at the tip too", Dita says of the half moon shape.
"So I showed the pictures to my mother, who has been a manicurist for 30 years, and she would patiently paint my nails in this style, sometimes experimenting with colors. All these years later the trend is finally catching on."
We love her retro-inspired choices, especially when it comes to her nails.
In Living Color: 90's Nail Art
The 90s are living again and we think it's totally tubular. Check out these amazing 90s inspired palm trees set against a stark orange polish and covered in an opulent gel for extra shine.
These Lisa Frank inspired 90's nails feature a hard gel overlay and classic Lisa Frank designs. Who knew we could miss our rainbow-colored leopard print binders so much!
Betsey Johnson has been a style icon for ages, but you may not know that recreating some of her fun and funky trending nail designs have become a nail art fad!
Check out these Betsey Johnson inspired nails and create your own styles. You can do this by combining fun and funky colors with kiss marks and floral designs!

Of the Moment Trending Nail Design
Staying on trend means hunting down some of the hottest styles on social media. Fortunately, we've done the digging for you.
Check out our picks for some for some of the most loved modern styles.
Wanna hop on the craze without breaking your budget? Check out these Kylie Cosmetics inspired nails.
Featuring a Baby Pink and gold combo we're all about the drip! Check out this crazy style!
Another trending nail art style is the marble look. These fun art concepts take the luxe factor to the next level with glossy top coats.
Try out these fun marble inspired nail styles for yourself today!
Bring your nail station to the next level with this fun nail art concept. The classic chevron shape may have reached the height of its popularity, but it's finding new life in a totally modern style.
Use a glitter highlight like this nail artist chose to create a fun and totally Instagram worthy design. You or your clients will go crazy for this luxurious style.
New Nail Styles Perfect for Mermaid Season
Regardless of the month, it's always mermaid season! These fun siren inspired nail looks feature fun scaled patterns.
Try them for yourself with metallic tones to set off your sea-worthy style!
This style, often called "the boomer fade," combines a classic French look with the modern styles made popular on social media. This coffin shaped look capitalizes on nude trends by creating a fade between pink and white poly gel.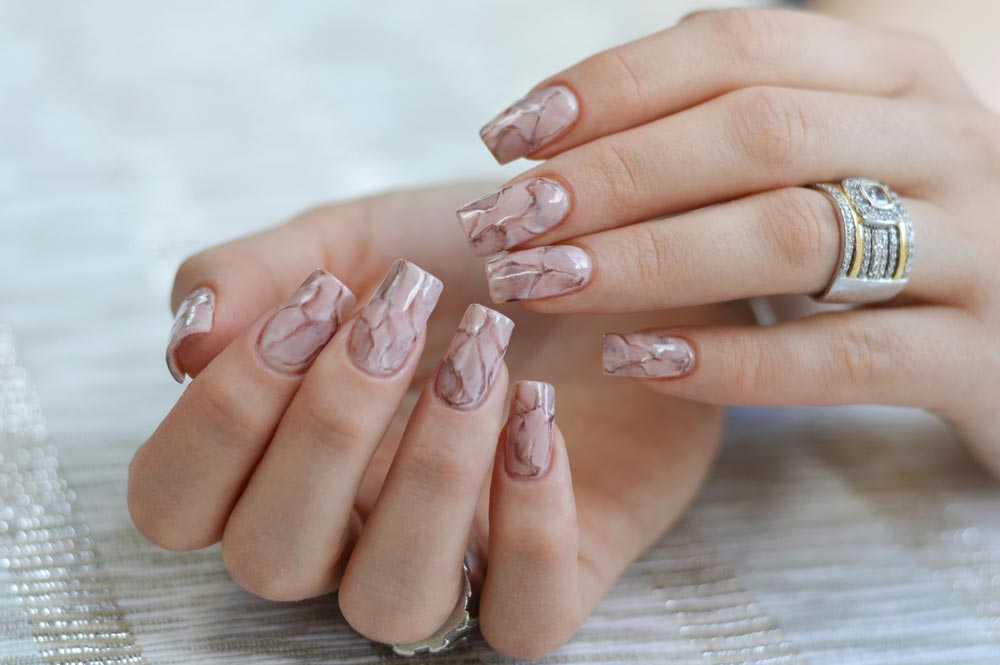 Trending Art Nail Design + Stiletto Shapes
These Stiletto inspired shapes prove that this cutting edge trend isn't going anywhere anytime soon. Use a combo of gel, dip, airbrush, or polish to recreate these fun and funky ideas. We dare ya!
Every Rose Has It's Thorn
We're a sucker for a great floral design, and these stiletto styles are all that. You can take inspiration from your favorite flowers or flowers that have special significance to you and your partner.
The best part? These roses don't wilt.
These stilettos nails take the point to the next level. While this style may not be for everyone, especially those who have young children to care for, these looks certainly grab attention.
File your way to style with shapes that up the ante on nail fashion trends.
Barbie – The Babe That Has It All
Barbie may have everything, but you can have it too with these fun Barbie inspired styles. Show off styles perfect for the dream house with these fun pink looks.
Ken should be so lucky!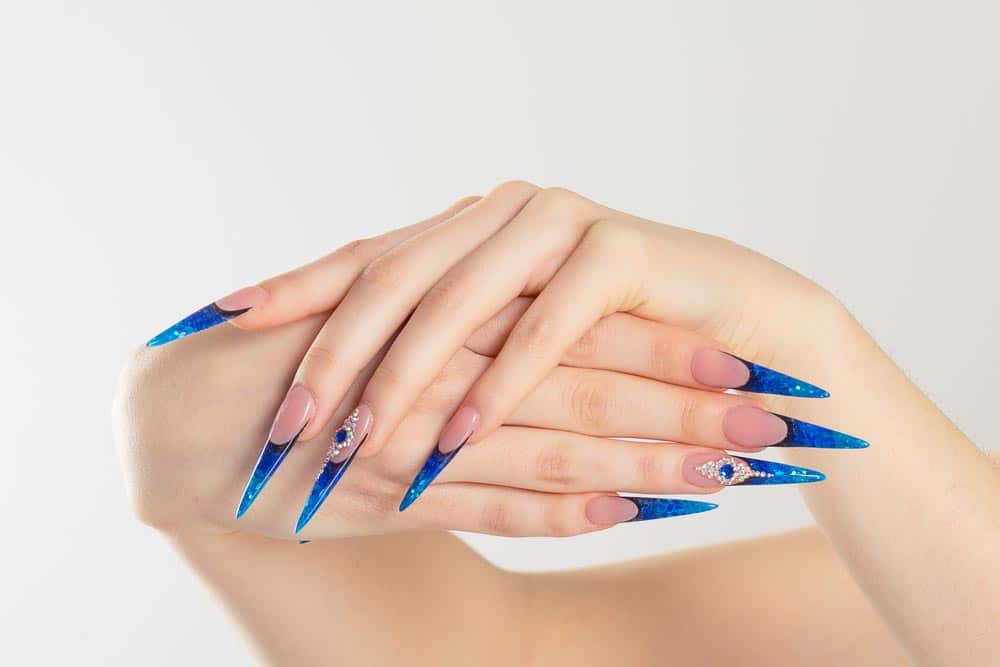 Finding Your Best Style
Rather you're a sucker for a style that fits your 'Very Busy Barbie' lifestyle or you want to switch it up with retro-inspired trending nail designs, let your personal style shine!
Looking for nail salon software to help you run your business more efficiently and grow? Daysmart Salon's nail salon software has everything you need, click here to learn more!