Salon News: Hair Stylists Going Mobile! A New Industry Trend
According to salon news statistics American women spend an average of $80 and 11 hours per month on their hair.
Remember, that's the average. If you live in California, you spend about $150 per month. The lovely ladies of North Carolina? $20.
Where was the most time and money spent? At the salon, of course! But not every woman has the time available that a salon appointment takes. In the same breath, professional washes and cuts are expensive.
Some savvy hair stylists have found a solution that benefits their clients. That solution is mobile salons. Find out everything you need to know about getting started in this hot trend in salon news today!
Salon News: Hair Stylists Are Becoming Mobile Salon Owners
There is always new salon news and trends being released with one survey finding the largest salon chain in the U.S. hasn't had a sales decrease at the same store in back-to-back years. That's a lot of salons making money. The same survey found that women spend more than an hour at each hair salon visit.
But getting out of that chair in under two hours is a miracle in most cases. The wash, cut, color, dry, and style can easily take four hours if you're going for the whole shebang.
Not everyone has time to in their schedule for that. Hairstylists know this. It's one of the reasons they're taking their show on the road and becoming mobile salon owners.
Mobile dog grooming has been around for years. Salon news shows mobile tanning is popular these days too. So why not mobile hair cutting services?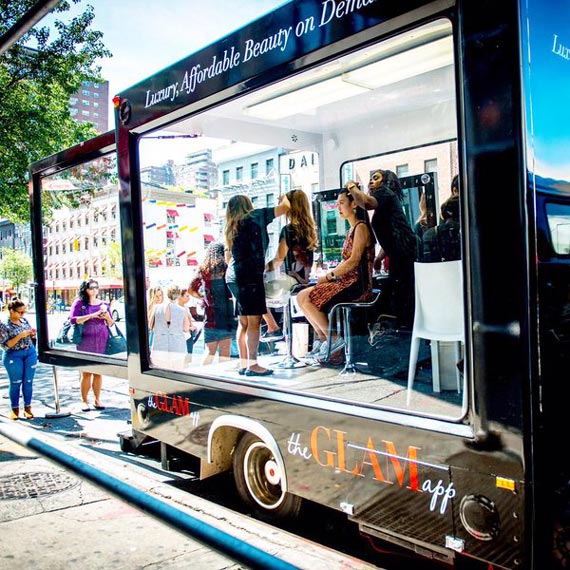 In reality, mobile hair stylists have been around for decades. Hairdressers pack up their styling supplies and make house calls to elderly clients or friends and family members. But we're talking about a hair stylist who converts a van, RV, or trailer into an actual salon on wheels.
To most people, time is money. We don't mind paying for something if it means we won't have to do it ourselves.
Think about lawn maintenance and house cleaning. We're capable of cutting our own grass and cleaning our own houses, but we don't want to take the time to do it, so we pay someone else to instead.
Busy moms spend a few bucks to order delivery instead of cooking dinner when they're in a hurry. Having a mobile hair stylist come to you works in the same way. But, is showing mobile hair salons are different in that it doesn't always cost more for that convenience.
How Do I Get Started As a Mobile Hair Stylist?
If you're a hair stylist who's employed by a chain or renting a chair at a salon and you want to go mobile, we've got some helpful tips to get you started.

Licensing
Before you start anything, your licenses must be current with your state's cosmetology board or governing body. You'll also need to secure licensing that allows you to run a mobile business.
This includes having the proper insurance both for your business and your vehicle. Your insurance agent will be able to walk you through everything you need to get both in your state.
Equipment
If you're a hair stylist, you already have your own shears, clippers, blow dryers and other tools, combs, brushes, and styling products. A perk of being your own boss is that you can use the products you like the most, not the ones the salon requires you to use.
You need your own towels, shampoo and conditioner, treatment products, and so on.
Of course, it's also necessary to find a vehicle you'll be using as your salon. Smaller RVs and vans are two options that allow you to have the room you need and still be drivable.
You'll have to buy equipment to turn your vehicle into a salon on wheels. Shop around for barber chairs, sinks, mirrors, rolling carts, and a generator. Get quotes from contractors who can add water lines and electrical outlets.
Browse trade magazines and local classified ads for used equipment. When companies go out of business, they try to liquidate their assets so you can find a good deal on good equipment.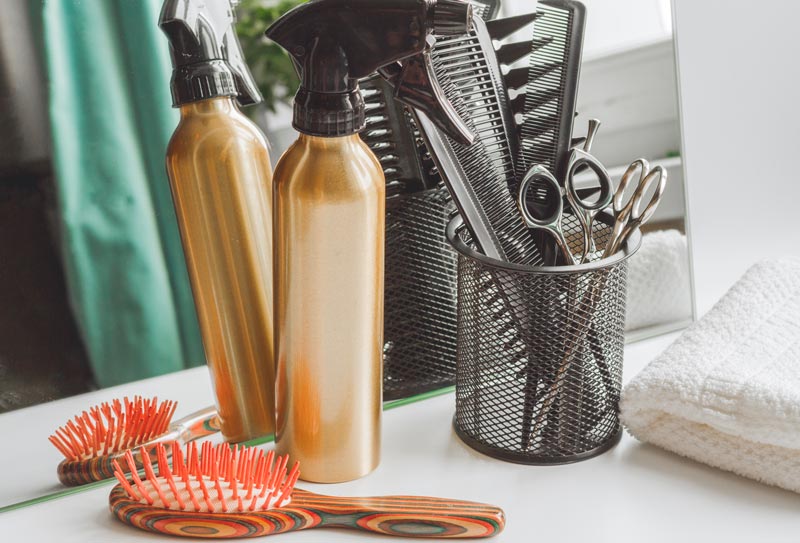 Set Prices
Make sure you calculate gas costs when setting your prices. You can use the price board from your former salon as a guide, but your prices may work out to be lower.
Because you're not paying the chair rental fee every week, you may not have to charge $40 for a haircut. After calculating all your costs, you might make a decent profit charging $35.
Your prices may take a little tweaking here and there as you learn more about being a mobile salon owner. Make sure you go over all your expenses before cementing prices, though. The last thing you want is to lose clients because the cost of one of your cuts went from $35 to $50 in a matter of months.

Customers
Some salons have closed books and you aren't allowed to contact clients. But if you rent a chair or space at a salon, chances are, you brought your clients over from your last location.
If you're not allowed to contact the clientele, you can advertise on social media. Offer a discount if they mention the ad and where they saw it. Give family and friends the same deal when they refer someone.

Marketing
Using social media to spread the word has an added benefit. This helps you track your target audience and the platforms they're using as well. You'll find out the best ways to market your brand and how to target your audience.
You need to design a logo and buy business cards.
Being a mobile salon owner is providing a service that women and men need but don't have time for. They could also prefer the convenience of having you come to them. You need to let them know you're out there!
Operating
After you've taken all the steps to get the ball (or RV) rolling, you need to consider how you'll keep track of your accounting.
Salon software is a good option as it will have everything you need to be a mobile hair stylist. You'll be able to keep track of inventory, ordering, expenses, POS, and tax information.
Calling All Solopreneurs, Established Bosses, and Moguls!
Our award-winning software has the solutions hair stylists need so you can focus on what's important – your craft and your customers. We'll handle the rest.
For more salon news, visit our blog for the most updated info to give you ideas to stay on top of trends and tips for building your brand.
Take advantage of our free 14-day trial today, or learn more about Daysmart Salon by sending us a little info about yourself!