Boost Your Clientele With Male Manicure Services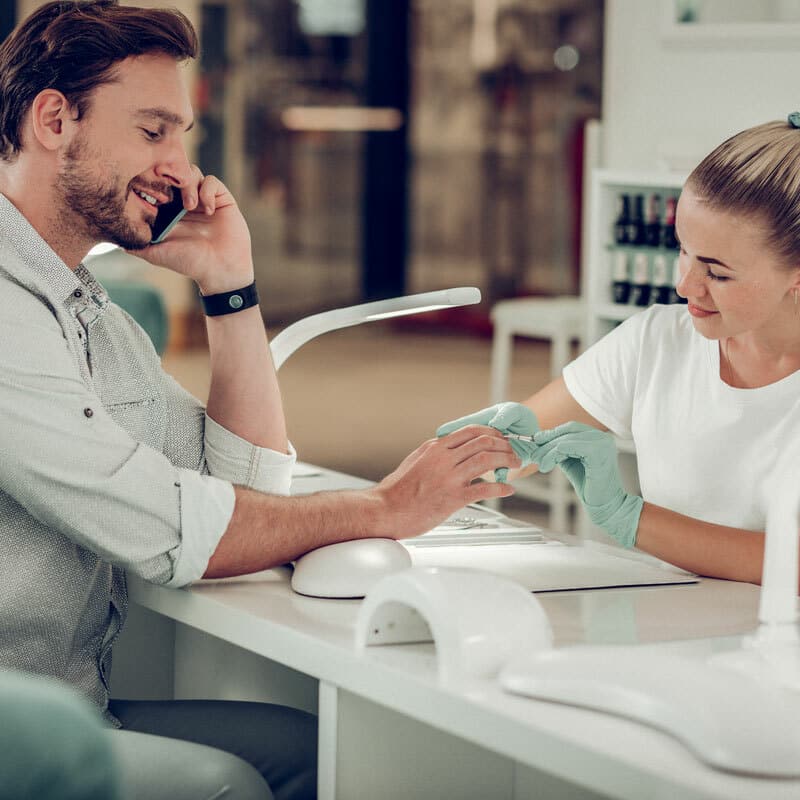 Men are stepping into a new era of self-care. Since the term "metrosexual" was coined, men no longer had to sacrifice their sense of masculinity to tend to their physical and psychological needs, even if it means splurging on great face cream. So what's next in the world of pampering for men? Well, it would appear that gentlemen everywhere are choosing a 'manicure for men'!
What does this mean for your beauty business? How does double the clientele sound? Read on to learn more about the psychology behind male manicures, and how to go about offering it to your audience.
Why Men are Suddenly Interested in Manicures
When you stop and think about the reasons why a man might need a manicure, they can range from more practical to more business-related.
While we haven't quite reached the point of nail wrapping and acrylic tips for men, being able to have clean, groomed, and sometimes even clear polished nails definitely serves its purpose.
For one, men are now participating more in sales and marketing related business ventures than ever before.
In past decades when physical labor was considered more of a manly job, it wouldn't make much sense to take the time to have manicured fingertips.
However, today there's nothing more valuable than a first impression. This means that a man is being judged on everything from how well his shoes are shined to how his hands look when he reaches out for a firm handshake with a prospective business partner.
It's not always about closing the deal either. There are a number of practical reasons why men may choose to stop into a salon to request a service.
For example, those that are in careers, like musicians, may need their fingers to stay at a certain length to serve as the guitar picks that are always on hand.
In this case, it may help to have slightly longer fingernails than most men while still needing to have a clean and presentable image.
Then there's the fact that men are just enjoying being pampered. It's now an enjoyable activity to go with their partner or even with a good friend to experience a nice massage and to feel like they're being well taken care of.
As our society is becoming increasingly more "woke" we're no longer requesting men to sacrifice their need to feel taken care of, attractive, and well-groomed.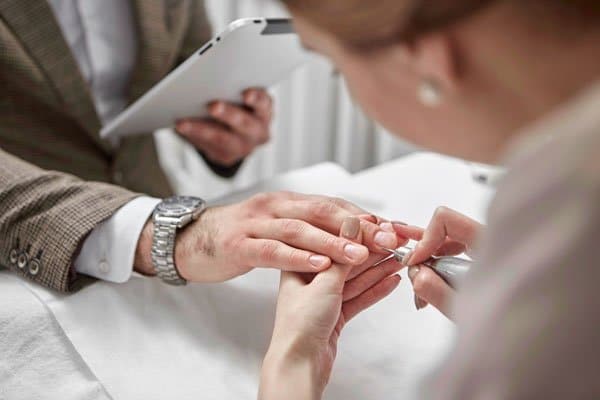 Manicure For Men: The Right Fit for Your Beauty Boutique Business
When considering the type of clientele that's interested in a male manicure, it's important to realize that this is a real source of potential revenue.
The type of man that's most likely to be a metrosexual or dedicate time to his appearance is the kind of man that's willing to invest in making a strong first impression.
That means they'll be willing to pay more than the fair cost for a manicure provided that they're getting the treatment they feel they deserve.
This also means that there is more room for word-of-mouth marketing. For example, a man may come in for a manicure and recommend his wife visit the same salon or vice versa.
It even creates great potential for gifts in the future as it creates another outlet for couples to indulge together, similar to a couples massage that may be purchased to celebrate an anniversary or Valentine's Day.
What to Incorporate a Manicure for Men
While, yes, men are now willing to go and get their own manicure, it's important to remember that this isn't necessarily the same manicure you'll be offering women.
In fact, it serves you to have it set as a completely different item. You can look at massages again as a reference example. You'll have your hot stone massage, your deep tissue massage, and then you'll have your sports massages that are more geared towards athletes that need particular detail to their muscles.
Think about the kind of care a man would want when he steps into your salon. What kind of beverage might he want to be offered? If he is a little uneasy about getting a manicure for the first time what are some more masculine elements that you can add to the treatment to help him ease into the process.
At the same time consider this a great opportunity to give a man what he may be missing. Traditionally men don't come into salons, so this is a great time to allow them to fully be pampered and let them know what they have been missing out on what they don't want to continue to go without.
With the right attention to detail, and taking the time to put yourself in your client's shoes, you'll be able to count on your male clientele scheduling regular visits.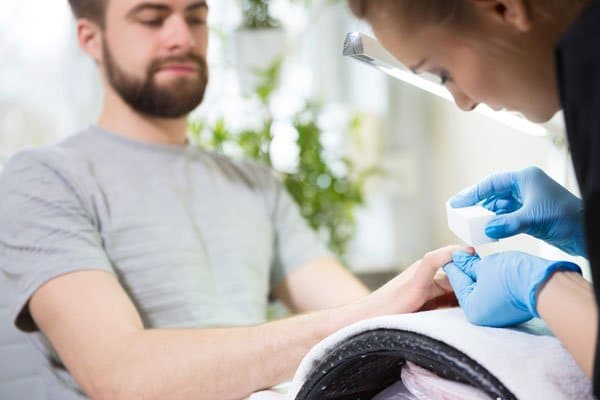 Keeping Track of All Those New Clients
More services mean more clients and you're gonna need a way to keep track of all those manicure for men in your system. This is where it comes in handy to have an advanced software that can handle all your needs on one easy platform.
Daysmart Salon was created with all of your salon business management needs in mind.
From scheduling to billing, and even sending reminders to your clients, it's all covered. This means more time to dedicate to creating new services and handling your clientele with the care and attention they deserve.
Want to see what we mean? Contact us today for a free demo to see all that salon Iris can really do.