Jumpstart January with Salon Software
It's nearly the new year, and you know what that means: January salon clients are booking appointments right and left in order to start the year off with a trendy new haircut or a seriously look-at-me manicure/pedicure.
However, with all of the appointments, phone calls, inventory orders, and marketing strategies for the new year, it's easy for things to start getting disorganized very quickly. Factors such as poor communication and unprofessional behavior (like accidentally double-booking a cut and color) are some of the most common reasons why clients part ways with a salon or stylist.
This year, we want you to be able to grow your client book, not shrink it. So, how can you make it happen? By getting the best in January salon software for 2020. Read on to learn what it is, why it matters, and where you can get it.
It's January Salon Software Time:
Online Appointment Bookings
When you're looking to upgrade your salon software, one of the things you absolutely can't compromise on? The ability for your clients to book your services online, at their convenience.
Look for software that helps you to color-code your appointments, so you can see your entire day at a glance and better manage your bookings. This way, you can easily identify gaps in your day, so you can squeeze in those last-minute clients!
You need software that also sends both you and your client's automatic reminders, which will help you to decrease the number of no-shows you have to deal with. Plus, even if clients do bail, they won't be able to claim that they "forgot."
Additionally, your software should allow you to easily make standing appointments. Them clients that book their blowout and bang trim for the same time every month? Now, they won't have to call you every time they need to book.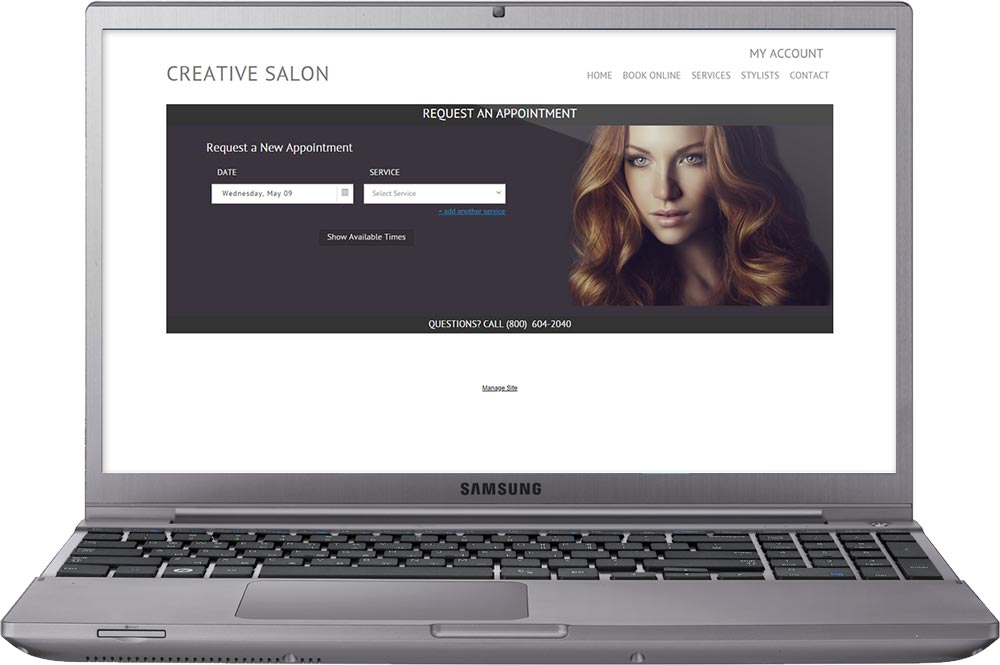 Client Management
Another perk of working with the best in salon software? It helps to make your client management easier than ever. Struggling to remember the formula you used to create the color that your client loved last time? Your software should allow you a way to store it so that you can save time and keep your client's happy.
You can also store the products that your clients love, so you'll always have enough on hand when they come in. You'll even be able to store older photos of your client's past cuts and colors. So, if they're craving the edgy look from a few seasons ago, you'll be able to pull the look right up and work from a reference photo.
You can even use the software to help you to create loyalty/rewards programs for your most valued clients. Create a points system, allow them to purchase gift cards, and even slip them a few freebies when they're paying for the day's services.
Salon Apps
Another feature you need to look for when it comes to upgrading your salon software for the new year? The ability to pull up your book anywhere, anytime through the use of salon apps.
Make sure that you choose a software that's compatible with both Android and iPhones, so that no matter what kind of tablet/device you're using, you can still access your appointments.
Does a client use your personal cell phone number to request appointments? If so, using the app allows you to book on the go, meaning you'll never forget about them.
You can also use the app to reach out to your clients, to let them know about your upcoming schedule or even suggest new products for them to use between appointments.

January Salon Product Sales
In the past year, have you been growing increasingly frustrated with the way you manage your product inventory? Have you worked hard to sell a product to a customer, only to find that you don't actually have the product in stock when you're ready to check a client out?
Make these annoying mishaps a thing of the past in the new year by investing in a salon software that helps you to manage your inventory and assess product sales. You'll be able to assess your most popular products and manage your inventory so that you never run out of those cult products. You'll also be able to see which items aren't selling as well, so you can make room for bigger and better products.
You'll even enjoy the benefits of automatic reordering, which will save you serious time, stress, and most of all, cash. You can even accept more payment options than ever before in the new year, which we know will make your clients happy.
January Salon Data Security
Another crucial thing to look for in your new salon software? Serious security that protects the privacy of both your clients and their payment information. First of all, the older woman might not appreciate everyone knowing that she books a root touch-up once every three weeks. And she'll appreciate it even less if her credit card information becomes vulnerable to hackers.
Your salon software should run automatic backups, should create activity logs so you can monitor who is using it and when, and needs to be password-protected by an individual employee.
Ready To Upgrade Your Salon Software For The New Year?
We know that thanks to this post, you're more than ready to give your current salon software a serious makeover for the new year.
So, where can you find the software you need to make this total transformation a reality? That's where we come in. Our incredible, easy-to-use software has all of the features listed in this article. So, it's no wonder that more than 50,000 businesses trust Daysmart Salon software to keep things running smoothly.
Whether your an individual stylist with a large client book, or a booming salon that needs to streamline their bookings, payment schedules, and more, our software is the solution.
Spend some time on our website to learn even more about what we have to offer, and reach out to us if you have any questions or want to start a free trial.