Just in Time for Valentine's Day: How to Do Heart Hairstyles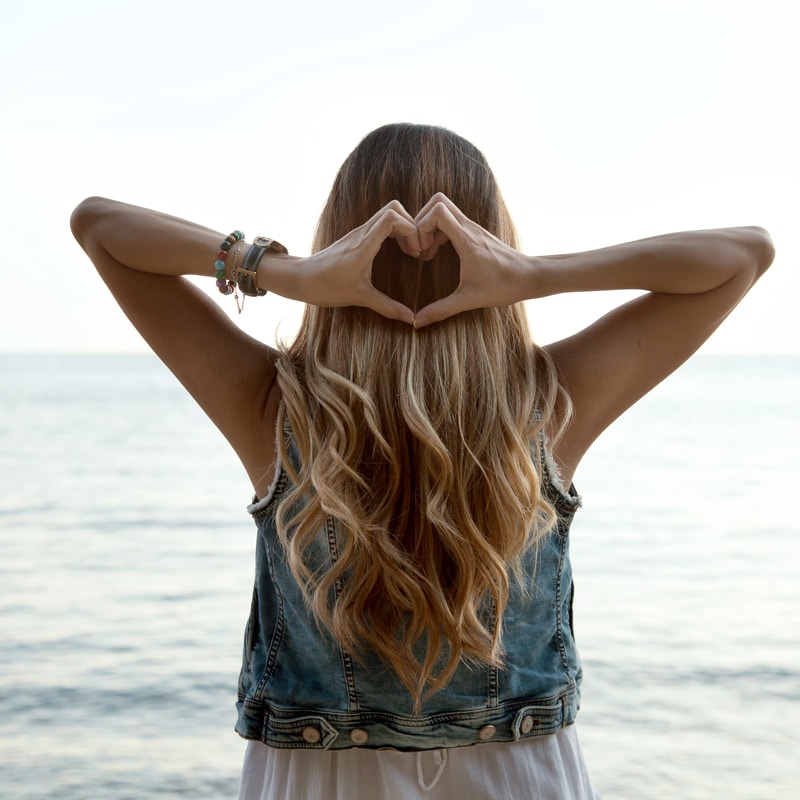 Ah, Valentine's Day. It's the perfect time of year for hopeless romantics and all things heart-shaped. Sure, you've seen heart-shaped cards, candy, and even dinner wear. Is your hair ready to be heart-shaped too? Here are our top 8 heart hairstyle(s) for this Valentine's Day.
1. The Heart Hairstyle Bun
A heart-shaped bun is one of the easiest heart hairstyles to do. All you need is some simple twisting and pinning. If your hair is short or layered, you might want to consider hair extensions to create this look.
Instructions:
1. Start by pulling your hair into two small half-up ponytails.
2. Strategically twist both ponytails outward, forming two halves of a heart.
3. As you twist, use hairpins to pin the shape into place.
4. Once both sides are in place, secure the middle of your heart with another pin.
2. Heart Sculpted Bun
This bun maybe even easier to create than the first. All you need is a few bobby pins and your hands.
Instructions:
1. Pull your hair up and into a regular bun.
2. Secure the ends and flyaways.
3. Use bobby pins to sculpt your bun into a heart shape.
3. Cross My Heart Hairstyle Braid
This sweet hairstyle is perfect for Valentine's Day, but classic enough to wear any day of the year.
Instructions:
1. Start by making a small, three-strand braid on both sides of your hair.
2. Connect both braids in the middle.
3. Gather a section of hair by the start of a braid. Pull it under and wrap it around the braid it's near.
4. Pull it through like a knot.
5. Repeat on the other side.
6. Connect with a tie to form a heart.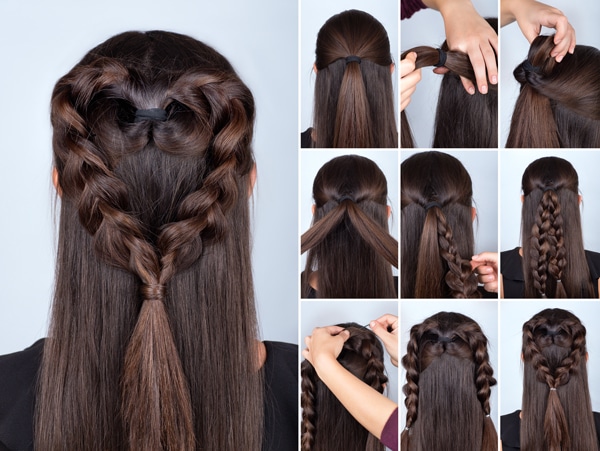 4. Rope Braided Heart Hairstyle
For this hairstyle, you'll want to map out your heart shape with a comb first. Then, you can use a rope-braiding technique to do the rest.
Instructions:
1. Start by parting your hair down the middle, so you can make sure the heart is centered.
2. Use a comb to pull out hair in a heart shape. Tie this section into a ponytail.
3. Working from the hair at the top of the head, rope braid around the heart shape you made.
4. Make sure you include the ponytail as you get to it.
5. Repeat on the other side of the hair.
6. Twist the two sides of the rope braids together and make a bun at the base of the heart. Secure with bobby pins.
5. Dainty Little Heart Hairstyle
Don't want to deal with lots of heavy-handed braids? This is the perfect little heart hairstyle to whip up in no time.
Instructions:
1. Start by removing any tangles from your hair. Divide two small sections near your temples. Bring those sections back and tie them together
2. Pick up a new small section under one side of your head.
3. Make a "C" shape by bringing this piece over the elastic from where you tied your hair earlier.
4. Wrap that piece underneath the right side that has been tied down. Bring it back down again, laying it over itself. Pin this down.
5. Repeat, doing the same thing to the left side of your hair.
6. Bring the ends of the wrapped sections together under the elastic band.
7. Tie the two new sections together with a new band, a few inches down.
8. Tada! You have the cutest, loose heart in your hair.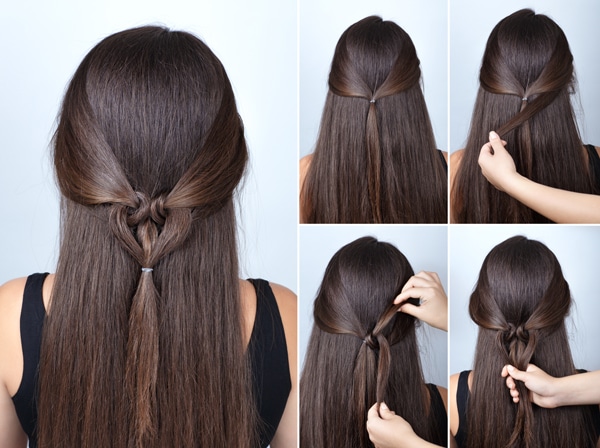 6. Braided Heart Pony
This is a sweet way to jazz up your ponytail for Valentine's Day. Bonus, it's easy enough to do on a little girl's hair as well!
Instructions:
1. Part your hair into two sections down the middle.
2. At the crown, make a curve to form the top of the heart. Stop when you get to the back of your ear.
3. Clip that hair out of the way.
4. French braid, starting at the part. Make sure you curve the braid around to your ear. Here, you'll only use hair from the outside of the heart to keep the shape.
5. Braid down to the nape of your neck. Clip this off.
6. Repeat the same steps on the other side of the heart.
7. When you get to the nape of your neck on the other side, you'll have 6 pieces total. (3 on the left. 3 on the right.) Join all the pieces together. Then, separate them into three pieces.
8. Braid these three pieces all the way down.
9. Tie it off at the bottom.
7. Floating Heart Hairstyle
This is such a great hairstyle because it looks super cute for Valentine's Day. Also, it doesn't require any major skill to create it.
Instructions:
1. Make a ponytail by parting out a rectangle section from your temples to your crown.
2. On both sides near the temple, section out a small amount of hair.
3. Draw these sections back to the middle of your head.
4. Join these sections with an elastic.
5. Don't pull all your hair through the elastic on the last wrap. Pull it just enough to create a tiny loop.
6. Divide this loop into two pieces, one for each side. Form these sections to create a heart shape.
7. Push a hair pin into the bottom of the heart to attach it to your head.
8. Make a second heart a little further down by repeating the directions.
9. Spray down with hairspray to keep the shape.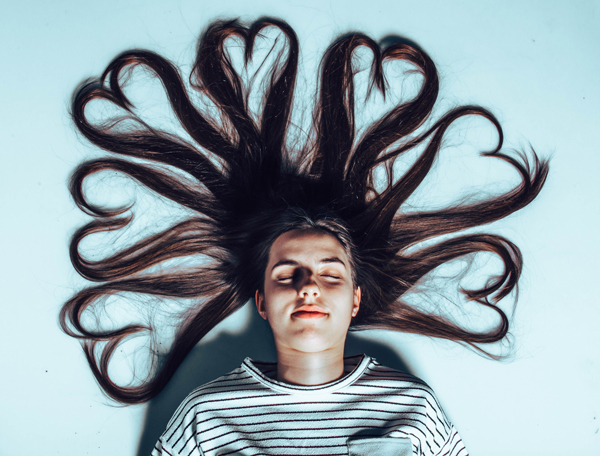 8. Laced Heart Hairstyle
Want to add a little lacy color to your hair? Try adding a little pink or red ribbon in your hair with this laced heart hairstyle.
Instructions:
1. Part the hair at the scalp to make a half ponytail. Tie back with a band.
2. Section off a small amount of hair at the top of the pony. Clip this out of your way.
3. Combine all the hair in the back, including the hair from the half pony.
4. Secure all this hair at the nape of the neck.
5. Take the small amount of hair you held out from step #2. Divide it in half.
6. Make two tiny braids. Tie them off for now.
7. Form a heart with those two braids. Tie them off for now.
8. Add the end of your braids to the large pony. Secure all the hair in place.
9. Using a craft need and ribbon, lace around the braid.
Ready For Valentine's Day
There you have it. Eight heart hairstyles perfect for February 14th. Now, all you need to figure out is what to wear with your new hair!
To keep giving your clients the very best, check out Daysmart Salon. We'll help you take care of your clients this valentines day and every day!