Protect Your Reputation & Manage Customer Satisfaction With Daysmart Salon Reputation Management!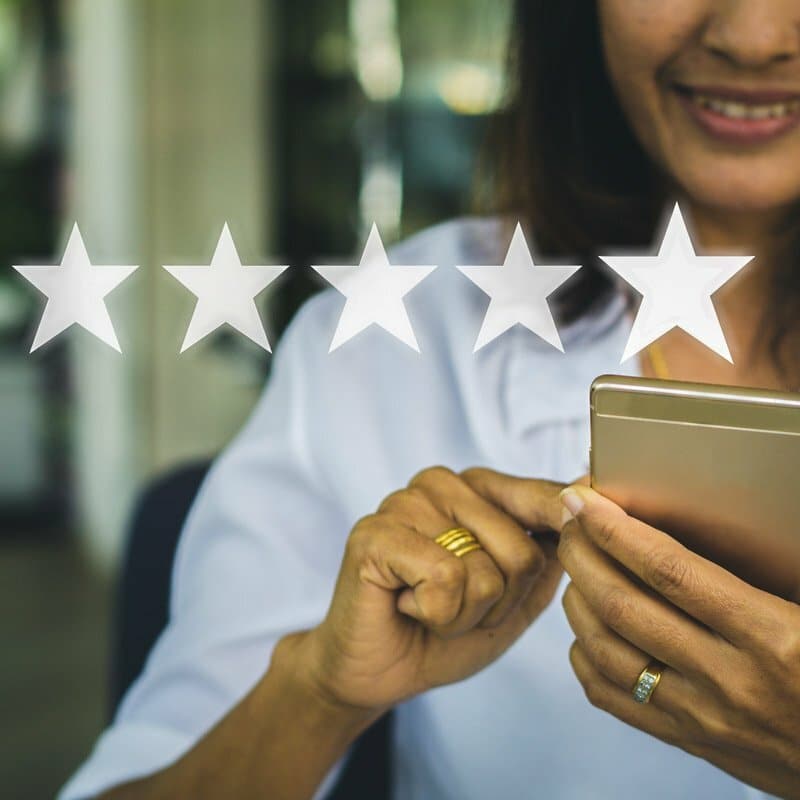 The internet has dramatically changed the way people choose where they spend their time and money. Long gone are the days where people had to choose a salon through suggestions from family and friends.
With the rise of Yelp, Google and Facebook – 75% of consumers now search online to discover a business, and 84% trust online reviews as much as friends! Those stats are scary, but in reality this gives you the opportunity to outmaneuver the competition and gain clients that were difficult to reach in the past.
There are so many potential online locations hair salon reviews can be left – this makes managing your online reputation tricky. That's where Daysmart Salon Reputation Management can help!
Get Proactive – Protect Your Business Online
Your reputation is everything and with customers posting hair salon reviews on a variety of different platforms, we understand – it's tough and time consuming to stay on top of everything!
Daysmart Salon Reputation Management will help you manage customer satisfaction all in one spot, so you can identify and address issues before they can boil over and transform into a potential threat to your business.
Responding quickly to both good and bad hair salon reviews is very important, as you show all prospective clients reading your response that you care about delivering a great salon experience.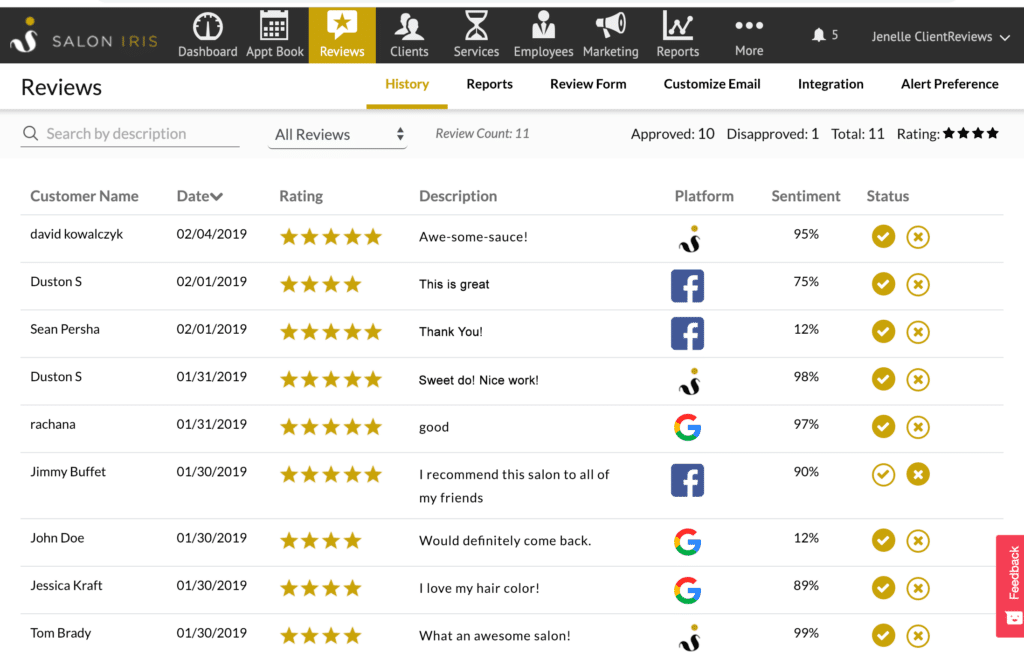 Monitor Your Hair Salon Reviews & Respond Easily
When clients leave you a hair salon reviews, how long does it take you to see and/or respond? A quick response is especially vital when it comes to an unhappy customer, a dissatisfied customer will tell between 9-15 people about their experience.
Some businesses will even offer unhappy customers a special discount or promotion as an apology. Offering a customer 50% off their next haircut, because they were dissatisfied, will give you the chance to make their next experience a positive one and possibly win them back as a client.
Daysmart Salon Reputation Management allows you to respond to positive & negative hair salon reviews from one simple dashboard. See a detailed overview of your online reputation so that you can see at a glance: how many hair salon reviews you have received from Facebook, Yelp & Google, when the reviews were received and how many were approved or disapproved.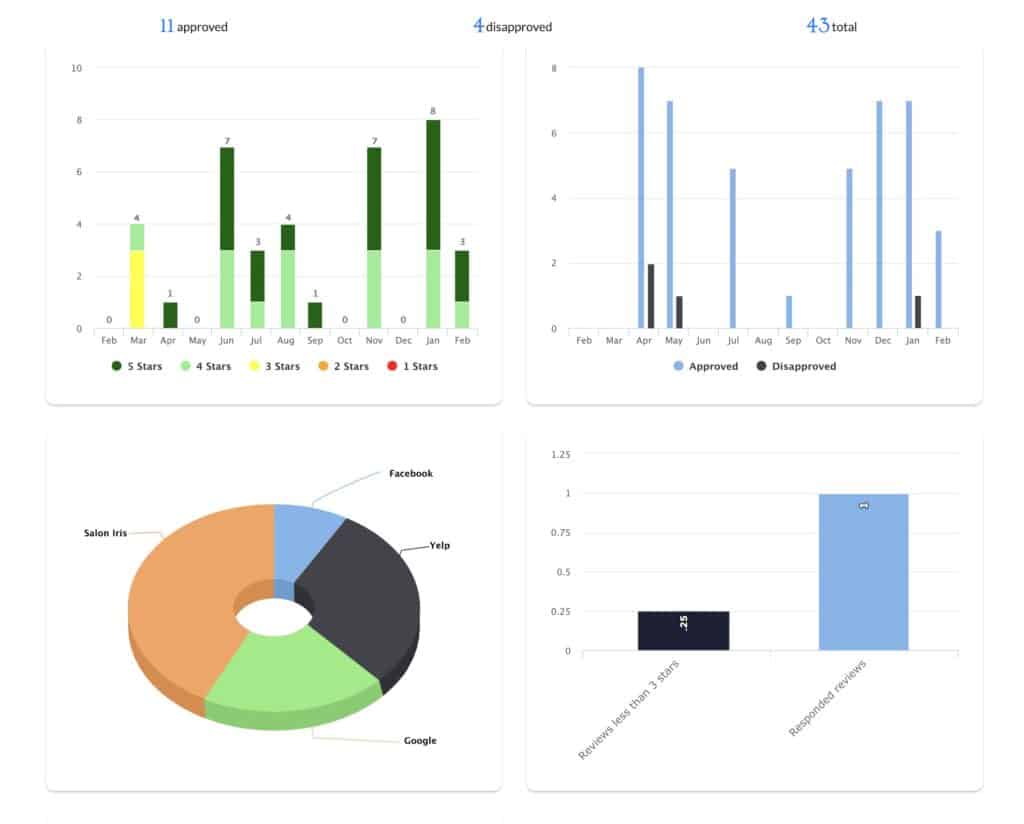 Encourage The People Who Love You To Tell The World
Dealing with negative reviews is one thing, but how do you persuade your best customers to leave a great review of your business?
With Daysmart Salon Reputation Management you can send automated texts and emails to clients (of your choice) asking them to review their experience with you. Don't panic – if the review is not good you can disapprove and send a quick response to show them you acknowledge the issue and are outlining the steps to rectify the situation.
Client sends a great review? Encourage them to tell the world with our automated tool that post them to Yelp, Facebook and/or Google. Grow your likes, shares, reviews and social media engagement!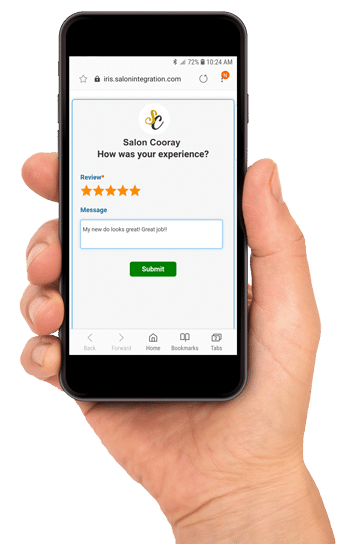 Combining an excellent reputation online and using powerful software to manage that reputation will help you secure more clients, reach a wider audience and keep your salon a 'cut' above the rest.
Want to learn more about how Daysmart Salon Reputation Management works? See for yourself by watching this short training video or call our salon experts at (800) 527-7600 to find out more!