How to Future-Proof Your Hair Salon Post-COVID-19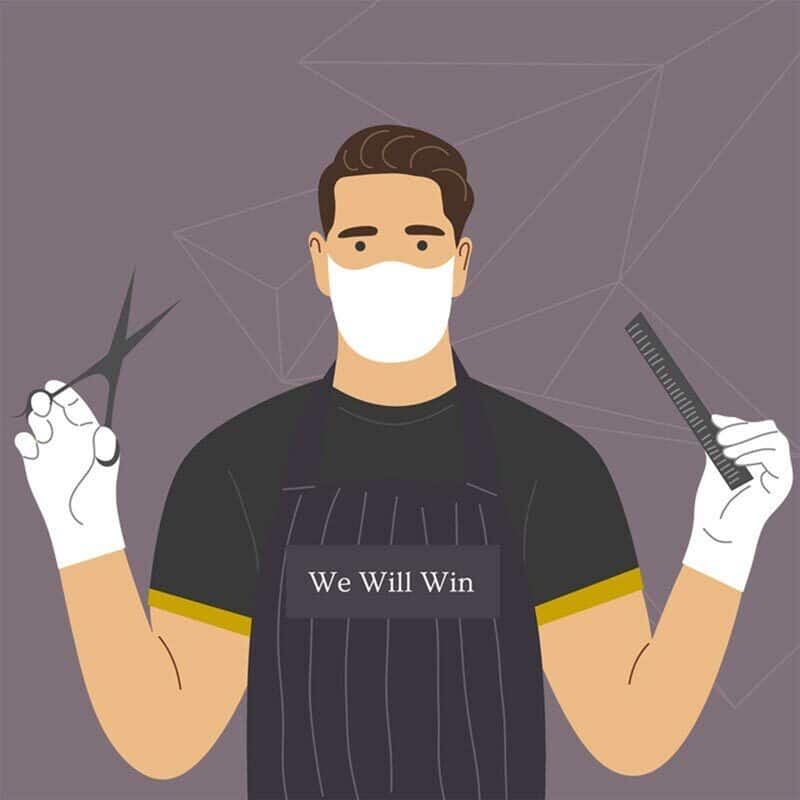 Recognizing that many of our customers have been directly impacted by the pandemic, we've created a content series aimed at helping those businesses prepare for and execute on their own re-opening strategies. The series—which will feature blogs and other content assets—will also include tips for how to use their Daysmart Salon software to bring those strategies to life.

Amidst the COVID-19 conversation, a topic on every small business owner's mind is "the new normal." Despite the widespread wish for life to return to what it once was, small business owners, entrepreneurs, employees and consumers understand this is not possible in the immediate future. As communities slowly begin to reopen in the coming weeks, people will return to their favorite salons with a new mindset. To ensure they receive the same quality service and experience, salon owners must anticipate new customer apprehensions and expectations.
According to Daysmart Salon's recent survey on consumer loyalty, it takes three to four visits to a business for a consumer to feel comfortable—i.e. having a sense of familiarity and taking the first step in becoming a regular customer. At this rate, it is essential that salon owners figure out how to put their customers at ease to attract and retain business. Similarly, when asked what the most important trait is when visiting a business, roughly one-third (31%) of respondents say trust, and more than one-fifth (23%) say consistency in service. These two priorities are heightened in the post-pandemic era—especially as businesses seek to pioneer a "new normal."
One area where salons need to focus is on common areas and touching surfaces. The salon experience is tactile—from hands-on services to crowded waiting areas to, yes, even the checkout experience. While learning about the risks of COVID-19, people have become very aware of how cash, credit cards and every high-traffic item in a business may not be as sanitary as they once thought. Suddenly, the integral touchpoints of a salon experience— from POS systems and processing terminals to keyboards and pens—are identified as risky.
To deliver consistent service, prepare operations and improve customer engagements, salons must future-proof the core aspects of the shopping experience, starting with checkout. Take these four steps to reduce the number of touches needed to complete a transaction.
1. Implement Contactless Payments
Contactless payments are more possible than ever. In fact, most credit and debit cards issued in the last five years have NFC (near-field communication) capabilities embedded within the card. Most payment terminals support NFC capabilities. These "tap and go" cards work similarly to Apple Pay or Google Wallet: 1) they don't require a third-party device (e.g., a cell phone) to store the credit card information, and 2) can just use the card itself.
Not every consumer may know about the possibility of contactless payments. Salons can support customers by providing guidelines, instructions or FAQs and displaying them by the payment terminal, on their website, or via social media pages. It is especially important that salons reassure customers that tap-and-go payments are as secure as EMV chip payments. Similar to chip transactions, the contactless payment is accompanied by a one-time use code that secures the payment data.
Even after salons implement contactless payments, these payment processing systems still integrate with their Daysmart Salon business management software. Integrated payment processing simplifies and expedites checkout, so customers don't have to wait while employees switch between systems. For customers still feeling uneasy in public spaces, a quick and seamless checkout will be especially appreciated.
2. Disable Signature Functions
Now that chip and tap-payment cards are equally secure, most major card brands removed the requirement for transaction signatures in 2018 in the U.S. and Canada. This means there are no longer fees related to processing a transaction without the cardholder signature, making it more appealing to customers. That said, many processing terminals and POS systems still have the signature prompt as a default setting. To fix these issues, salons can contact their card processor, such as CardConnect, to adjust those settings. Customers will appreciate saving a step, as it reduces time, risk and stress.
How does this work for tipping? Some salons may prefer to continue requesting signatures so patrons can discreetly add a post-transaction tip. Otherwise, small businesses can set up integrations in Daysmart Salon that "prompt for a tip" before the purchaser approves the amount. With this system, the full transaction amount is charged at once (instead of a tip adjustment after the fact).
3. Consider Recurring Billing
Using Daysmart Salon software, business owners can sell recurring client memberships to their customers. First and foremost, these memberships are a proven and effective way to recognize customer loyalty with a small discount on recurring services. In fact, according to our survey, 44% of respondents say their favorite benefit of "being a regular" is getting discounts and/or promotions.
Not only can recurring billing help nurture customer relationships when it's most needed, but charging their card automatically every month—without touching the card or terminal after the initial setup—makes payments completely touchless. If salons don't offer memberships, they can still integrate their Daysmart Salon software with their payment processing systems that allow shops to store card information for future visits. Being able to securely store data allows salons to facilitate quicker, touch-free transactions and provide more convenience to loyal customers.
4. Send Digital Customer Communications
If salons are taking steps to make payments contactless, keep their customers safe and give them peace of mind, they should communicate it clearly and frequently. With Daysmart Salon email marketing function, salons can create communications that highlight the reopening of the business and the availability of contactless payments. These can be sent strategically to the different personas in the business' customer database, along with promotions based on purchase history to draw customers in. Email marketing can be paired with automated text messages to regular customers, as well as posts on social media and landing pages on the business' website.
It's up to salons what the "new normal" looks like for their business and their customers. Payment methods are an important place to start—for convenience and safety. To learn how Daysmart Salon business management software makes this easier, check out this website. For more findings from the Customer Loyalty survey, which can help attract customers in the post-pandemic world, download the survey here.