How the Right Piece of Software Can Help You Achieve Beauty Salon Success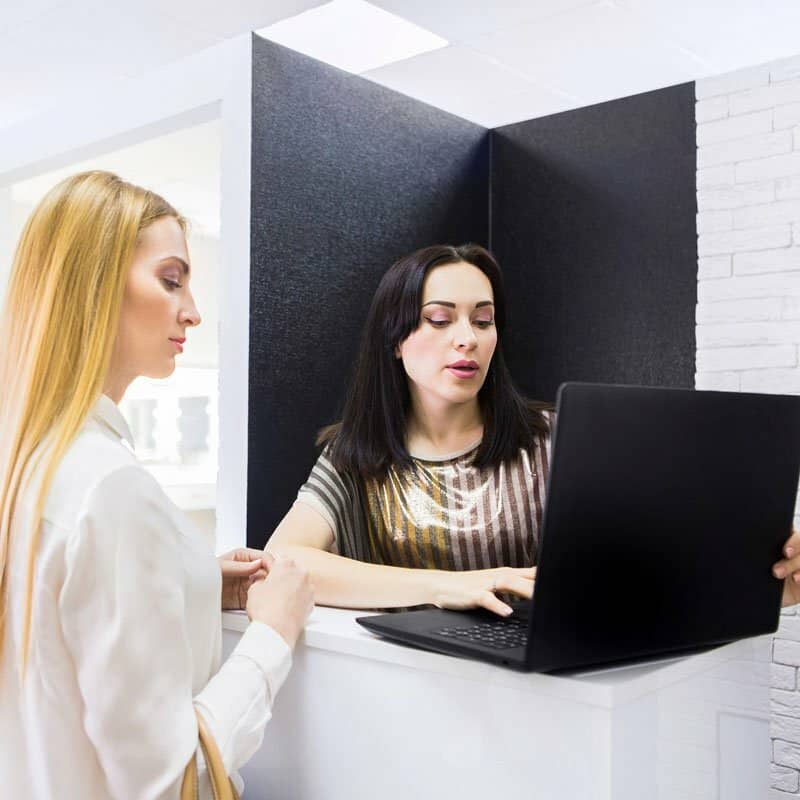 Running a business is challenging, but the right piece of software can make all the difference. Could your beauty salon benefit from a better software tool?
The beauty salon industry brings in about $20 billion nationwide every year. So how do you make sure you're getting your fair share of that money?
When you strip away all of the extraneous tasks it takes to actually run your business, you'll be amazed at how much time you have to focus on the important things like training, customer service, and building relationships with your clients. If you use the right software solution, you can focus on the things that actually make you money and streamline the rest.
If you're reading this right now, chances are good you've already looked at a dedicated appointment booking software, another to manage your inventory, plus a staffing program, and a whole suite of tools to run your marketing. But, what if I told you that you could get all of these things in a single beauty salon focused solution?
Beauty Salon Marketing
You have probably already looked at some expensive marketing tools like Salesforce, MailChimp, HootSuite, or HubSpot. They all claim that anybody can use them. But that's the problem, you're not just anybody. Why not use a marketing software solution with a beauty salon focus? You need a solution that allows for targeted marketing.
You can create your own customizable templates and schedule your campaigns to be one-time efforts, or recurring marketing campaigns. On top of this, you need the ability to measure the success of these efforts, with referral/traffic tracking. That way you can maximize the successful campaigns, and fix or tweak the ineffective ones.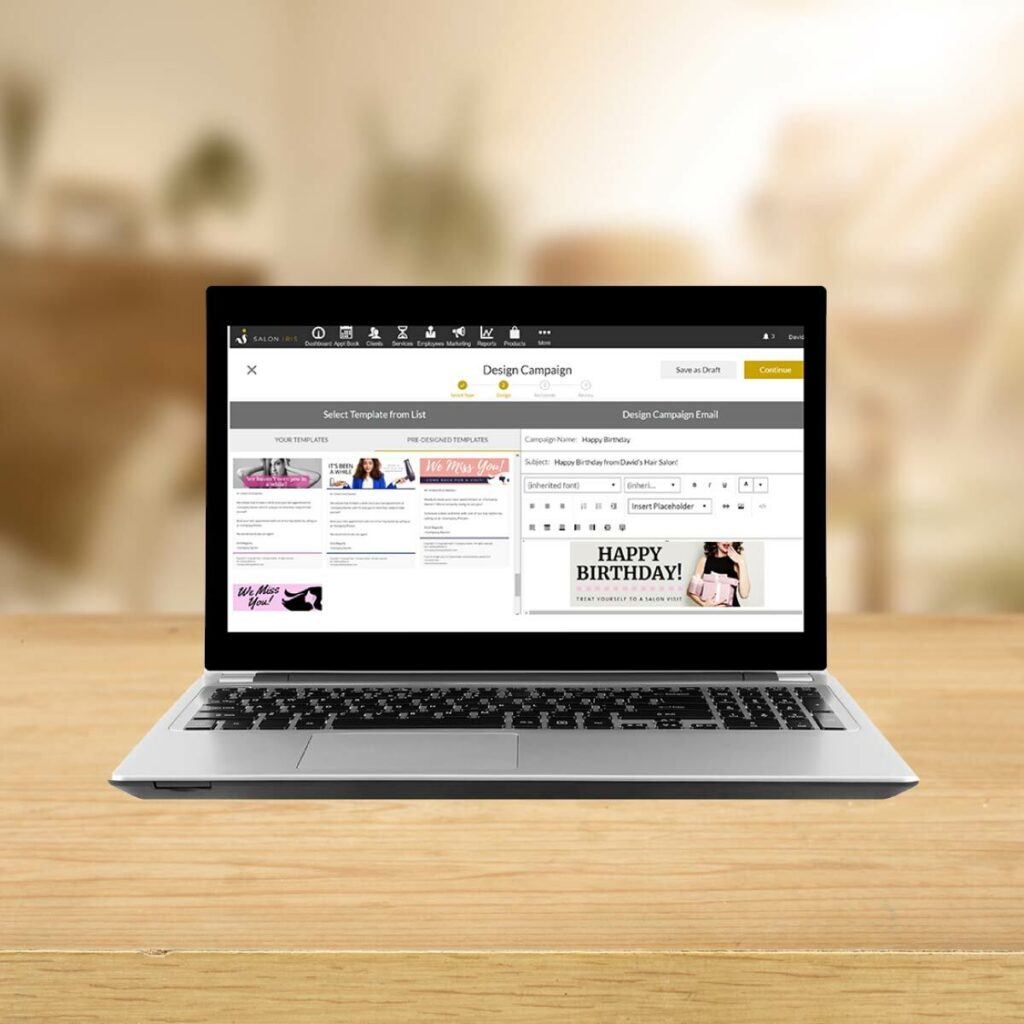 Mobile App
You also need the ability to take this solution with you wherever you go. You need a powerful and comprehensive mobile app that you can put on a smartphone or a tablet. So it has to be compatible with Android devices, iPhones, and iPads. Gain the freedom to walk around your salon and manage nearly every aspect of your day-to-day operations. It also gives your staff the freedom to do the same. They can manage appointments and their schedule from an iPad or smartphone.
You can also get a remote access subscription that lets you do all of these things from anywhere. You can manage schedules and appointments and check on everything else from anywhere with Wi-Fi or a cell signal.
And again, this app has to be simple enough that you can implement it immediately and train your entire staff without any hiccups or much of a learning curve. The solution needs to start working for you right away, and actually make life easier for everybody involved. Otherwise, what's the point?
If half of your staff can't quite figure out how to add a new appointment, that's probably a failing of the application, not the training or the staff. It should literally be a snap of the fingers and you're done. Your staff should be praising this application for how simple it is, while they wonder what they ever did before it. That's how you measure success.

Point of Sale
There is no need to spend money on an expensive point-of-sale solution or cash register. Not when you can use an affordable point of sale solution on any iPad or smartphone. Get a simple solution that gives you access to quick product sales and appointment sales and simple credit card processing.
You also need something that's completely customized that will allow for prepaid cards, balances, any of your own unique coupons or promotions, and even gift cards. Your point of sale solution should also be able to link with your inventory, so as soon as you scan a product barcode, the sale is tracked and the inventory is updated. That employee may even be alerted that this product is now running low.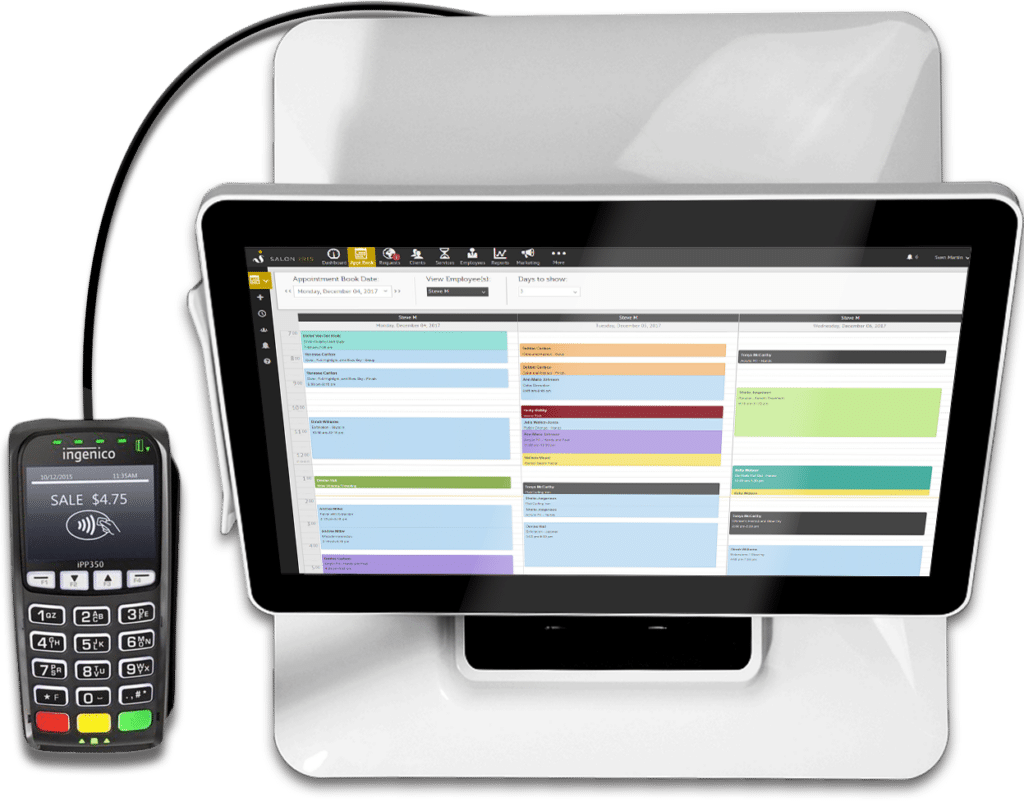 Detailed Reports
On top of all this, you needed the ability to track everything with detailed reports. These reports can tell you if you're finding yourself understaffed during busy times, or overstaffed in the off-peak periods. At the same time, you can quickly see if one particular employee has been missing too much time.
You can also see if your marketing campaigns are working. Are your new ads bringing in the foot traffic if you were hoping for? How are your referrals? And at the end of the day, how is your cash flow doing? Is one of your products turning out to be an unexpected standout? Is it flying off the shelves? Should you be featuring them more prominently in your display?
Beauty Salon Appointment Booking
Introduce a simple appointment booking tool that your entire staff can get trained on and embrace right away. It's amazing how simple things can be.
Get a tool with the ability to set automatic reminders, or book standing appointments for a given client every second Tuesday. A couple of simple clicks or taps and you can add, remove, or change an appointment in seconds. That's how it should be.
Manage Your Staff and Inventory
Now, add the ability to manage both your staff and your inventory with the same tool. You can schedule your entire staff's shifts, with the flexibility to factor in sick days and vacation days. Of course, you can manage your payroll at the same time and even add bonuses or commissions.
At the same time, you also get a detailed inventory management tool, so you can track your most popular products, highlight the low sellers, and be alerted when you're running low on something. That way, you're never caught without a hot selling product, or overstocked with something.
You Can Have all of These Things and More
We offer the best and most comprehensive beauty salon software in the industry, giving you access to everything listed above, and much much more! You can try all of these things for no cost at all, by clicking here to start your free trial.