A Guide to Salon Booth Rentals for Stylists and Owners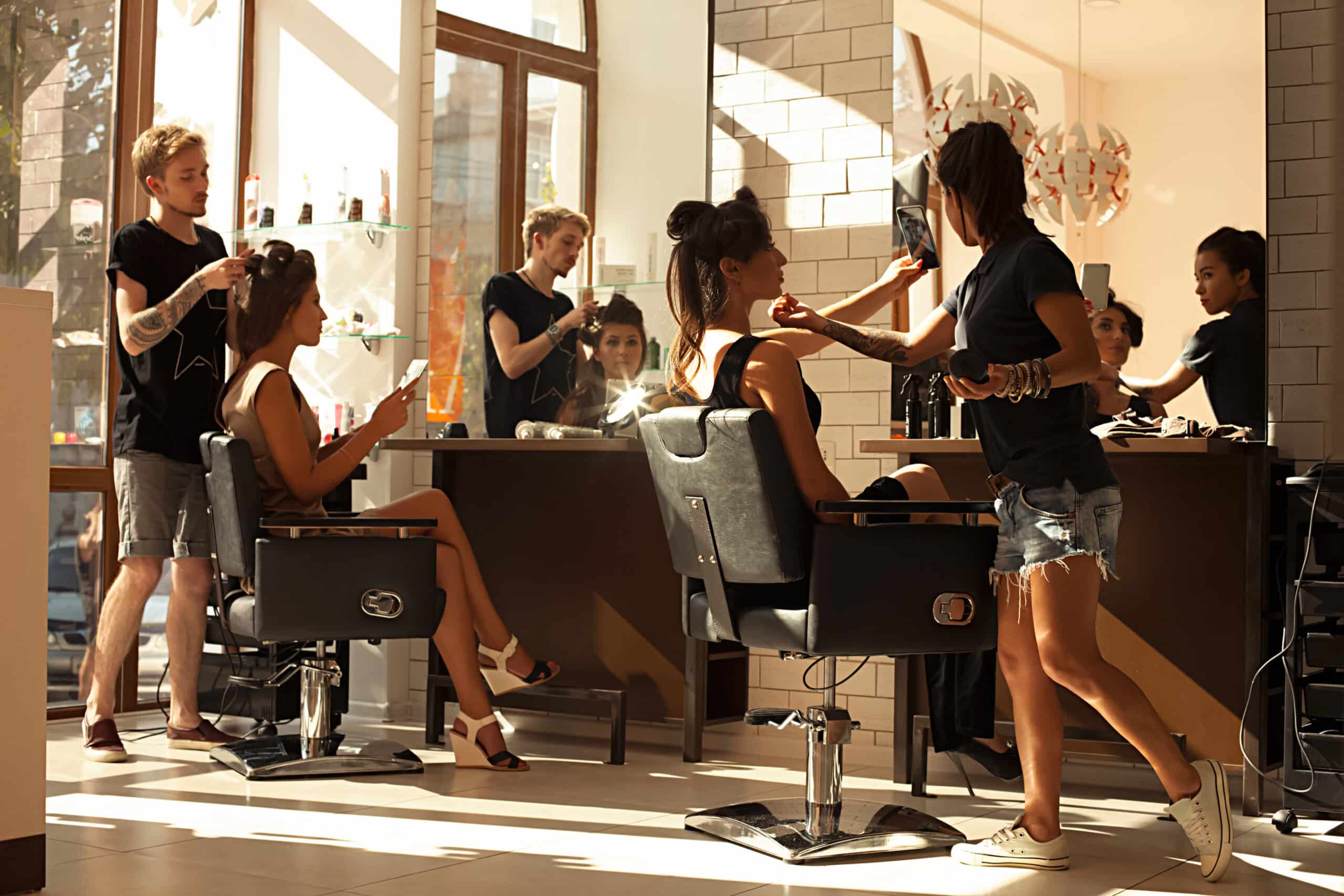 There is a lot that happens behind the scenes when operating a successful hair salon. People may not realize all that goes into recruiting and retaining high-performing stylists, while also allowing owners to benefit from their investment. This guide focuses specifically on salon booth rental for stylists: how it works and how renters and owners can maximize their agreements.
What is a salon booth rental?
A booth rental salon is a type of salon in which stylists rent out individual "chairs" or salon stations from a salon owner. The establishment may or may not be stocked with supplies—this varies by salon. But a hairstylist can expect at least a salon chair, a mirror, a hair-washing sink with running water, and basic workplace requirements (e.g., Wi-Fi, heat, and air conditioning).
A newer variation of booth rental salons is the salon suite. Stylists rent a fully stocked suite and run independent businesses alongside other renters.
Managing a booth rental salon is one of many options. Some business owners manage employee-based establishments offering commission, salary, or hourly wages. With a commission model, stylists earn a commission percentage of the business they bring to the salon. Some salons have both renters and employees working side by side.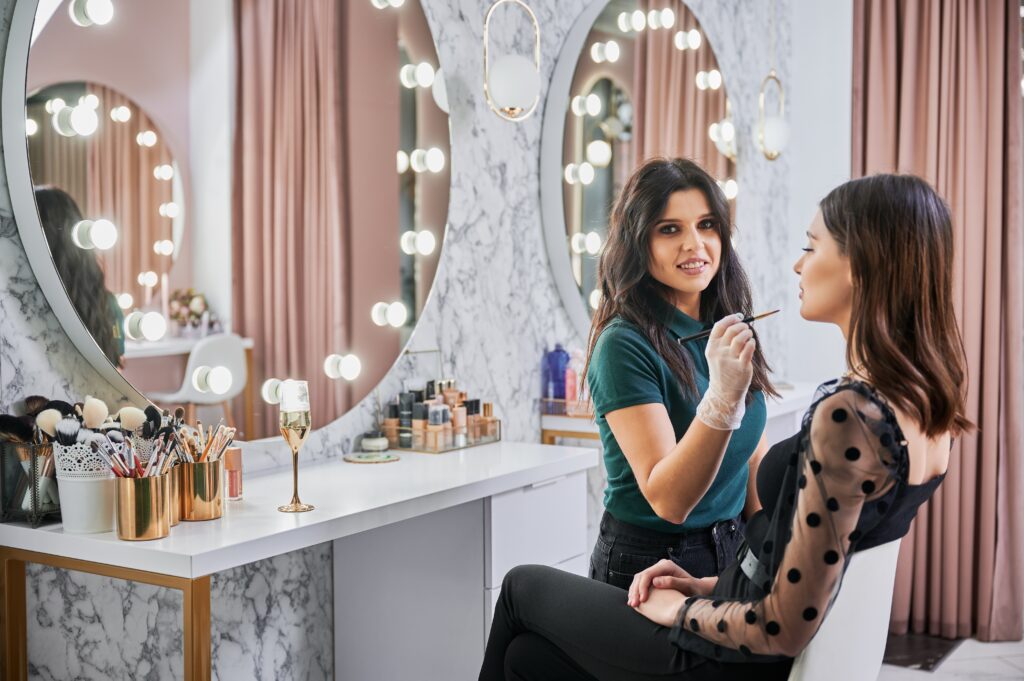 Salon booth rentals for stylists
With employee- and commission-based salons, stylists don't have to cover the costs of their workspace, as they would in a rental system. However, they may have less authority over certain salon-wide decisions such as branding, interior design, or marketing strategies. This guide will cover the pros and cons of renting a salon chair, plus common questions and tips.
Pros of renting a salon chair
More independence: Renters can manage their schedule, choose the products they like, and set their own prices.

No need to pay utilities: Typically the salon owner covers the cost of utilities such as Wi-Fi, water, and electricity.

Lower maintenance: Renters have responsibility for their own booth, but the owner usually handles upkeep for the larger salon space (i.e., the bathrooms and waiting area).

Possibly marketing support: The owner may have a marketing or social media team that handles salon marketing, which helps stylists get connected with new clients.
Cons of renting a salon chair
Business logistics: A renter is running their own salon business; this means being responsible for customer service, billing, business taxes, and other logistics.

Overhead costs: The provider has to buy essentially everything but utilities; this includes products for all styling and services, tools, marketing, education, and possibly a salon assistant.

Marketing and social media: Even if an owner has their own salon marketing tools, the individual stylist usually still needs to build an online presence to find (and keep) clients.

No insurance or retirement: Unlike employees, renters don't have built-in insurance (health, disability, and liability) and retirement plan options; these must be entirely self-funded.
Expenses associated with running a salon booth
Which expenses stylists cover depends on the salon. When considering a salon booth rental vs commission system, ask the owner which supplies are provided for renters and which the renter has to bring. Does the rental include styling tools? Do stylists bring their own products? How about towels? Does the salon let renters use office supplies: Wi-Fi, a phone, and a printer? All of these can become significant expenses for the renter.
Also ask if renters are responsible for marketing their booths — a small financial expense, but one that's costly in time. Does the salon support their efforts or offer salon marketing tools? Does the salon require renters to participate in their salon marketing efforts?
How to find the right salon booth rental
Finding a good-fit salon can take time but the right space, location, and community is worth the effort. Some considerations are common to all workplaces: How far is the commute? What are the benefits? But a stylist should ask several salon-specific questions when considering a booth rental. As a starting point, make sure you understand or observe:
Does the salon offer any incentives, such as commission toward retail sales?

What is the salon marketing policy? Do renters have to contribute?

What do current renters say about the ownership?

What is the stylist community like?

Are there educational opportunities for renters?

How does the salon space look and feel?

Is the location convenient for clients? Does it get foot traffic?

For stylists with an established clientele, will you lose customers if you move?
How to set up your salon booth rental
Renting a new booth is exciting — and exhausting. To help, we created an entire set of supplies needed to set up a salon booth rental for hairstylists. This list does not include the supplies that the owner typically provides, such as display shelves, waiting area seating, lighting fixtures, and washing sinks.
Styling tools: Hairdryer(s), flat iron, curling iron/wand, diffuser, hair rollers

Cutting tools: Combs, scissors, razors, clippers, and trimmers

Hair care products: Treatments (e.g., serums and oils), shampoo and conditioner, performing and relaxing products, styling and finishing products

Hair color products: Hair color, developer, toners, gloss and glazes, bowls, brushes, foils, and gloves

Hair accessories: Clips, headbands, hairnets, bobby pins, extensions and associated supplies (e.g., clips, glue, or tape)

Salon supplies: Salon capes, spray bottles, towels, disinfecting solution, and cleaning supplies
Salon booth rentals for owners
Operating a rental salon specifically will require the owner to invest significant time and energy or to hire a strong operator to manage the business. Owning a salon can be a good business opportunity, especially for those with industry experience and/or a desire to mentor future stylists. But the disadvantages, elaborated below, can be frustrating.
Pros of running a booth rental salon
Fewer employee expenses: Employees are independent contractors in a booth rental, and the owner typically does not pay for employment taxes, retirement, or health insurance.

Consistent income: Renters provide consistent income for the salon that can be poured back into the business.

Less social media required: Stylists usually run their own social media accounts, which relieves some of the burden on the salon to market itself.
Cons of running a booth rental salon
Marketing to stylists: The stylists recruit clients, but the salon has to recruit stylists. This often requires the owner to invest in a salon marketing strategy and branding in competitive marketplaces.

High turnover costs: Turnover can be high in the beauty industry, and salon owners have to absorb the costs of recruiting, training, and possible re-dos for more junior stylists.

Managing independent service providers: The salon owner has little control over the actions of booth renters unless they have a solid contract stating otherwise. It isn't easy to let go of a booth renter who is tarnishing the salon's reputation.

High overhead: Salons aren't cheap to run; the owner covers all costs associated with the space: building insurance, property taxes, maintenance costs, utilities, and more.
How to set up and stock salon booth rentals
Potential owners might wonder, "What does a salon booth rental include?" There is no right answer, but a salon owner might start with informal interviews with stylists in their network. Try asking:
Which supplies are need-to-haves in a salon booth?

Which supplies are nice-to-haves?

What perks would compel you to choose one booth rental salon over others?

What perks are commonly offered but not compelling to stylists?

What do stylists expect from rental salon marketing specifically?
Supplies and perks are added expenses, of course, but these thoughtful touches can help a salon attract seasoned stylists in a crowded market. Also, consider whether you will supply styling tools and products. At hair salons, stylists typically have personal preferences and bring their own.
As an owner, keep in mind that some basic supplies are effectively required. For hair salons, this list includes salon chairs, mirrors, hair-washing sinks, and utilities, at minimum. Providing towels and laundry service is helpful. Other attractive investments include appointment scheduling software as well as a regular cleaning service for the bathrooms, waiting area, windows, and overall space.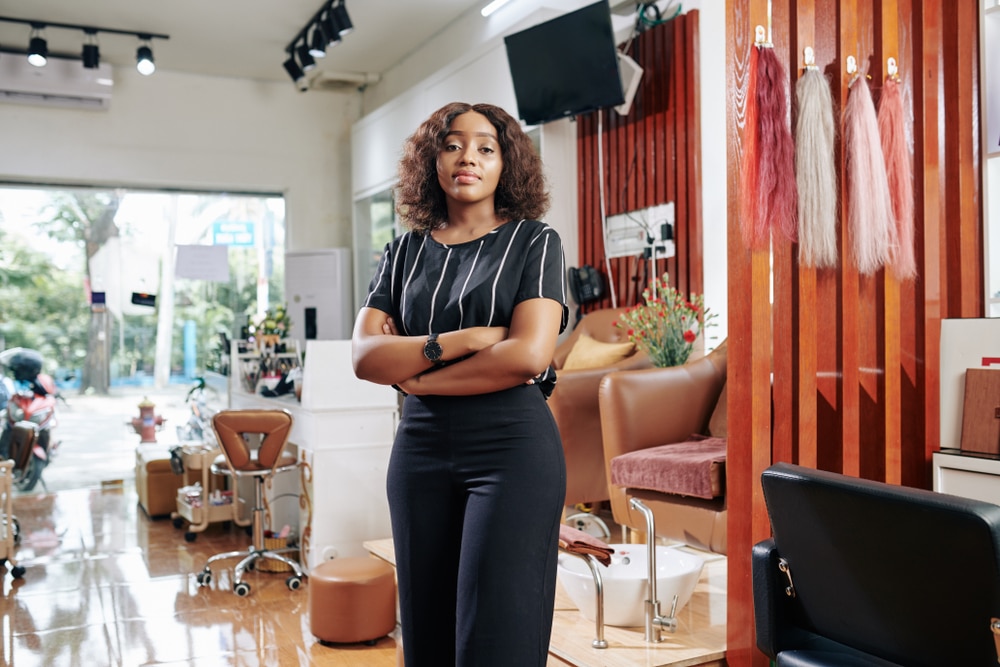 Legal considerations for salon owners and booth renters
Renting a salon chair or booth is a business partnership with legal implications defined below. Of course, stylists and salon owners should consult their legal advisors for specific, personalized advice.
What is a salon booth rental agreement?
Salon owners and booth renters are in a tenant/landlord relationship, which is governed by state laws. The Behind the Chair blog notes that a salon booth rental agreement could be either a written lease agreement or a rental contract. A written lease gives the stylist independent tax status, sets a start and end date, and states the rental fee and included amenities.
A rental contract tends to be fuller and may:
Grant the stylist exclusive use of a salon booth and its amenities (e.g., a chair, mirror, electric outlets, storage space)

Give the stylist access to shared spaces, including the hair-washing station and the restrooms, as well as appointment-booking technology

Lay out community expectations, such as displaying a license, holding liability insurance, and keeping the booth area tidy.
What are salon booth rental rules?
Booth renters must abide by the "rules" laid out by the salon owner, usually in the salon booth rental agreement. These stipulations could be about maintaining the space, such as sweeping up hair and washing out foot baths. They could also cover technical matters, such as requiring renters to keep their own books.
What is salon booth rental insurance?
Stylists that rent space in a salon should hold salon booth rental insurance. Their lease or rental agreement may even require it. Booth insurance is typically an add-on to liability insurance, which protects hairdressers, cosmetologists, and barbers against lawsuits or claims about services provided. Booth insurance isn't a luxury, according to the National Association of Barbers. The policy ensures a stylist is covered when unpredictable accidents happen, because the salon's policy may not cover them.

Commonly asked questions about booth rentals
Do employees bring their own devices?
Stylists: Check the salon booth rental agreement, which likely notes whether or not you are responsible for your own tools.
Salon owners: You get to decide whether your salon provides renters with devices such as heat styling tools and hairbrushes. Stylists, especially seasoned ones, likely already have preferred tools and will bring them. But providing them can be a perk that attracts booth renters, especially for new stylists.
Who brings the supplies in a salon booth rental?
Operating a hair salon booth requires much more than devices. The stylist also needs scissors, combs, brushes, rollers, foil, hair treatment chemicals, and more. The stylist and owner together should consider not only who brings the supplies but also who re-stocks them and who covers the costs. Knowing these details ahead of time can reduce tension later.
Where can a salon owner find stylists for hire?
Salon owners can find talented stylists in their communities in several ways:

Create job postings on general job boards such as Indeed and LinkedIn or on specialized beauty industry websites.

Ask for referrals from your network of friends and colleagues but also acquaintances; try asking around in unexpected places, such as children's sports events or high school reunions.

Expand your network by attending trade shows, conferences, and other industry events.

Check with local beauty and cosmetology schools, which may host job fairs and/or maintain a network of alumni and new graduates seeking work.
Social media and online platforms for beauty professionals can also match stylists with salon owners.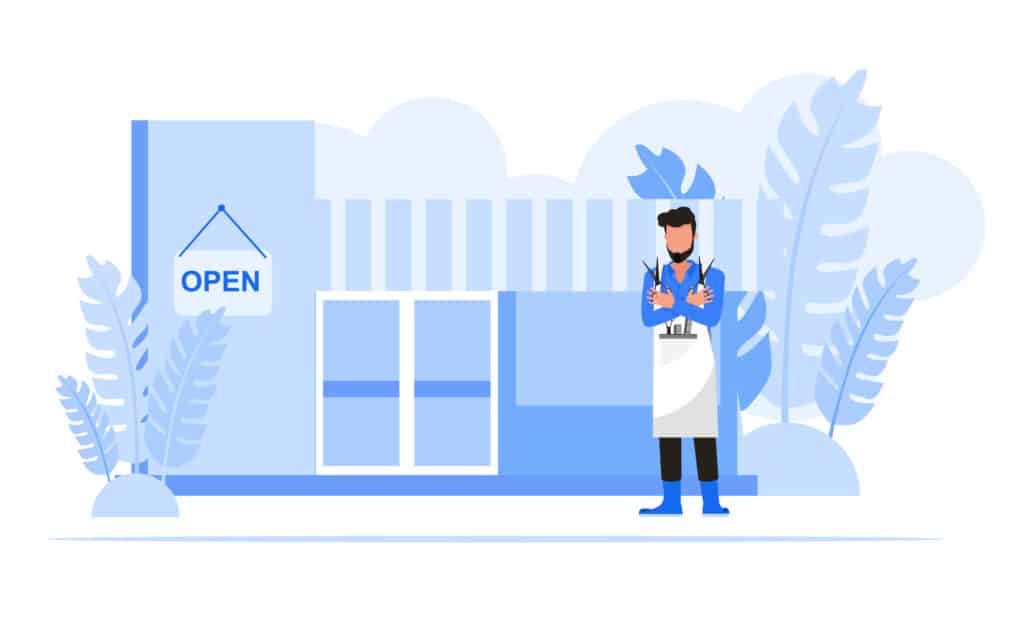 There's a single tool that can minimize your risks and maximize the rewards.
Salon booth rentals can be profitable, even enjoyable, for both owners and stylists — but only when managed well. Investing in appointment scheduling software can smooth out operations and refine the business. Try out DaySmart's solution free for 14 days, or get in touch with our sales team today.