DaySmart Software Celebrates Milestone 2018 and 20 Years of Fueling Small Business Growth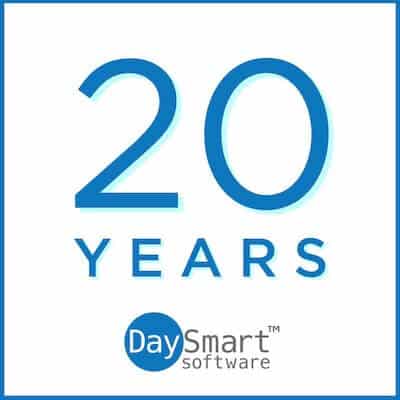 Revenue increased 23 percent year-over-year
Named to the Inc. 5000 list for the eighth consecutive year
Expanded customer base by 30+ percent to serve thousands more global small businesses
ANN ARBOR, Mich.–(BUSINESS WIRE)–DaySmart Software, the leading provider of business management software driving small business growth, today announced it grew revenue 23 percent in 2018, contributing to the company's inclusion on Inc. Magazine's list of the 5,000 fastest-growing, privately held companies in America for the eighth consecutive year. DaySmart also expanded its customer base by more than 30 percent in 2018; the company now serves nearly 12,000 active subscribers in the salon, spa, pet services and tattoo industries with tens of thousands more perpetual licenses sold since inception.
Founded in 1999, DaySmart has become the ideal technology partner for small business owners across the globe, offering the easiest-to-use, industry-specific software solutions on the market: Salon Iris, Orchid, 123Pet and Inkbook. Now entering its 20th year, DaySmart has 80 employees in two U.S. office locations, providing customers with telephone, email and chat support, as well as one-on-one onboarding and training.
2018 was a particularly momentous year for DaySmart, marked by the acquisition of PupKeep, a pet services cloud software company. The acquisition, which was announced in January 2019, enabled DaySmart to expand its pet services offerings to incorporate daycare, boarding and training into its widely-used pet grooming software suite. In the first month post-acquisition, DaySmart integrated the PupKeep product line and doubled the total number of PupKeep users.
On the successful acquisition, DaySmart's Sales Vice President Sean Persha noted, "There is a lot of potential for these products. Pet services is a robust and rapidly growing market, and adding PupKeep's boarding, daycare and training functionality to our many grooming solutions couldn't have come at a better time or gone more smoothly."
In addition to the acquisition, DaySmart also released a new all-in-one front desk solution in November 2018, combining the company's award-winning business management software with Elo touchscreen and Point of Sale (POS) systems. With this integration, DaySmart became one of the only software firms to offer small businesses in the salon, spa, pet services and tattoo industries a solution to manage daily operations – such as scheduling, inventorying, customer engagement and POS – all from one multi-function device.
DaySmart also introduced a Reputation Management add-on capability early February. The new feature allows businesses to solicit online reviews from their customers, monitor the reviews being posted and respond to reviews from a simple dashboard that is completely integrated into their existing business management software.
"Just like our very entrepreneurial customers, DaySmart is hungry for continued growth, particularly in our 20th year of business," said Jeff Dickerson, CEO of DaySmart. "Our focus remains on growing our customers' businesses through the power of our software solutions. We look forward to continuing that mission, and will expand our capabilities and broaden our offerings to meet the needs of even more businesses in the years ahead."
About DaySmart Software
Makers of the popular and award-winning Salon Iris, Orchid, 123Pet and Inkbook software, DaySmart is the leading provider of business management tools designed to make it easier for entrepreneurs to run and grow their businesses. DaySmart desktop software and cloud apps are purpose-built for the salon, spa, pet and tattoo industries, and backed by a US-based support team that is dedicated to client success.
Based in Ann Arbor, Michigan, DaySmart has been a small business champion since 1999. The company has been named to the Inc. 5000 list for eight consecutive years.
Contacts
Nicole Metro
Version 2.0 Communications for DaySmart Software
(617) 426-2222
[email protected]