Break The Ice With
DaySmart x Marmak/RFAM

Here at DaySmart Recreation, we're committed to providing facilities and organizations with a best-in-class solution to help you oversee all operations and activities so you can improve community engagement while optimizing operational tasks.

We're excited to announce that we partnered with Marmak/RFAM, a leading inventory and maintenance management provider for ice rinks.

"We are thrilled to partner with DaySmart to integrate facility programs and operations. This partnership will result in fixing the disconnect between the two sides of facility operations with one integrated solution. Comparing schedules and bookings with operations and maintenance will streamline facility performance – with the end goal to help organizations with their cost recovery goals."
– John Tarantino, Vice President of Marmak/RFAM
Execute Your Tasks

With Ease

Our easy-to-use solution will improve your team's tasks and

create a better user experience for skaters faster than you can say "Zamboni".

Schedule Programs Instantly
Plan and manage leagues, classes, and more through a powerful, interactive scheduling tool.

Handle Payments Hassle Free
Accept a variety of payment options by league, season, or class through the click of a button.

Mobile Friendly Registration
Make it easy for your community to register for programs and reserve the ice from any device.
Make Member Booking and Facility
Budgeting a Breeze
We're more than a scheduling software, our features improve the rink management experience on and off the ice.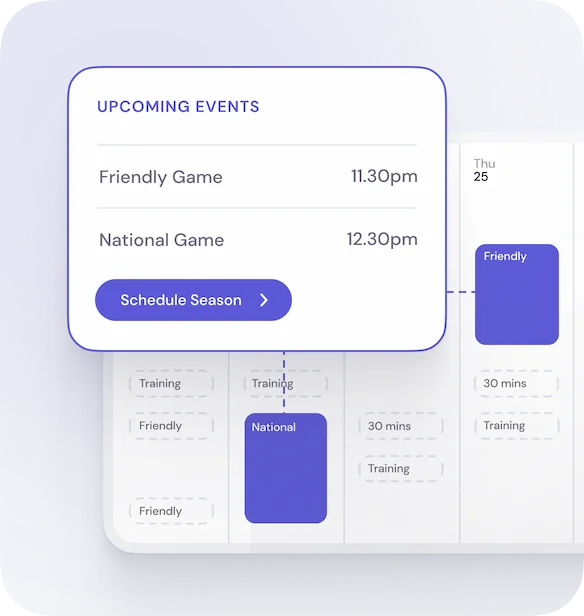 Enhance Skater Experience
Make it easy for members to make special accommodation requests, view family member details, and see upcoming events. With member data stored in one solution, you can send targeted communications about upcoming events skaters of your community might be interested in based on past engagement.


Measure Success and Track Progress
Monitor payments, resources, and program performance so your team can forecast future demand. With all your important facility data in one location and over 60 standard reports built into the platform, you can easily view finances and facility usage in real-time.
When I joined the company, we thoroughly researched available options for software designed to provide a first-class customer experience with comprehensive sports facility management capabilities. In that review we made the decision to replace our existing solution with the DaySmart Recreation Platform.


Matt Rousso – Director of Business Intelligence, Anaheim Ducks, Honda Center
See Why Facilities Choose Us for Their Recreation Management Solution
Start managing your facilities
like a pro