Notable Dog Competitions in the USA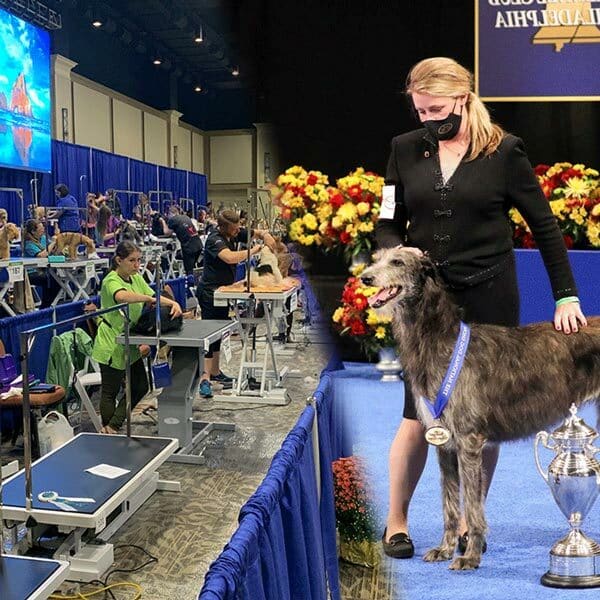 Dog Competitions: What You Can Expect
The 2000 "mockumentary" "Best in Show" is an entertaining glimpse into the fascinating world of dog competitions.
From dog breeders to dog groomers and everyday dog lovers, dog competitions offer a fun way to learn about dogs and meet other dog lovers.
However, there are two distinctly different types of dog competitions we'll cover in this article. First is The AKC (American Kennel Association) focused shows. These have AKC-recognized dog breeds sorted into categories like working dogs, sporting breeds, and non-working breeds.
These are the big name shows that many people think about when they think of a dog competition. Such as The National Dog Show that's televised every year at Thanksgiving. We'll share a quick peek into seven dog competitions in the U.S.
However, there's a whole other side of dog competitions too. These are dog grooming competitions. Participants are judged on their dog grooming skills, such as their scissoring techniques.
Tammy Siert is a Certified Master Dog Groomer, a Small Animal Education Team for Andis, a grooming competition judge, and Secretary of Groom Team USA. She says, "Most groomers don't know there are grooming competitions. They may hear about a trade show via social media. They come to a trade show for education and then see this grooming show going on on the sidelines, and some of them want to know more."
Below you'll discover more about the top dog competitions in the United States and dog grooming competitions. You may find yourself learning new grooming techniques, making new friends, and being part of a fun new hobby!
1. The National Dog Show
Every Thanksgiving, thousands of families across the U.S. gather around their TVs to watch the National Dog Show. It's on right after the Macy's Thanksgiving Day Parade. It's the best part of Thanksgiving to many Americans!
This competition, also known as The Kennel Club of Philadelphia Dog Show, started way back in 1879! It has a long, beloved history of showing and competing with the best dogs in the country.
All seven of the breed categories are represented, competing in their own events to find the best of each. But the televised portion only shows snippets of those events. The main televised event is when the Best of Breed of each category competes for Best of Show.
Aren't sure what all the breed categories mean or include? Here's a comprehensive list with examples:
Sporting — hunting and field dogs. German Shorthaired Pointers, Cocker Spaniels
Hound — hunting, smelling dogs. Basset Hounds, Beagles
Working — guard, work, and rescue dogs. Bernese Mountain Dogs, Dobermann Pinschers
Terriers — small prey hunting, guard dogs. Irish Terriers, Bull Terriers
Toy — companion dogs. King Cavaliers, Chihuahuas
Non-Sporting — varying types and breeds, "miscellaneous." Dalmations, French Bulldogs
Herding — herding, farm dogs. Border Collie, German Shepherd
This dog competition is the most popular in America. If you're looking for a must-see, this is it!
2. The Westminster Kennel Club Dog Show
This historic Westminster Kennel Club Dog Show is the second oldest and most consistent sporting event in the country, right behind the Kentucky Derby! Held in New York City, this competition draws over 3,000 entries every year.
You get to see all of the entered dogs displayed on the bench. It takes two full days because of the incredible number of entrees. What better pastime for a dog lover?
Whether you want to see Australian Shepherds, Labrador Retrievers, adorable Corgis, American Pitbulls, Cane Corsos, Boston Terriers, Miniature Poodles, or Akitas, never fear. You can see them all at the Westminster competition!
The 2019 Best of Show winner was a Wire Fox Terrier named Kingarthur Van Foliny Home. (As you've probably noticed, in the dog show world, pups tend to have long, impressive, often unusual names!)
Dogs are judged based on obedience, attitude/temperament, and gait (how they walk). Physically, they're judged based on industry-set standards: in other words, there's a "right" way each breed "should" look. That includes eye color, tail length, hair color, length, thickness, body proportions (like face shape), and weight.
For example, some German Shorthaired Pointers are black and white. Others are white with brown patches. However, the industry standard is brown and white with liver spots: only GSPs who are brown and white with liver spots can compete.
Grooming is a crucial part of the competition. How a dog's hair is cut and styled can make or break its placing. If you're a groomer looking for expansion, check out this article all about it.
But don't worry, all you mixed-breed or non-AKC-standard dog lovers out there! The Westminster show has a special athletic event where any dog can compete, including mutts! The winner claims the title "All-American Dog."
3. Houston World Series of Dog Competitions
The Houston World Series of Dog Shows is all about showcasing purebred dogs. It's important to inform the public about the benefits of pure breeding, which is the aim of this show.
This competition is more relaxed and free-spirited than others. The five-day event includes the following activities: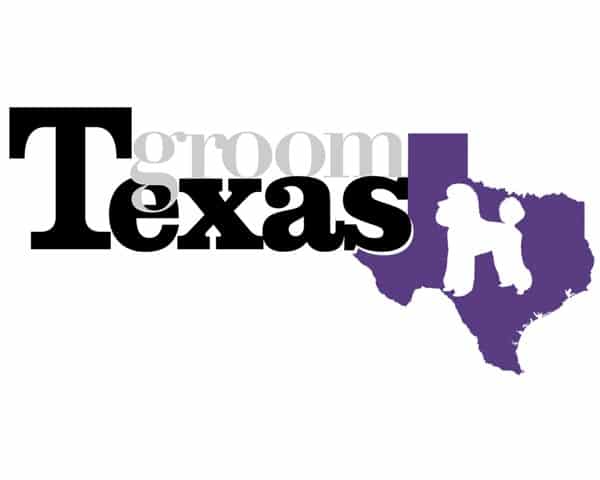 Designer Doghouse Competition
Confirmation/Breed Judging
Obedience and Rally event
Breed Standard Grooming
Weight Pull
Barn Hunts 1, 2, 3
Frisbee Exhibition
Flyball
AKC's "My Dog Can Do That"
Canine Musical Freestyle
"Houston's Rescues Have Talent"
Creative Dog Grooming Contests
Meet the Breeds
Group/Best in Show Judging
So many fun, entertaining, and informative activities to attend! Perhaps the most exciting is the Houston World Series of Dog Show's proud Meet the Breeds event.
The public can actually meet the dogs and breeders up close! This gives you a chance to learn and experience firsthand why purebred dogs and pure breeding are so important.
You can also ask questions about dog breeds that you've been wondering. As a dog owner, potential dog owner, or dog business owner, this is an invaluable opportunity to speak openly with handlers about certain breeds' pros and cons.
The show is inclusive, though, because they have multiple events and booths set up for rescues, specifically. In fact, there are rescue booths open every day of the series.
What About Dog Grooming Competitions?
Dog grooming competitions are different from traditional dog competitions like The National Dog Show.
With grooming competitions, the judging focuses on grooming excellence rather than breed qualifications.
In a grooming competition, the judges want to see your skill with the scissors and how well you handle dogs. In dog shows, the judges want to see how well the dog conforms to the breed standards. As a result, dog shows usually have the dogs trot around the ring led by their handler. This gives the judge the chance to see how the dog moves.
The judges look closely at their grooming at a grooming competition. To make it easier for the judges, the dogs stand on a table for presentation. Categories can be breed-specific such as poodles, or they can technique-focused, like scissoring techniques. There are also categories based on grooming experience. That way, newer groomers compete with one another.
Three dog grooming competitions are Groom Expo, Groom Expo West, and the Atlanta Pet Fair, though there are several others. Each dog competition has educational seminars where dog groomers can learn about new products, grooming techniques, and dog handling. Some dog groomers love the thrill of competitive grooming.
Groomer Stephanie Pietri of Ruff & Tumble Salon in South Windsor, CT., says she got into grooming competitions to keep learning. "In the past ten years, grooming has ramped up. There are so many different techniques to learn." She recommends interested groomers start at a local level. There's a dog grooming event within driving distance of virtually everyone in the country.
Jackie Boulton of Mucky Pups in Calgary, Canada, says she got into dog grooming competitions back in 1992 when she took a gold medal at Intergroom (now World Dog Expo.) She says, "I love to scissor a dog." Grooming competitions allow her to scissor dogs and compete simultaneously. Plus, "I get to travel and meet new people who share my world. And shop."
Jackie is a Groom Team Canada member who misses the trade shows while the shows are closed due to COVID. "I miss the booths at the trade shows. I love being able to see the new things and try them out."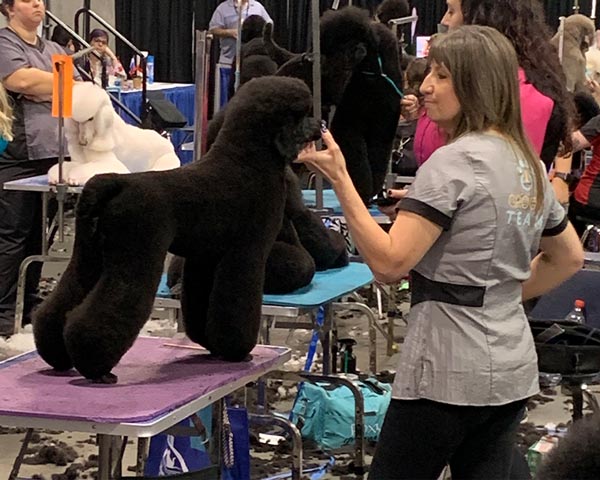 How are Virtual Shows Different From In-Person Events?
Like many events, dog grooming competitions have gone virtual for now. Jackie said she judged for a Canadian competition Master Groom. "It's really hard doing online judging because you can't touch the dog and comb it and see the dog. I like being on the other end of the comb."
Gwendolyn Zahra of Rachel Ann's Country Clips Groomers in Pennslyvania is the youngest groomer at 12 years old. Growing up in her mother's grooming shop, she's gotten an early start on both the grooming world and grooming competitions. She participated in two virtual grooms during the past year after participating in five real-life shows Pre-COVID. She says, "It was really different online. I was a little less stressed because I didn't have an audience watching." The judges would ask her to comb the dog and turn the dog around."
Even if you don't compete, dog competitions are an opportunity to meet other pet professionals, deepen your knowledge, and inspire your work as a dog groomer.

A Few Top Dog Grooming Competitions
Groom Expo in Hershey, Pa.
This is the largest grooming competition in the world. With over 5000 attendees and 200 booths, there's loads of opportunities to learn new grooming techniques, explore new pet products, and meet like-minded people.
Groom Expo West
Held in sunny Pasadena, California, during the dark days of winter, Groom Expo West rivals Groom Expo in size. It's a terrific time to meet new friends and learn about what's new in the grooming industry.
All American Grooming Show
The Midwest edition and the longest-running grooming show in the world. GroomTeam USA grew out of this event. Groom Team is a non-profit organization dedicated to developing grooming skills. The top groomers go on to compete at World Team Competitions.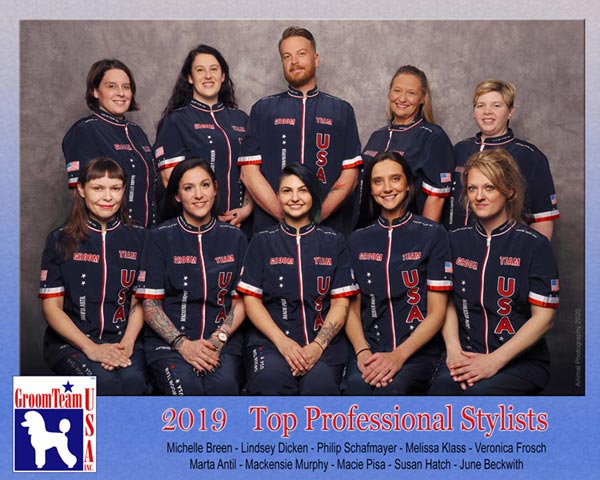 Groom Texas (will partner with the Houston World of Dog Shows) summer of 2021
This dog show combines Canine Musical Freestyle and other fun competitions with a more formal dog show and separate dog grooming competitions.
Atlanta Pet Fair
The Southeast's largest grooming show is dedicated to dog grooming and other pet care professionals.
Super Zoo
Held in Las Vegas each August, Super Zoo claims 9800 attendees and over 1200 exhibitors. Whether you choose to walk the trade show or attend some of the seminars, there's plenty to choose from.
Intergroom
Held in Secaucus, NJ, the focus is on being the best pet groomer you can be.
Scheduled seminars include a Brusher/Bather certification and how to handle senior pets. There are also business-minded seminars, grooming competitions, and over 100 booths on the trade show floor.

These are just a few of the dog grooming competitions around the United States. If you're interested in learning more about the competitive side of grooming, you can find out more at each event's website. They offer dates, registration, and the proposed schedule of events.
The world of dog grooming competitions is growing. They're a fun way to learn and connect with your colleagues.
You Won't Regret Attending Any of These Dog Competitions in the U.S.
Whether you go to admire the beautiful dogs or discover tips on growing your dog grooming business, there's dog competition for everyone. From Philadelphia's historic The National Dog Show to a grooming competition near you, you'll see gorgeous dogs, meet like-minded people, and reinvigorate your grooming business.
Contact us with any questions or to try a free trial of our grooming software. Designed to make your business run smoother, it makes communication and scheduling easier. Plus, so much more.