Customer Spotlight: Rachel Ann's Country Clips
DaySmart Pet customers are passionate small business owners who excel at what they do. As part of our commitment to supporting and educating entrepreneurs, we aim to showcase our customers' expertise in growing successful businesses. Rachel Stalcoskie, co-owner of Rachel Ann's Country Clips with Bruce Kolar, has a story that shows how a passion for pets can change careers.
Rachel has always loved animals—so much so that she started her career as a zoo animal caretaker. She began grooming pets in her basement before deciding to open her own grooming salon servicing all breeds and even hard-to-handle pets. Today, she runs Rachel Ann's Country Clips with her family and staff, one of whom is her 10-year-old daughter, Gwendolyn, the youngest competitive groomer in the United States.
Continue reading to see how Rachel has expanded her business to offer services to the community and translated her passion for animals into her daughter's aspirations to become a grooming icon.
Q: How did you know that you wanted to open a pet grooming salon?
A: Helping animals, interacting with people—they're both my passions. Prior to opening my own grooming salon, I was a certified vet technician and worked in veterinary hospitals. Then, I started working in kennels and training myself to groom. Still learning, I began grooming in my basement, teaching myself and improving my skills.
Now, I've been grooming for about 16 or 17 years. I opened my first shop in Pocano Lake, PA, and was there for five years. Country Clips—the shop that I own and run now—has been in its current location for about 30 years. I bought the business and took it over.
Q: How did you make the transition from grooming in your basement to operating Country Clips?
A: I wanted to continue to grow and expand so I could offer more to the community. I wouldn't be able to make the same impact grooming out of my basement on my private property. I needed a storefront to be more reachable and available, so more people could find my business. But I also wanted to work for myself—I'm very particular about the quality of services I provide, and that particularity has paid off. When you treat your clients well, they'll spread the word about your business, and I think a lot of word-of-mouth got me to where I am today.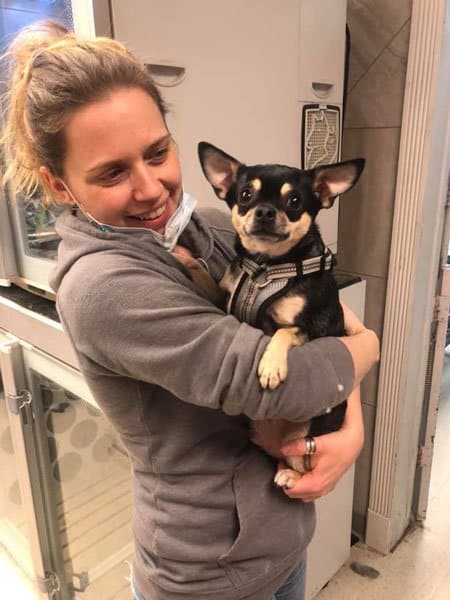 Q: What are some of the biggest challenges you face as a small business owner, especially as a woman?
A: I run a very particular business and the hardest thing can be finding employees and keeping them. I have a specific process for everything done in the shop and it's important that my employees stick to that. That said, we've always been like family here. I've treated employees as such and gotten great feedback from them.
And, of course, my number one priority is the safety of the pets. Animals can't talk, so when they come in, we need to make sure they're safe and comfortable. I need employees that are dedicated to ensuring that experience.
Q: What advice do you have for someone who wants to pursue a career in the pet business?
A: Whatever your dream is, you can absolutely make it happen. Educate yourself. Work your tail off.
Everyone should take a business course, especially women. In grooming, many of us are very artistic—which is important—but you really need to know business and management as well. This will help you handle confrontation with your employees, money, budgeting—all of it. It's important to stay competitive, but set prices based on your work, not other businesses. If you're putting out great quality work, it will be worth it. Be fair to your clients, but also yourself.
My other piece of advice is that you need to be 100% honest with your clients. If you nick a dog's pad but get it to stop bleeding, do you tell the dog's owner? Absolutely. What if you don't and it gets infected? You have to tell the client everything, no matter how big or small. Honesty is key for running any business, but especially in this field.
It's important that I'm a strong, positive role model for my daughter, Gwendolyn. She's the youngest competitive groomer in the country! She started grooming by the age of five, and just placed "Best First Timer" in one of her competitions. She's only 10 and will be 11 in February.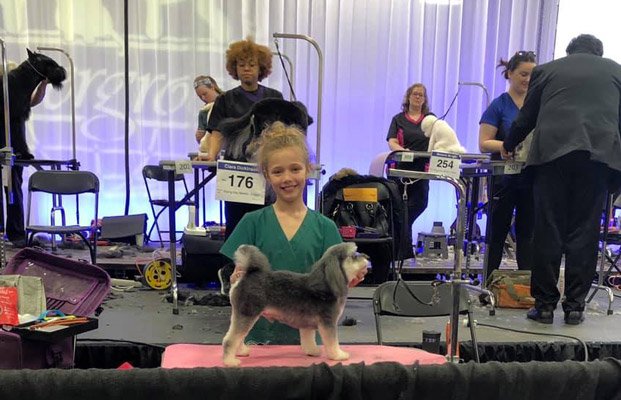 Q: What made you decide to invest in business management software?
A: Working at multiple kennels and veterinary hospitals, I've used other software before. When I started renting my first storefront, I purchased DaySmart Pet. I was a one-person shop at the time, but I knew I would expand and have employees in the future, so paper bookkeeping wouldn't be sustainable. Going digital would make it easier for everyone.
The program benefited me so much as a one-woman business and has continued to help as my salon has grown to five employees. The time-saving component is amazing.
Q: Has DaySmart Pet helped you grow your business?
A: The software has absolutely helped grow the business. For example, all of our reviews from clients—I couldn't do that without that program. With DaySmart Pet, we can send clients prompts to write reviews about their experience with us. The positive reviews help us gain and retain more customers, which improves business overall.
The appointment reminders are a big help, too. I don't have to pay someone to sit there and call clients, which is a waste of time. Instead, clients get reminders automatically to ensure they will attend or reschedule their appointment accordingly. It saves me tons of money
Q: Which DaySmart Pet features are most helpful to you and your employees?
A: I am obsessed—probably because I was a vet tech—with the ability to document everything about the animal. Lump on the dog's back? Prefers a specific shampoo? Save it in the digital notes! The notes section is so helpful and makes it easier to ensure the safety of the animal. Through monitoring animals and building their profiles on DaySmart Pet, I've been able to identify so many health issues early on that would have been deadly if I had let it go.
You can also save photos to client profiles. For example, if someone tells us that they like the haircut we gave their dog, we can save a picture of it to the client's profile. Now, groomers know the dog owner's favorite haircut.
To learn how DaySmart Pet can help grow your business and fuel company success – as it does for Rachel at Rachel Ann's Country Clips—visit our product page or read another customer spotlight.