The Future of Grooming: A Fireside Chat with Victor Rosado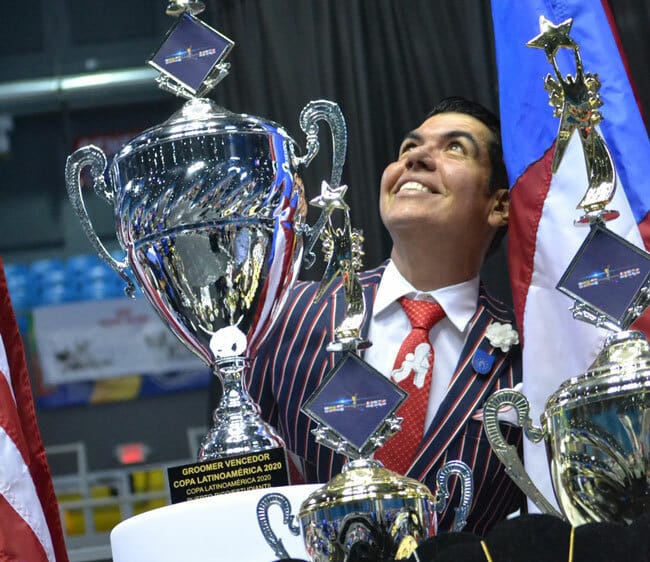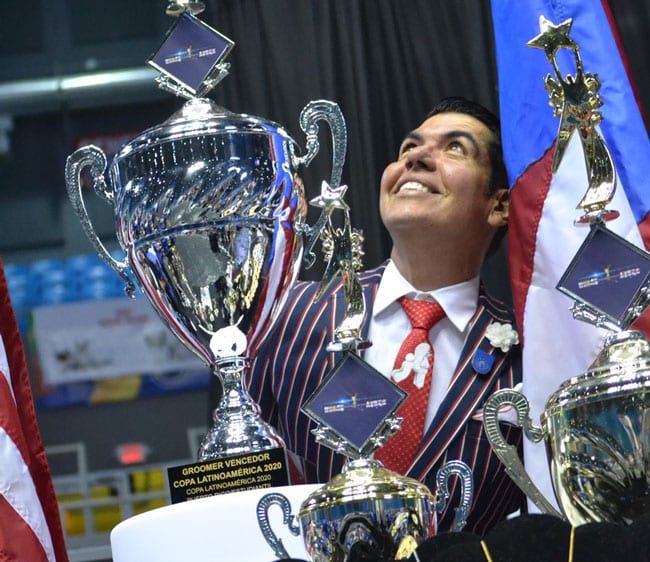 Recognizing that many of our customers have been directly impacted by the pandemic, we've created a content series aimed at helping those businesses prepare for and execute on their own re-opening strategies. The series—which will feature blogs and other content assets—will also include tips for how to use their Daysmart Pet software to bring those strategies to life.
COVID-19 has changed the face of grooming—at least for the time being. As an industry dependent on in-person interactions, from trade shows to daily appointments, groomers around the world have needed to adjust. To discuss how the pandemic has impacted the industry, we sat down with Victor Rosado. Victor is a member of GroomTeam USA, a world-renowned grooming competition judge, and an internationally and nationally certified Double Master Groomer. He also established Puerto Rico's first-ever grooming competition, the Puerto Rican Cup, which Daysmart Pet was proud to sponsor.
Read on to learn about Victor's experience and predictions for grooming post-pandemic.
How have grooming competitions been impacted by the COVID-19 pandemic?
The last competition I went to (in person) was the Atlanta Pet Fair. It's one of my favorites because it was my first ever show when I started competing. When I arrived at the 2020 show, which was early this year, I quickly noticed the presence of concern. The COVID-19 situation was spreading fast. However, we didn't have enough information at the time; we didn't know how COVID-19 was going to escalate.
My experience at the competition was still great. The venue took care of us by placing hand sanitizer everywhere and attendees also limited contact like handshakes. Eventually, the Atlanta regulators forced the show to shut down early. International attendees like me were concerned about being able to get home with the borders closing.
Now, most (if not all) grooming competitions and expos have been cancelled – and it's had a big impact. Everything has changed. Trade shows and competitions help the grooming industry; it's where we meet new vendors, discover new products and see new tools and equipment. As groomers, it's important for us to stay in touch with new developments in the market. It keeps the economy flowing.
Online adaptations won't replace interactions as shows – we need shows to keep our industry together.
How is the grooming competition industry pivoting?
A: Because of COVID-19, we've opened our virtual doors. Kennel clubs, dog shows and grooming competitions are all online. There are actually some benefits to the virtual shows, especially for new groomers. When you're just entering the industry, you may want to experience a competition but are too shy to show up yourself. Online platforms are made for novices – they offer a more relaxed environment.
However, for seasoned groomers, virtual alternatives will never replace a "normal" show.
How do you feel about the World Team Grooming Championship being cancelled for 2020?
That cancellation hasn't had a big impact on me. My last competition was 2019 – and we were the gold medal champions of the world. I'm happy to keep that a little longer.
What is your advice for competitors right now?
This is a beautiful opportunity to take advantage of all the content provided across myriad platforms. Because you can't go to competitions, take this time to learn about skin and coat, sanitation, first-aid and other breeds of dogs. Groomers always focus on poodles, terriers and sporting dogs – what about herding dogs and hounds? Expand your knowledge and study topics that will help you once we enter the new normal. It will help you become a better competitor.
One reminder that helps me in my career: never get comfortable. Always step outside the box. Always learn something new. If you're grooming every day, you may not think creatively like this.
For newcomers, this is a good time to watch those online grooming competitions. Pay attention to grooming groups and what other groomers are doing. If there are webinars, take advantage. Get ready for competition!
How has the pandemic changed your life as a professional?
My year is usually packed with hosting and judging assignments. Normally, I am booked for more than 40 events all over the world by now. However, since COVID-19 and the cancellations, my year will be resuming in September. It has been a drastic change from travelling the world to just being at home.
To keep the momentum going, I keep working on my image. I can't be present at shows, but I can keep myself relevant on social media platforms. I produce educational content, perform grooming demos, host interviews and offer motivational speaking. Rather than giving a full class on grooming, I can offer small hints and tricks in a more social media-friendly format. I hope to keep inspiring people this way.
I am also judging several online competitions all over the world from my home! Being home for so long has presented me with unexpected challenges. I travel so much that I'm rarely ever at my house. Sometimes I feel good, sometimes I'm bored and sometimes I have anxiety. I am lucky I live in a comfortable house, but it's not easy for a frequent traveler.
How can groomers use technology to support their businesses during COVID-19?
I have seen a big transition within the industry when it comes to technology use. Many groomers with two or three decades of experience are used to hand-written appointment booking, accounting and bookkeeping. However, this paper-only model has more disadvantaged than advantages. An accident can happen at any moment – you can spill your coffee and lose important client information. Today, we have more technology available to us: software that stores all client information, appointments and accounting. It gives groomers more security to store sensitive and important data.
COVID-19 has forced groomers who relied on paper-only methods to accept technology as a resource to their business. We live in a reality where we are spending more time in front of a screen than ever, so the mentality of seasoned groomers is changing. They are using software, devices, emails and even text message to book appointments, reach their customers and share updates on COVID-19 protocols. As they become more comfortable with technology, they see it as a better option for the future.
Similarly, customers – especially those from younger generations – are more used to interacting with technology. They are willing to receive a custom-formatted email or text reminder about their appointment. It's less personal than a phone call, but far more efficient.
Check our our updated webinar where we interviewed industry leaders including Victor Rosado and business owners on how they're re-opening through COID-19 here: