Staying Informed with COVID-19: Resources for Small Businesses
The COVID-19 pandemic is causing anxiety for small business owners across the country. The business landscape is rapidly changing, and we are all trying our best to protect our employees, support our customers, and address the financial stress. There is a lot of online information and resources aimed at assisting businesses with best practices. We have compiled a list of resources that we feel you as small business owners can use to stay informed.
Keep Planning as Things Evolve
The Centers for Disease Control and Prevention has published an article with helpful links to provide businesses and employers interim guidance on how to best operate during this outbreak of the coronavirus disease. Having an Infectious Disease Outbreak Response Plan should be top of mind, the CDC suggests.
Important Considerations for Creating an Infectious Disease Outbreak Response Plan
All employers should be ready to implement strategies to protect their workforce from COVID-19 while ensuring continuity of operations. During a COVID-19 outbreak, all sick employees should stay home and away from the workplace, respiratory etiquette and hand hygiene should be encouraged, and routine cleaning of commonly touched surfaces should be performed regularly.
Know your Obligations as an Employer
The U.S Department of Labor's Wage and Hour Division has a Q+A available on Public health emergencies and the fair labor standards aimed at giving context for employers and employees during the COVID-19 emergency. Knowing how to best protect yourself as a business owner, and as an employee, can help mitigate the widespread uncertainty.
What are an employer's obligations to an employee who is under government-imposed quarantine? WHD encourages employers to be accommodating and flexible with workers impacted by government-imposed quarantines. Employers may offer alternative work arrangements, such as teleworking, and additional paid time off to such employees.
How many hours per day or per week can an employee work? The FLSA does not limit the number of hours per day or per week that employees aged 16 years and older can be required to work.
Can an employee be required to perform work outside of the employee's job description? Yes. The FLSA does not limit the types of work employees age 18 and older may be required to perform. However, there are restrictions on what work employees under the age of 18 can do. This is true whether or not the work is listed in that employee's job description.
Small Business Owners Need To Communicate With Customers
The U.S Chamber of Commerce has made available a Response Toolkit to provide message examples to directly address anxious clients. Tailoring these communications to best fit your customer relationships is an opportunity to emphasize your commitment to the health and safety of your employees, and convey your need for the support of your clients as well.
Check out the suggested social media posts to share accurate information. Use the official hashtags: #COVID_19, #COVID19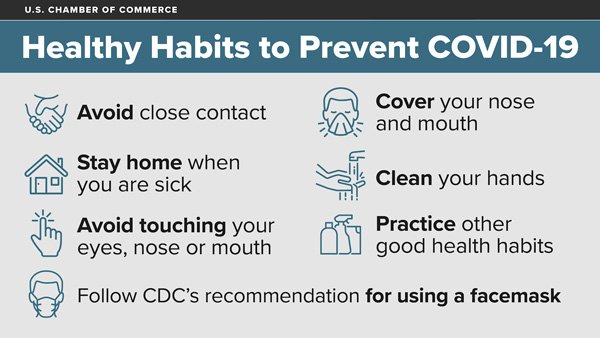 We all have a part to play in preventing the spread of COVID-19. Make sure you are regularly practicing these healthy habits. If you think you are getting sick with COVID-19, follow this step-by-step guide to prevent spreading the virus to others. All employers should be prepared to address the impacts of the coronavirus, including planning for unexpected closures in your area and exploring telework options.
Small Business Owners Should Prepare For An Economic Impact
With economic uncertainty looming as people remain in their homes and reduce their spending, the U.S Small Business Administration has provided a list of disaster loan programs and resources for businesses whose profits are severely impacted, as well as common issues small businesses may encounter.
Capital Access – Incidents can strain a small business's financial capacity to make payroll, maintain inventory and respond to market fluctuations (both sudden drops and surges in demand). Businesses should prepare by exploring and testing their capital access options so they have what they need when they need it. See

SBA's capital access resources

.

Workforce Capacity – Incidents have just as much impact on your workers as they do your clientele. It's critical to ensure they have the ability to fulfill their duties while protected.

Inventory and Supply Chain Shortfalls – While the possibility could be remote, it is a prudent preparedness measure to ensure you have either adequate supplies of inventory for a sustained period and/or diversify your distributor sources in the event one supplier cannot meet an order request.

Facility Remediation/Clean-up Costs – Depending on the incident, there may be a need to enhance the protection of customers and staff by increasing the frequency and intensity by which your business conducts cleaning of surfaces frequently touched by occupants and visitors. Check your maintenance contracts and supplies of cleaning materials to ensure they can meet increases in demand.

Insurance Coverage Issues – Many businesses have business interruption insurance; Now is the time to contact your insurance agent to review your policy to understand precisely what you are and are not covered for in the event of an extended incident.

Changing Market Demand – Depending on the incident, there may be access controls or movement restrictions established which can impede your customers from reaching your business. Additionally, there may be public concerns about public exposure to an incident and they may decide

not to

go to your business out of concern of exposing themselves to greater risk.

SBA's Resources Partners and District Offices

have trained experts who can help you craft a plan specific to your situation to help navigate any rapid changes in demand.

Marketing – It's critical to communicate openly with your customers about the status of your operations, what protective measures you've implemented, and how they (as customers) will be protected when they visit your business. Promotions may also help incentivize customers who may be reluctant to patronize your business.

Plan – As a business, bring your staff together and prepare a plan for what you will do if the incident worsens or improves. It's also helpful to conduct a tabletop exercise to simulate potential scenarios and how your business management and staff might respond to the hypothetical scenario in the exercise. For examples of tabletop exercises, visit FEMA's website at:

https://www.fema.gov/emergency-planning-exercises
Small Business Owners – Know Your Points of Contact
Lastly, keep involved with your local Chamber of Commerce and know your points of contact. The Small Business Association Administrator has issued a statement and provided additional information for potential financial aid. Keep in mind as this virus advances, the information will be quickly changing, as will the advice. Staying informed is a vital part of maintaining normalcy and providing confidence to your employees and clients amidst times of uncertainty.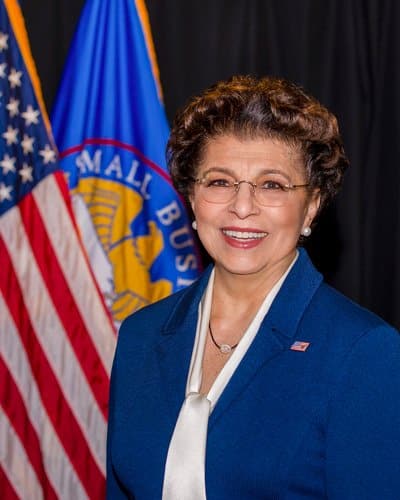 "Small businesses are vital economic engines in every community and state, and they have helped make our economy the strongest in the world. Our Agency will work directly with state Governors to provide targeted, low-interest disaster recovery loans to small businesses that have been severely impacted by the situation. Additionally, the SBA continues to assist small businesses with counseling and navigating their own preparedness plans through our network of 68 District Offices and numerous Resource Partners located around the country. The SBA will continue to provide every small business with the most effective and customer-focused response possible during these times of uncertainty."
SBA's Economic Injury Disaster Loans offer up to $2 million in assistance for a small business. These loans can provide vital economic support to small businesses to help overcome the temporary loss of revenue they are experiencing.
For additional information, please contact the SBA disaster assistance customer service center. Call 1-800-659-2955 (TTY: 1-800-877-8339) or e-mail [email protected].