The 2022 Pet Industry Goldmine: Trends and Stats to Know
Pet industry trends often reflect broader themes seen in human-focused industries, and this year is no different. Three of those concepts are wellness, convenience, and personalization.
As a pet professional, you've probably seen for yourself how pet owners are increasingly knowledgeable and informed about pet products and services.
Roger Lima, owner of Le Pup Pet Supplies and Grooming with two locations in Florida, says, "When pet owners come to us, they've already gone to Dr. Google. They have a lot of questions, and they've researched a lot of products. They're informed. To be honest, I learn from them too. They may know about products that I don't."
With his background as a veterinarian, he focuses on pet nutrition and alternative medicine in his stores. This way, he's able to provide plenty of value to his customers, and they keep coming back. Nevertheless, like everyone, he had to make adjustments to his business this past year due to COVID.
The Top 15 Pet Industry Statistics to Know in 2022
---
The Top 10 Pet Industry Trends in 2022
COVID accelerated technology adoption for many businesses. Smart use of technology helps pet professionals run their businesses more efficiently. Customers also expect online convenience.
Younger consumers prioritize convenience, ease, and a seamless experience when it comes to shopping. These digital natives are well-informed about brands, and they expect rapid and personalized communication online. They also expect to make appointments, ask questions, and shop, all from the convenience of their smartphones.
These expectations, combined with their interest in health and providing the best for their pets, fuel these pet industry trends.
1. Premium Pet Foods
Pet food continues to be a driving force in the pet industry. Pet parents are aware of the link between food and health, and they want to give their pet the best nutrition.
Pet store owners like Roger Lima of Le Pup are an excellent resource for their human clients. A veterinarian from Brazil, he spent a year at Cornell University studying pet nutrition. He brings his passion for pets and nutrition to his Florida stores.
"I have ten brands of dry food and eight brands of raw food at Le Pup. I do my own research. I look for the company's history and have a personal relationship with every company I carry. Fromm is my favorite because they're a family business since the 1800s."
Roger says he visits their Wisconsin operation each year and has toured their manufacturing facility. This high level of trust means he can recommend them wholeheartedly.
He also says, "The raw diet has been growing a lot. That does bring people to the store because they can't buy it online."
While he thinks people will eventually want to return to in-person shopping, COVID did inspire him to improve his e-commerce options.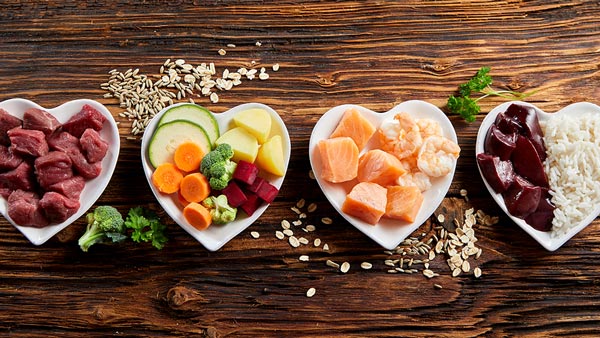 2. E-Commerce
The battle between online retail and independent stores isn't new, but COVID certainly accelerated the trend to shop online vs. going to the local pet store. Some independent retailers have found a way to compete.
Roger Lima says Le Pup partnered with eTailPetto help them with the technology side of offering online retail to his local customers. He says, "eTailPet handles the website, and it integrates with Astro Loyalty. Deliveries are growing every day with a lot of new customers." His staff handles local delivery, which is cheaper than shipping.

3. Direct to Consumer (DTC) Market
Another pet industry trend is the direct-to-consumer market. Mostly specialty companies, these companies focus on building relationships directly with the consumer to provide a product and experience they can't get elsewhere.
These companies are digital-first and rely on consumer feedback to help them innovate. Unlike the large, established brands that spend months on a new product and then promote it with an expensive marketing campaign, these companies are nimble. They're constantly testing and tweaking their product(s) based on the customer's wants and needs.
This puts these companies in a position to offer customized, more personalized products to their customers. They go for the niche approach and usually target Millennials and Gen Z, who value authenticity and personalized experiences.
4. Pet CBD
No mention of pet industry trends would be complete without pet CBD. From treats to supplements and topical oils, the pet CBD market is exciting. Demand is high, and the market is competitive.
64% of US consumers buy pet CBD to reduce overall levels of anxiety or stress for their pet.This piggybacks on the growing human trend for CBD, too, which shows no sign of slowing down.
Many young entrepreneurs are creating pet CBD products and selling them via the DTC model to fulfill this need. They feature a high-quality product, nice packaging, and usually have a compelling founder's story.
Take Honest Paws, the #1 rated CBD oil and treats for dogs. Founded by Chelsea Rivera on behalf of her Maltipoo Baby Rose, she sought a solution for her pup's serious condition. The veterinarian offered to write a prescription for Baby Rose but warned it might not work and would likely make Baby Rose lethargic.
Chelsea decided to find an alternative. That alternative turned out to be CBD which restored Baby Rose to health and improved her mobility.
5. Mobile Grooming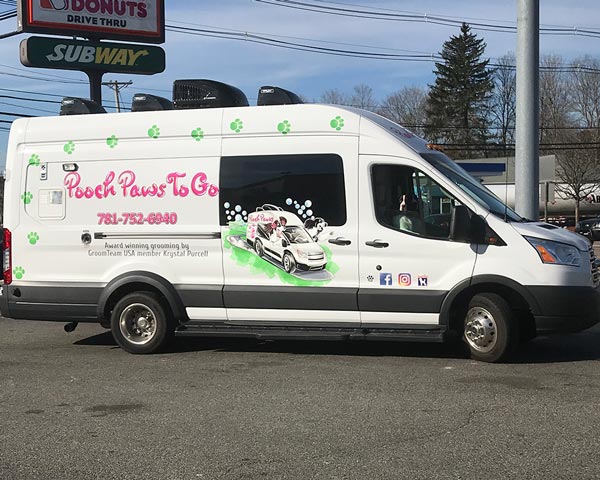 There are many reasons why customers appreciate mobile grooming, and convenience is a big part of it. Mobile dog groomer Krystal Purcell started her mobile grooming business on a client and family friend's advice.
"A family friend in Boston wanted me to groom his dogs at his house. He didn't want to drive an hour to come to us. So I took everything with me; dryer, brushes, table. It was a lot of work. One day he suggested I go to other people's homes for grooming. He said, "you could get a dog grooming van, and this could be your business."
She took his advice and now serves clients in and around Cape Cod, Massachusetts.
Jennifer Teneyck of Pawgrass Mobile Dog Spa in Ponte Vedra, Florida, says her customers love the convenience too. "I ask people if they're looking for a mobile groomer because we're mobile, and they say they love the convenience. They'll say something like, 'My dog doesn't like riding in the car, and by the time they get to the salon, they're hyped up."
Mobile grooming can be relaxing for dogs. Jennifer says, " The dog can see their house while they're being groomed. I've never had so many dogs fall asleep while I'm grooming them.
Besides front-door service, mobile grooming also offers the advantages of providing a human client's contactless experience. With the right software, they can set appointments, receive reminders, and process payments right from their smartphone or iPad.
6. Luxury
Whether you think of luxury as crystal chandeliers or the convenience of being able to order your dog food via text, premium goods and services continue to grow.
And for some pet parents, luxury means high fashion. Designer names like Chanel, Gucci, and even Swarovski crystal drape the shoulders and necks of some four-legged friends.
Some of these pets are social media celebrities such as Tinkerbelle The Dog. Tinkerbelle is a 5-pound papitese (Papillion/Maltese) rescued from an NYC shelter in 2012. These days, she's described as a professional diva and has nearly 500,000 Instagram followers. She's come a long way from shelter life.
7. Customization
A few years ago, having an engraved tag and a monogrammed bed for your pet was the height of customization.
But in 2022, people want more personalization. Some of that comes in the form of information and analysis.
There are the doggie DNA tests that analyze your dog's saliva for relevant DNA traits so pet parents can know the dominant breeds that make up your rescue pup.
Then, there's custom pet food. As a pet industry professional, you're probably familiar with the vast array of pet food options. Some of them are geared toward age, while others are breed-specific. Still, others offer novel proteins like venison and kangaroo, while others are marketed for specific health concerns.
Pet owners rely on research and guidance from knowledgeable pet professionals to help them choose the best food for their pets. Additionally, some industry reports show that some pet owners are willing to pay more for pet foods customized for their pet's needs.
8. Sustainability
How can you save the planet and spoil your pet? Companies that deliver on these possibilities find a happy audience. 75% of Gen Z prefer sustainable brands and inspire other age groups to act the same.
This pet industry trend shows up in a variety of ways. Some brands highlight their "clean" manufacturing processes, while others find eco-friendly ways to package their products. Still, others focus on sustainable ingredients such as pet foods that incorporate sustainable fisheries or insect protein.
Eco-friendly toys are made with rope or recycled materials.
Sustainability shows up in many ways and requires experimentation, but some companies are doing it well.
9. Customer Experiences
Today's consumers are digital-first, so your online presence is their first impression. When your website and social media are up-to-date and easy to use, it inspires credibility and trust.
Business management software can let your clients schedule appointments, receive reminders, and handle payments. It can also help you manage inventory, schedule staff, and keep digital notes on customer preferences.
Depending on your business, you might offer packages to help your customers choose a spa experience for Fluffy. Or, you can offer subscriptions. Groomers can offer a "monthly bath" service where customers subscribe, and they know their pup has a monthly appointment.
Some retailers can choose to offer subscription boxes for their customers. A monthly assortment of treats, toys, and assorted goodies means your customers can count on a regular delivery of things they need. This is convenient. However, consumers also enjoy discovering new items. A subscription box can serve both needs.
Every interaction with a customer is a chance to create a positive experience for them.
10. Technology
Is your smartphone beside you? Chances are, it's within reach all the time. Today's consumers use their smartphones for product research, shopping, and virtually anything else they want to know.
With the right apps, you can track your pet's health, find nearby dog parks, veterinarians, and even monitor your pup at home if you're not. With an app-controlled pet feeder, you can click and feed your pet from anywhere.
By now, you've probably experienced at least some of these pet industry trends for yourself. At the heart of them lie convenience, wellness, and customization. Which one(s) of these trends can you expand on in your pet business?
You probably also know that underlying many of these trends is technology. Our business management software can help your pet business remain competitive and stay current with the trends.
Give the DaySmart Pet software a try, free for 14 days! The trial software includes simple workflows to get you going, so you can see if DaySmart Pet is right for you.