Dog Apparel Trends, Selling Pet Fashion at Your Salon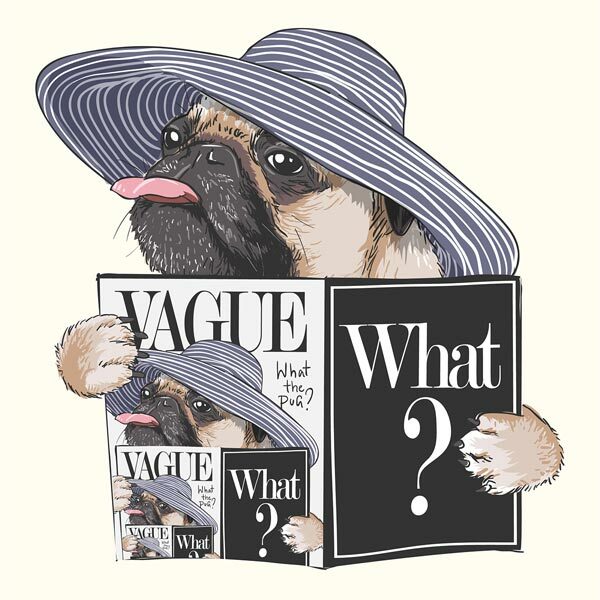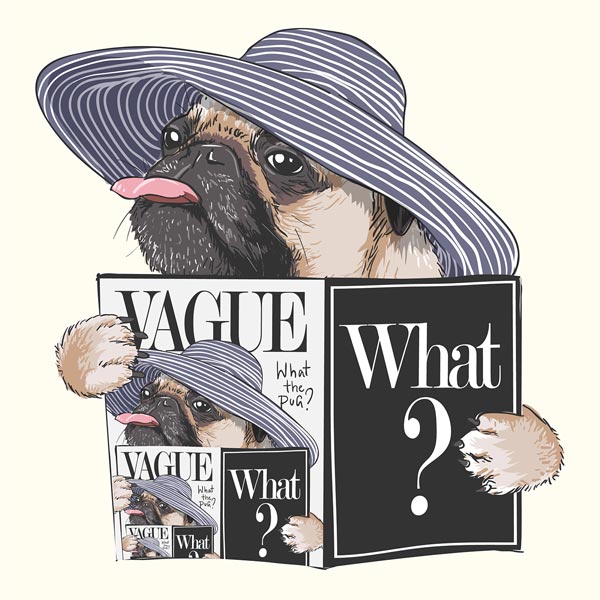 Are you looking to take your dog grooming salon into the stratosphere for your clientele? If so, then you might be looking for new aspects that you can add to your business.
One very helpful aspect is to start selling fashionable pet apparel products inside your store, as well as online. It can become a new wave of profit for your dog salon.
However, you'll want to make sure and purchase trendy items that are in right now. Be sure to read this in-depth guide on some of the hottest pet apparel trends. Consider each of these products and see how they line up with your salon.
1. Bow Tie For Your Ride or Die
Strategic placement of products in your shop can sometime help you get that extra purchase in for the day. Consider creating a bow tie rack next to your check out. Be sure to account for the size of your customers pets and offer a Tiny, Small, Medium, and Extra large. We as consumers often LOVE finding something custom and unique for our pets, so have your inventory stocked with these simple pet apparel items.
Since this accessory is purely FASHION, get creative with the graphic designs on the bow ties that you offer. Switch it up and offer seasonal bow tie prints, keep your customers looking for what you will put out next! Do a photo shoot with your favorite pet clients wearing the seasons newest Bow Ties and use them for promotions. Having a photo next to the Bow tie rack will also help your customers visualize just how cute this accessory really is.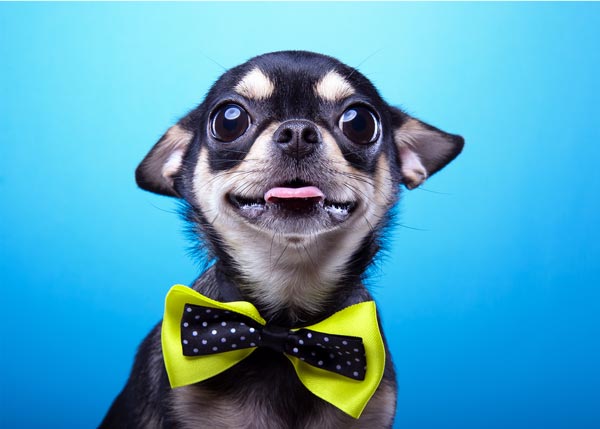 2. Year-Round Sweaters
Sweaters are a must-have for any dog groomer that is looking to get a boost from fashion accessories. They're one of the fan favorites among those that dress their pups up often.
Why? because of all the different uses that you have for them. Many people believe them to only be usable in the winter, but that isn't necessarily the case.
Using excessive air-conditioning in the summer can also lead to your pup becoming uncomfortable chilly. However, you don't want to constantly let them outside for them to get the blood pumping again.
Sweaters negate that need. They're easy to put on and take off. Even uncooperative dogs that don't like the be dressed up are easy to manage with sweaters.
Better yet, there are many different styles. You can sell festive sweaters during the holidays and funny dog sweaters during the rest of the year.
It's vitally important that you understand your clientele when buying the sweaters. Is your clientele trying to make their dogs as cute and precious as possible? Are they looking for humor in all the dog apparel they purchase? It's up to you to decide.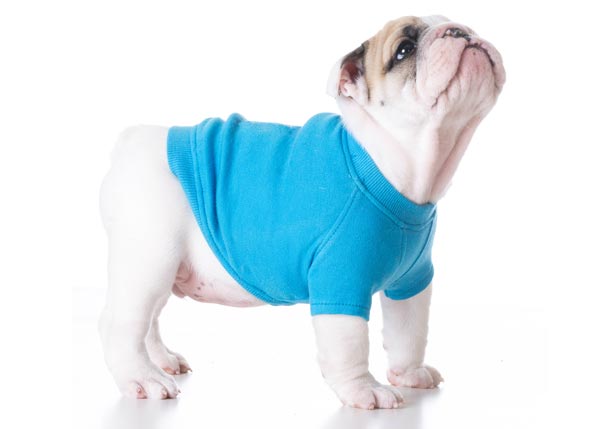 3. Festive Polos
Okay, so you've got the girly and cute sweaters down, but what about getting pet apparel for the male dogs? How can you appeal to their owner's desire to dress them up cute, yet make it clear that it's a boy dog?
Purchase dog polos are an incredible option. Line yourself up with Ralph Lauren Pet polos that will keep up with the different seasons. Ralph Lauren is constantly releasing new clothes, which will automatically keep your salon fresh with the newest trends.
by offering the polos (and all other pet apparel) on your shop online. That way, it can be a steady source of revenue for years to come.
The polos are cropped perfectly for each different size of dog. They're made with minimal materials to avoid your dog becoming too hot. Polos will become a favorite among your wealthy clientele, millennial clientele, and everyone else!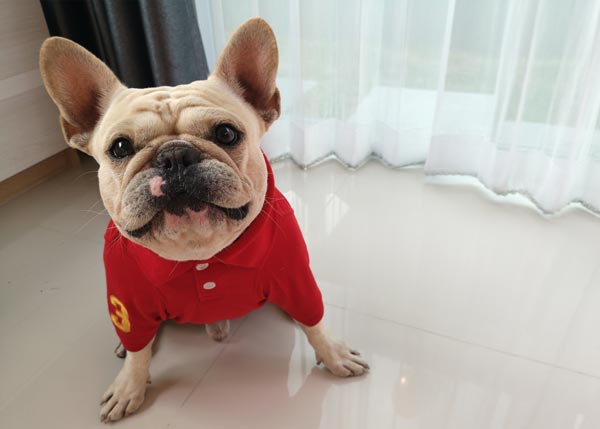 4. Let it Rain Coats
It doesn't matter whether the dog is big or small, blonde or brown, boy or girl, every dog looks adorable in a yellow raincoat! Better yet, all your clientele can justify the purchase because of the cost-friendly price.
Your salon can easily pitch them to your clients because the raincoat will protect the dog's coating and maintain the quality of your service for longer. You can also sell little yellow hats and even yellow booties for those than want to deck their dogs out.
Also, this pet apparel trend is as efficient a purchase as it is fashionable. Many dogs have a huge fear of water. The raincoat will prevent them from getting wet and even help them when they have to go outside to potty.
It's a purchase that any client of yours will be able to rationalize. It's the only item on this list that all of your different categories of clients will agree on… and that means more revenue for your investment!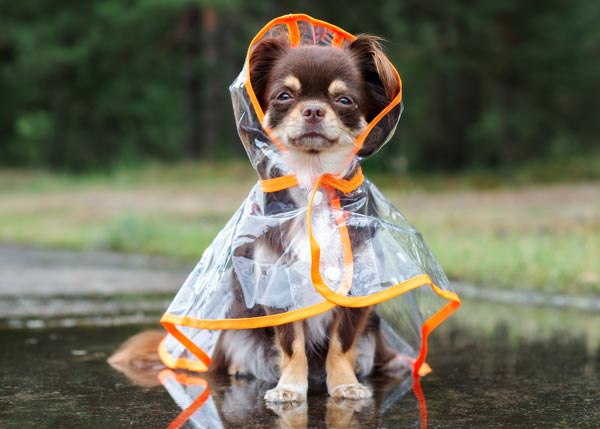 5. Aim for Efficiency, Not Style
Style and Efficiency both play a role in pet apparel. The style draws the client's interest like a magnet. It's what makes them take second glances of the items that you hang on your shelves.
The efficiency, however, is what will either hinder or help in them purchasing the product. It's what justifies the purchase in their mind.
For example, the yellow raincoat and dog sweaters listed above both appeal to the style factor and efficiency factor. The raincoat looks cute (style factor), but also prevents your client's dog from getting wet (efficiency factor).
The dog sweaters come in many different styles, shapes, and colors (style factor) and are used to keep your dog warm (efficiency factor).
For every apparel product you consider purchasing for your store, always think through the style and efficiency of them. Doing so will help you get a better return on investment.
6. Purchase Durable, Trusted Apparel Items
To get the most out of the pet apparel items you stock, you'll want to make sure they can be used for the long haul.
For that reason, it's never a good idea to sell clothing for puppies in-store. Clients won't spend money on an item that the dog will grow out of in two weeks.
Pet clothes aren't like human clothes. They aren't quite as trendy. If your client buys their dog a piece of clothing, they'll use it on them several times. Be sure to purchase pet apparel that caters to long-term usage, not necessarily the latest, greatest trend.
Find the Right Pet Apparel for Your Store Today!
Now that you've seen some ideas and strategies for the pet apparel industry, it's time to stock your shelves with the right products. Be sure to have your inventory ready to diversify by including some pet apparel accessories. Be sure to track your inventory with software you will be able to see at a glance a list of all your products in great detail.
With Daysmart Pet you'll have peace of mind knowing you'll never have to say "sorry we're out of stock," again!
If you own a pet business and are curious how Daysmart Pet Software can optimize your inventory management, please feel free to ask one of our pet software specialists by using our request info form. Or just visit our try for free page and we'll be happy to assist you further!