Cultivate Loyal Customers with Consistent Communication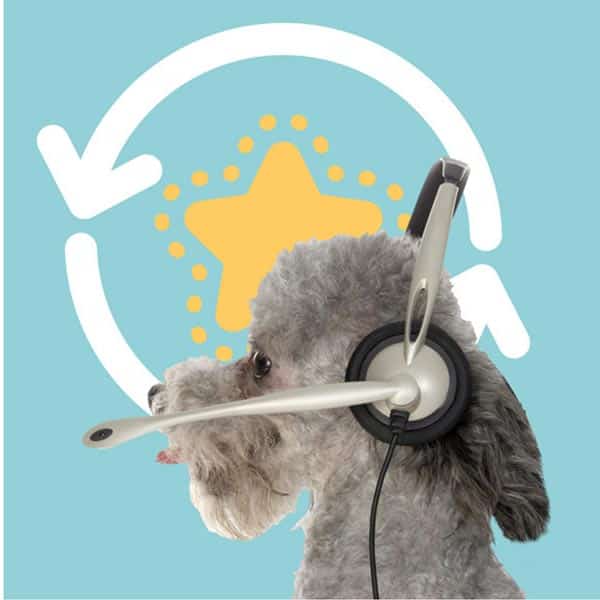 Cultivate Loyal Customers with Consistent Communication
Every dog grooming salon owner wants loyal customers. After all, loyal, repeat customers appreciate your skills and knowledge. They may appreciate the relationship you have with their dog and they're likely to recommend you to their friends and family.
For service businesses like dog grooming salons, loyal customers can keep your cash flow steady and help you reduce marketing costs because they recommend you. They're also willing to pay higher prices because they have a genuine relationship with you and your staff.
Speaking of staff, usually, employee engagement is also a big part of customer loyalty since they're your front line workers. So, hiring upbeat, customer-focused people is important because they can keep your customers coming back.
Of course, before people can become loyal customers, the ones who are delighted with your business and want to be your BFF, they have to know you exist.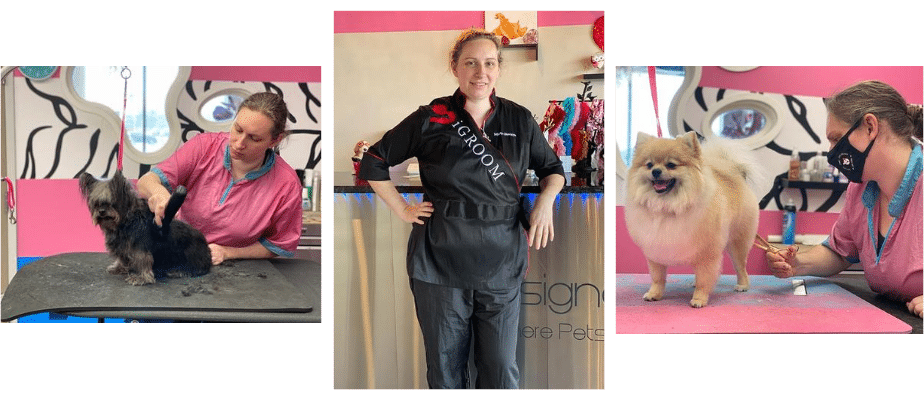 Misty Gieczys of Designer Paws Salon with two locations in Upper Arlington and Westerville, Ohio has some proven suggestions on getting found and making your customers fall in love with your salon.

It starts with your online presence. Misty says:
You need a website

You need a Google Listing

You need Google Reviews

You need a regular presence on social media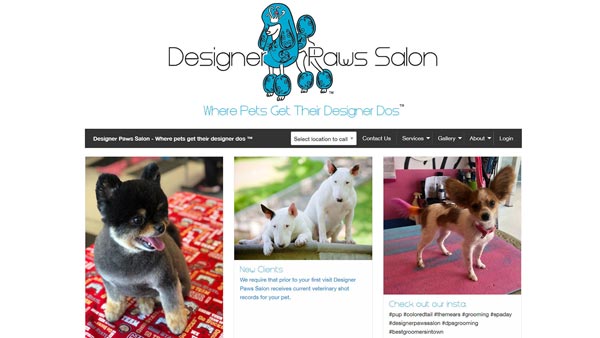 With a strong online presence, your dog grooming salon helps you get found by new and existing customers. Combine being easy to find with quality service and experience, and yours will be a booked up grooming salon.
Imagine this scenario.
You're new in town and want to know the best dog grooming salon near you. Most likely, you'll turn to Google. Then you'll quickly scroll through the reviews, assess their location, and if everything looks good, call, or book online.
Let's break that down.
First, the prospective customer turns to Google. If your shop isn't at the top of the search engine results page (SERP), people aren't going to know you exist. Two ways you can improve your SEO is with online reviews and an updated Google Listing.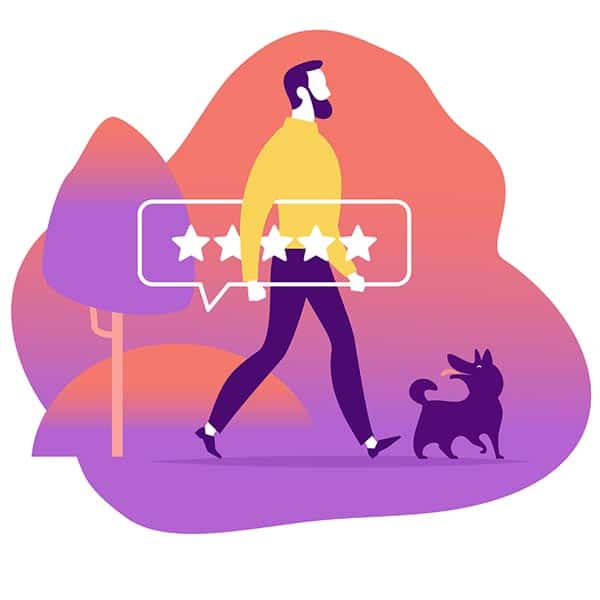 Reviews are Essential: (Hint: Software Can Help You Get More of Them)
Studies show that as much as 84% of people trust online reviews as much as they do a personal recommendation.
How many reviews does your salon have? Where are they? You can have reviews on Facebook, Google, and other platforms but the Google reviews are going to boost your website rankings most. Misty says, "Those are the hardest ones to get."
She credits Daysmart Pet's Reputation Management software for help. Misty says, "The reputation program has been tremendous for our business. When you get these reviews, it helps your website ranking so more people find you. Then people see the number of positive reviews and it builds our credibility."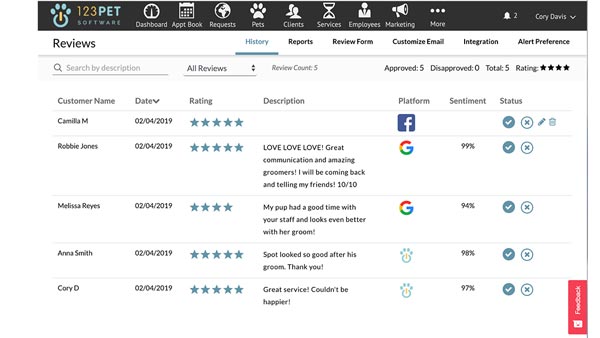 Designer Paws Salon has 58 reviews at her original location and 48 at her second. Many of those reviews she's gotten since October. "Since October 2019 when we started using the reputation management system, we've gotten 15 new reviews for the original location and 38 for the second."
The reason there have been so many reviews for the second location is that a lot of area dog grooming shops didn't reopen from the Spring COVID shutdown and they acquired new customers. "People have been happy that we were able to get them in. They've been surprised by our services and have written us a review. "

She says, "Brand new salons new to reputation management are going to get a ton of new reviews."
Automate Your Review Process


The automated process makes it easy. "Clients get an email or text within 30 minutes of a groom. The message asks "will you write us a review?"Then, if it's a 5-star review we ask them to send it to Google."
The process is easy for everyone and because it's automated, no one has to remember to send any emails or texts. It's easy on the client because they're guided to the exact thing to do and they can do it right on their phone. It's excellent customer service because people appreciate being able to share about their experience.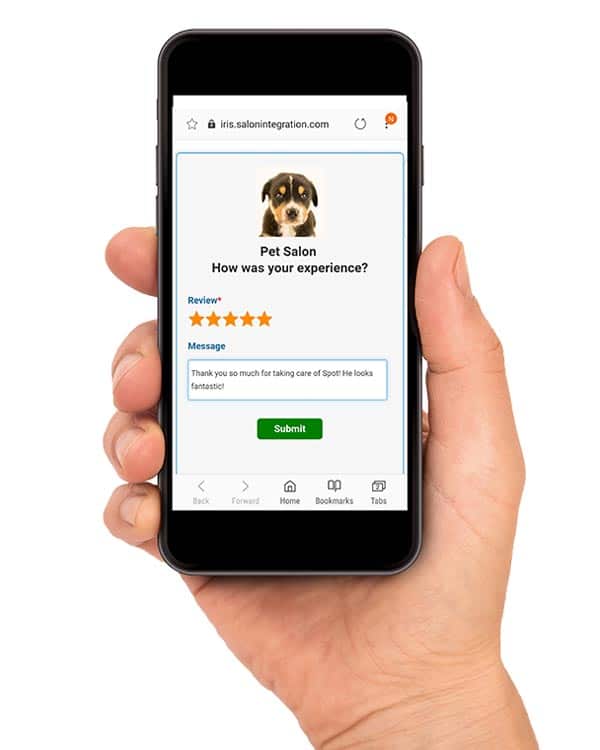 Misty manages quality control manually. "I go in once or twice a week and look at the reviews and make sure everyone is happy. People like the reviews because if they're not happy, they don't want to call and have a confrontation but they'll write it down. We've caught a few instances where people weren't happy with the groom and then we can call them and invite them to bring the dog in to fix a groom at no charge."
She incentivizes her staff by having a standing offer. "If we get 5 5-star reviews, we have a pizza party for the staff." She also screenshots rave reviews and sends them to the groomers. "They love it. It's a pat on the back for them."
Not only does having the reviews on your Google My Business profile help boost your visibility, but you can also add the reviews on your website. Misty says, "I recommend this reputation management software to everyone because it's one of the least expensive ways you can boost website rankings."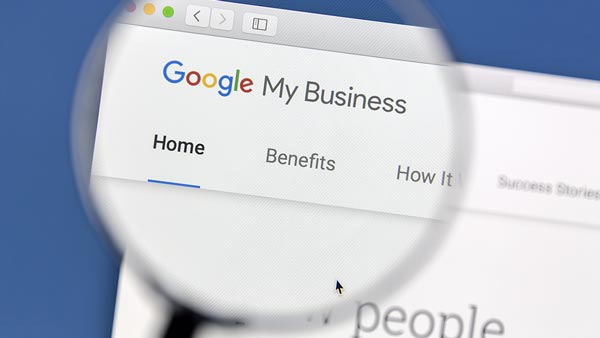 In addition to reviews, Misty also keeps her social media up to date. "I do Instagram and Facebook, some Pinterest. I try to update 1-5 photos on the Google Listing weekly. That way it stays fresh. But she doesn't rely on gimmicks like discount cards.
No Discount Cards ?
You're probably familiar with the types of loyalty cards businesses sometimes give to their customers as a thank you. I used to have one for a local coffee shop where if you bought 9 coffees, you got the 10th free. Of course, I rarely remembered to show the card or had it with me.
The problem with those types of loyalty programs are they're based on a transaction. Yet, loyalty isn't transactional. There are many intangible reasons that people are loyal to a business. Usually, there's an emotional "click."
"We've only done one promotion. It was a customer appreciation for a free nail grind. We didn't see a huge return there so we didn't do more. We really want people to bring their dog every four weeks."
As Misty says, "We're not about giving discounts. We don't give multiple dog discounts. We've found that people then expect discounts. We've done charity events where we give out gift baskets. We do a referral program where if you refer someone we'll give both dogs a blueberry facial and the dogs smell amazing afterward."
Instead, she focuses on providing excellent customer service and quality dog grooming. "We're known for hand stripping and hand scissoring. My groomers usually do at least 3 standard doodles a day and an ad in the paper for hand stripping will bring in more hand stripping. We also do grievance cards and Christmas cards for the top 100 spending clients."
Misty is active in her Ohio community. Not only is it a way to meet other community leaders and build alliances, but it's also fulfilling.
Be Part of the Community
From community sponsorships to getting the governor to re-open dog grooming salons from the COVID shutdown, Misty is an active member of both her local community and the dog grooming community.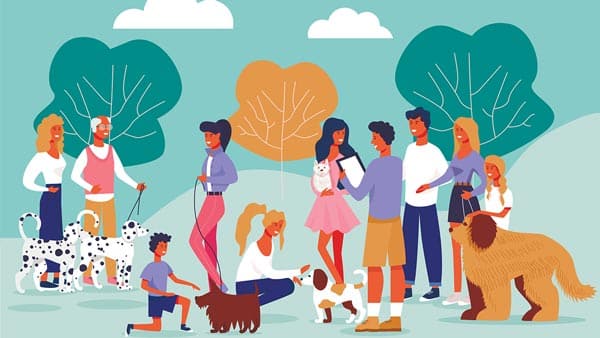 "I play nice with everyone. Get to know the other business owners around you. You never know who's going to retire or get injured. I've had numerous groomers call me and ask me to take their clients while they're on maternity leave or they broke their foot. They know they'll get their clients back. There's a grooming shop behind us and one in front of us and most don't know they exist. I'll send people to one of them if we can't take them."
Misty also says she petitioned to reopen dog grooming salons during the COVID shutdown. "People don't understand how important grooming is to the health of the pet and how we interact with the owners. I petitioned to reopen and how we should open. The governor saw it and gave me a big pat on the back."
She also helps other groomers. "I love helping other groomers. I've run other companies and helped them with hiring and training and rebuilding their brand."
She says they also give back to the local community with a monthly instore toenail trim. "Pet People is a local pet store chain, we go into their stores once a month and set up a booth and advertise toenail trim. The proceeds go to a rescue group. We have a line out the door before we get there most of the time. We donate about $8000 a year to animal rescue through this program."
As you can see, cultivating loyal customers is a multi-pronged approach. It's a given that you're excellent at dog grooming and working with dogs. Yet, when you also focus on building relationships with people that the magic happens. From getting to know area business owners, to making it easy for people to leave you stellar reviews, relationships build your most powerful marketing tool: word of mouth.
If you'd like to take the next step in building your online presence word of mouth marketing, try
Try Daysmart Pet Software absolutely free for 14 days!