The Future of Dog Grooming is Pre-Teen Gwendolyn Z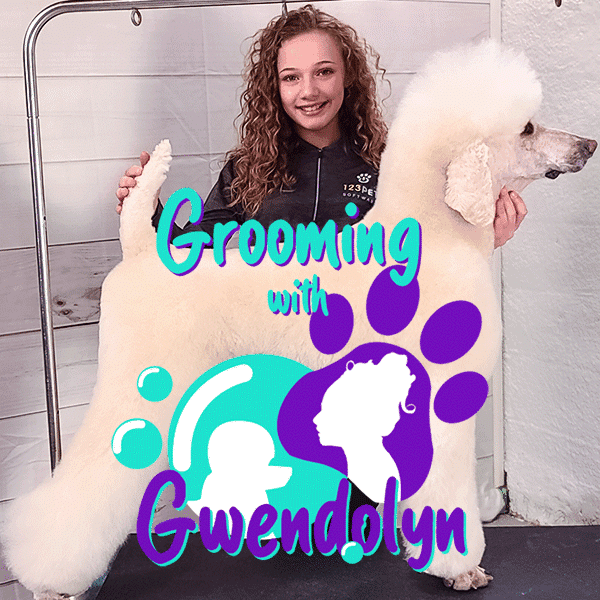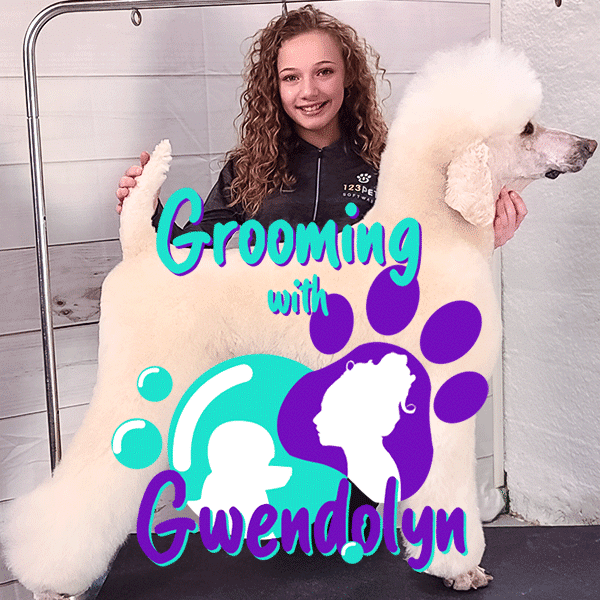 In 2019, ten-year-old Gwendolyn Zahra stepped into the competition ring at Intergroom in New Jersey. She demonstrated her dog grooming skills on a toy poodle named Bandit and Guiness, a mixed breed terrier.
Out of the 30 or so competitive groomers, she was the youngest by decades. Poised and skilled, she won a Best First-Timer award and caught everyone's attention.
Steve Martin is Daysmart Pet's, Chief Marketing Officer. He said, "We've been in the pet grooming space for ten years, and we're always looking for what's next. Gwendolyn Zahra was hard to miss, and she represents the future of grooming."
Her drive and ambition are unusual in someone so young. Steve says, "She's driven to compete and excel in this competitive space. She's already good. If she stays with dog grooming, she's going to be excellent. I see big things for her. She wants to level up the industry as a whole."
Gwendolyn Zahra is the daughter of dog groomer Rachel Ann Stalcoskie of Country Clips Pet Grooming in Pocono Summit, Pa. With a mom has a groomer, she's grown up in the shop. Gwendolyn says, "Ever since I was born, I've always been in the shop. As a toddler, I vacuumed the floor and loved being around dogs. I got into competitive grooming when mom went into the show ring, and I decided I wanted to try it out."

Within the past two years later, she's participated in five in-person shows and two virtual competitions.
Between her skill, ambition, and mother as a groomer and long-time customer and advocate of Daysmart Pet, it was a natural fit to create an online training series with Gwendolyn at the center.
She's excited to share what she knows with others. She already has a Facebook Facebook group with 498 members and a Facebook page, Gwendolyn Love The Pet Stylist. She shares pictures and advice.
Gwendolyn says, "I want everyone to be the best they can be, and that includes handling the animals properly and safely."
Daysmart Pet partnered with Andis Grooming and Gwendolyn to create a series of five training videos for dog groomers.

Online Access Makes Ongoing Education Easier for Groomers
Steve says, "Gwendolyn's goal is to provide insight for beginners on how they can improve their dog grooming. She chose topics she wanted to learn more about, and Andis provided members of the Andis Global Education Team to work with Gwendolyn on these topics."
The educational series features five videos. Every video has a different focus. One demonstrates how to prep the dog for grooming. Another video focuses on mastering the round cut for the dog's feet. Yet another is about the business of dog grooming.
Nicole Kallish is the Manager of Education at Andis. She helped organize the Andis educators and worked with Gwendolyn on developing the video concepts. Each video showcases Gwendolyn interviewing the veteran groomers (and Andis educators) then practicing a skill with virtual guidance.
For example, in one video, Gwendolyn has a Springer Spaniel she's groomed, and she wants to practice how to correctly groom the paws. Groom Team USA member and Andis Educator Tammy Siert guides her through the process via video on a wall-mounted monitor.
These how-to videos fit with Gwendoloyn's goal of inspiring other beginning groomers.
According to Nicole, the Andis educator, "New groomers reach out to Gwendolyn for advice. Some groomers are self-taught. Some get their start in the big corporations with only a few hours of training. They're looking to increase their skills. Gwendolyn has made a few videos for these new groomers."
Gwendolyn says, "They're asking a lot of handling questions. Such as, 'I have a dog who doesn't like the blow dryer. Do you have advice on calming them down?' I tell them about Happy Hoodies and cotton. Cotton goes in the dog's ears, so we don't get their ears wet in the bath. We love it for the blow dryers. Then we put the Happy Hoodie on as another layer of protection. It calms down a lot of dogs. If they're really struggling, we put the dryer on low and start at the back and pet them. This combination seems to calm them."
Pre-Covid, most dog grooming training took place in person. Andis is well-known for its seminars at pet shows. Sometimes groomers can find regional training at hotel seminars with a demonstration in the morning and a hands-on portion in the afternoon. Either way, groomers committed to learning have had to travel and take time away from work which can be challenging at times.
Nicole says one of the silver linings of COVID is the accessibility of training and education via the internet. "COVID sped up our online adoption for education programs."

Nicole says, "When COVID shut down everything, we had to look at other ways to reach the groomers. We moved digital. We did some Facebook lives. We started doing webinars. We'd had webinars on the back burner, but we made them a priority. We're reaching a lot of people now, and it's global. I can have someone in Australia watching someone in the US. There are no borders."
Nicole says she expects the virtual learning environments to stay in place even when in-person events return. She says, "We want people to shine, and when they invest in themselves, it shows."
The training series includes Andis educators, competition judges, speakers, and past competitors. "It's a well-rounded group of people who all bring something different to the table. They each have a distinct perspective. Some have a show background, or they're a breeder. It adds a multi-dimensional perspective."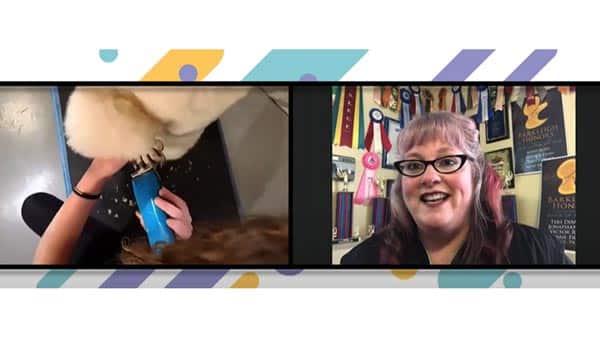 On Virtual Competitions
Gwendolyn says, "It was really different online. I was a little less stressed because I didn't have an audience watching. The judges would tell me to comb the dog and turn the dog around."
Her favorite dogs to groom are poodles. "I love their coat. I feel I can really sculpt their coat." However, she does say that one of the most challenging parts is to round the feet in a circle. "That's hard for me."
Steve says, "There's a vacuum in judging competitively virtually. In-person events will start again, and Groom Team will be there. But also, people Gwendolyn's age are the YouTube generation. There'll be a place for virtual learning and competing."
Talk with any successful dog groomer, and you'll find their love of learning infectious. From improving grooming techniques to enhancing business skills, there's always something new to learn or improve.
There's a saying in the business world that "If you're not growing, you're dying."
Many groomers echo this sentiment. Especially once they discover the world of pet and grooming shows, they can't get enough. They enjoy the camaraderie of meeting like-minded groomers at events, discovering new products, and learning ways to improve their grooming.
These groomers know that making time for continuing education is critical. Not only does it keep them fresh and current with trends, but it's also profitable.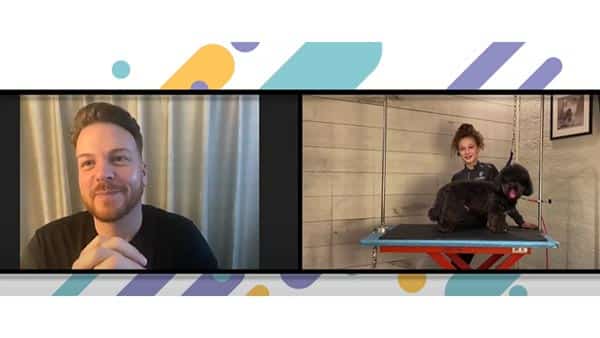 Education Empowers Groomers
Nicole says, "I've noticed in the last couple of years that groomers are taking steps to further their education. More groomers are traveling to other events or shops, or seminars. So much more interest in learning."
Learning is an investment in oneself. Nicole says, "Social media plays a huge role in this industry. Groomers love seeing other groomers on Facebook, Instagram, and TikTok. Like many companies, Andis uses social media to educate and inspire dog groomers. We have social media ambassadors who are the "face" of Andis on social. Groomers often ask me how to become an Andis Ambassador. I tell them to 'boost your followers, tag companies, create videos, and grow your personal brand.'
In other words, groomers who take the time to learn how to create an engaged following show they understand the digital world. That's appealing to companies.
Nicole says, "Grooming is becoming a profession, and there are no rules in how you want to run your business. You don't have to take 20 dogs a day or accept that biter. When you take ownership of your career, then you commit to learning, and that helps you make more money."
As a digital native, Gwendolyn understands the importance of continual learning and helping others. Her approach is, indeed, the future of grooming.