5 Pet-Friendly Instagram Photo Ideas for Groomers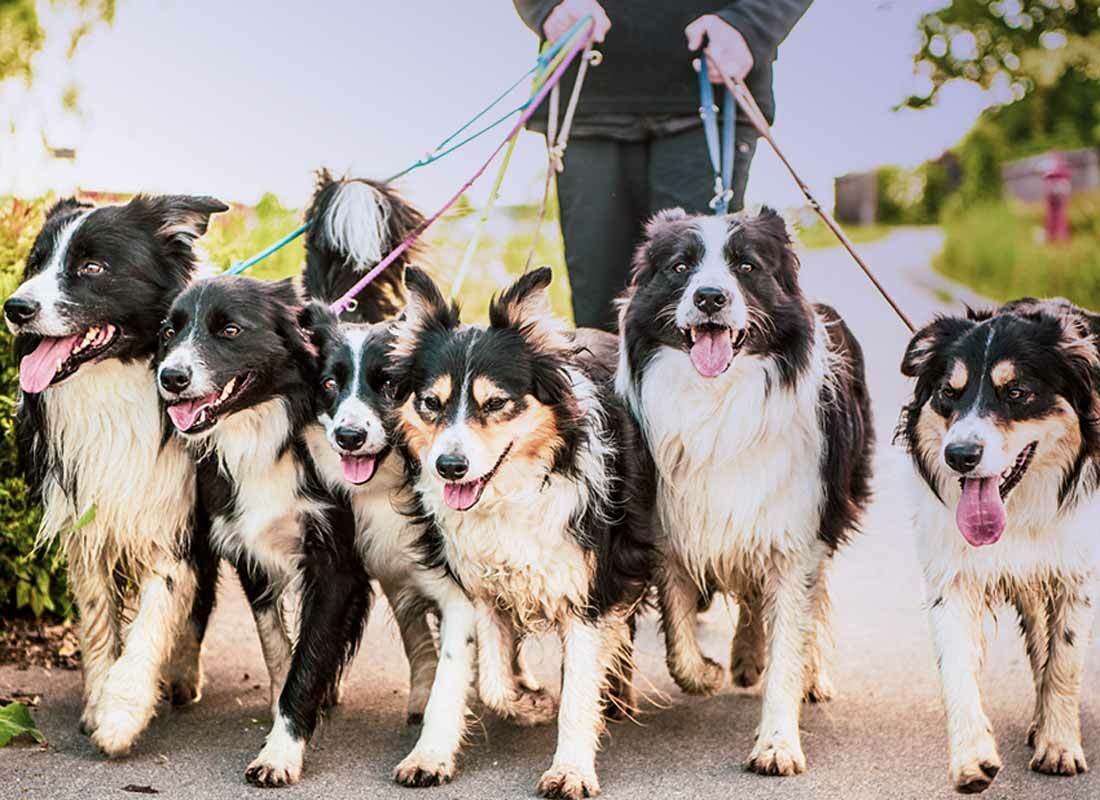 Instagram is one of the best ways pet groomers can market their business. To rock your pet marketing, here are 5 pet-friendly Instagram photo ideas!
Though the internet is home to millions of different websites, we all know what people really use the internet for: looking at pictures of pets. It's no secret that the "pet picture" market is booming — there are even pet Instagram accounts that make pretty big money doing it.
Pet marketing has gotten so big that there are now numerous how-to guides on catapulting your pet to Instagram and Facebook stardom. Naturally, pet-focused businesses like groomers, walking services, and pet stores want to get involved, but it can be tough to figure out just what kinds of Instagram photo ideas will be successful.
That's why we're here! We want to provide you with some great ideas for crafting fun photos with pets in your grooming business. After all, this is kind of a science at this point. Ready? Let's get our paws dirty and dig into our 5 pet-friendly Instagram photo ideas for groomers. But First, Some General Instagram Photo Ideas
You thought it was as simple as just uploading pictures of cute animals? Not quite.
At one time on the internet, it was as easy as just uploading a picture of a cat or a dog. Now, it's a bit more complicated. Pet celebrities have figured out the best ways to garner an audience with their photos. With that said, here are some great tips for creating really great pet Instagram photos.
First, make sure your captions are great. While breathtaking photography is a useful aspect of Instagram photos, it's also important to connect to your audience with the caption. They can be funny, thought-provoking, or just plain silly. It all depends on the photo!
Second, creating regular and consistent content will help your pets a lot. This means that you shouldn't post 20 photos one day and then go silent for a month. Post regularly, don't post too much, and keep a consistent spacing between your posts.
Lastly, one aspect of pet Instagrams that really connects viewers is creating a pet persona. This means that you acknowledge each pet's unique features and personality. This can extend into the caption and the photo itself.
Humans love stories — it's a proven fact — so creating that background story makes people identify with the pet! Now let's get into the Instagram photo ideas!

1. Take us behind-the-scenes
Who doesn't love a good behind-the-scenes look?
In terms of Instagram photo ideas, there's tons of golden content waiting behind the scenes. Maybe you've got a dog who always makes a big mess during bath time but does it in a goofy way. Or maybe you have a pet who will obediently sit there and let you make a unicorn horn out of their hair. Is there a pet who just loves to get dried off and sits there with blissfully closed eyes?
Whatever it is, giving us a good look behind the curtain is a great way to engage people and take good photos in the process. Plus, it gives pet owners the assurance that their pets are being taken care of — two birds with one stone. Just make sure no pets shake any water onto your camera!
2. Before and after glamour shots
No, we're not talking about showing how the pets lost weight and gained muscle. Sometimes, people bring their pets into a grooming salon after a long absence. This means their pets might look a bit "overgrown," or maybe they just really need a bath. Well, this is that pet's time to shine!
For Instagram photo ideas, try doing some fun before and after shots. This is great for a few reasons: first, it's an interesting look at how the appearance of the pet changes after grooming. It's also a testament to your grooming service, especially if that pet looks squeaky clean and beautiful afterward.
Make sure you experiment with some fun captions. Giving the pets a voice in these photos allows you to express just how much they loved their grooming experience! "I'm ready for my closeup."
3. Show off some bling
Who doesn't like cute pets in shiny accessories? As far as Instagram photo ideas go, this is a great opportunity to show off some of your grooming business' pet products. This also gives you some creative opportunities to give a voice to the pets.
Dress them up in a cute bowtie, a decorative collar, or a strapping vest. Pet owners will surely appreciate the effort.
4. Quick, caption this photo!
If there's one thing people love, it's participating in contests. Whether it's because of competitive spirit or plain enjoyment, one of our favorite Instagram photo ideas is having a caption contest with a fun photo of a pet.
The best part? While a lot of Instagram photo ideas require some intense creativity, this idea is pretty simple. All you need to do is snap a photo of a pet doing something quirky or interesting. The rest is up to your followers! This is also a great opportunity to promote your brand. Consider adding a giveaway for the winner — something like a free or reduced-price grooming, or maybe a choice accessory. This gives you more exposure and it also builds customer loyalty.
5. Embrace the holiday spirit
The holidays are a time to gather with family and pets are no exception to that!
Ending our list of Instagram photo ideas is creating fun holiday posts. These are fairly easy and can happen all throughout the year! For example, the grooming account Groomers on the Green makes posts for big holidays like Christmas and Halloween. Don't be afraid to make them for smaller holidays too. This is a great way to appeal to all types of pet owners. You can even plan ahead and plot out your Instagram photo ideas on the calendar to make it easy to remember.
Conclusion
With our list of pet-friendly Instagram photo ideas, you're sure to garner some new followers and create new pet celebrities.
Want to take your grooming business to the next level? Check out our free trial absolutely free!